Malta coach Ray Farrugia has issued a rallying cry to the whole nation to get behind the national team on the eve of the country's second UEFA Nations League qualifier against Azerbaijan at the National Stadium tonight (kick-off: 8.45pm).
In the last 48 hours, the national team have suffered a barrage of criticism from the media and football fans on social media following their 3-1 defeat to the Faroe Islands at the Torsvallur Stadium in Torshavn on Friday.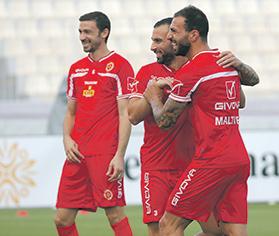 Steve Borg (right), Joseph Zerafa (centre) and Ryan Fenech share a light moment during training ahead of the UEFA Nations League match against Azerbaijan, today. Photo: Darrin Zammit Lupi
Individual errors during key moments of Friday's League D Group 3 match were severely punished by the Faroes' who cruised to a convincing victory and left the Maltese clan licking their wounds after conceding a damaging defeat.
Addressing the media at the National Stadium, yesterday, Farrugia admitted that he was really disappointed with the events in the Faroe Islands but he emphasised that it was important to put that match on the back of their minds and focus on their next assignment against Azerbaijan.
"There are no excuses for our performance against the Faroe Islands," Farrugia said yesterday.
"We prepared for that match really well but when I lose I am never satisfied even when my players play good football and creates chances. At the end of the day what matters most for me is the result. The team lost 3-1 so I cannot be happy.
"But now that is in the past and we have to look forward to the match against Azerbaijan. They are a very strong team and have a Brazilian-born player in their team, Richard Almeida, who is very dangerous.
"However, we too have a very good team and I have a lot of faith in my players and I sincerely think that we can beat Azerbaijan."
The Malta coach then had a dig at the some of the national team's critics, who in his words, wait impatiently for negative results, such as the one in Faroe Islands, to have a go at Maltese football.
"Maltese football fans have been suffering for the poor results of the national team for a long time and I understand their frustration," Farrugia said.
"My father used to tell me when I was young that the Maltese people always stick together in difficult times but unfortunately it's not the case when it comes to football.
"There are times when you see some people just waiting for a bad result to give it a go at Maltese football and that hurts a lot.
"If everyone in this country really loves football we should stick together in these difficult times and support the players who are doing everything they can to turn this negative patch around.
If everyone in this country really loves football we should stick together in these difficult times and support the players
"On Friday, there were some players who committed some mistakes, but are they not human after all? Do you think that they don't suffer when these things happen?"
Farrugia said that the national teams need the help of all Maltese fans and hopes that they will be behind his team at Ta' Qali tonight.
"The national team needs the support of every football fan in Malta," Farrugia said. "This is the time to show how important our national team is for us all.
"Remember they represent the whole country.
"Since I took charge of the team five months ago the players have worked hard during training and we are trying to help them to improve. But they need the support of everyone and I hope on Monday the Maltese fans will come to support our team."
Quick-fix solution
On his part, Andre Schembri said that the biggest concern in Malta is that everyone thinks that the problems afflicting the national team will be solved from one day to another.
"I have been part of the national team for the last 12 years and for the first time I can see that the team's preparation and the atmosphere in the team has never been better," the Apollon Limassol striker said.
Here in Malta people think that the team's problems can be solved in a short space of time but that it's impossible. One has to remember that we only have only two players who are plying their trade abroad while you have teams like Faroe Islands who had the majority of the players in their squad playing in Denmark, Norway and Germany.
"We need time and be patient. The coaches are doing everything they can to ensure that we are better prepared for our international assignments.
"I'm confident that in the not so distant future we will surely start to get better results and I hope that against Azerbaijan the fans will come to give us their support and hopefully help us to win the match."
Previous encounters
Friendlies
19.04.1994: Malta vs Azerbaijan - 5-0
06.02.2000: Malta vs Azerbaijan - 3-0
17.04.2000: Malta vs Azerbaijan - 1-0
14.08.2013: Azerbaijan vs Malta - 3-0
European Championships
28.03.2014: Azerbaijan vs Malta - 2-0
06.09.2015: Malta vs Azerbaijan - 2-2