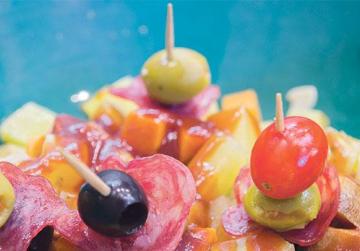 Photos: George Aquilina
You will need:
250g potatoes
250g sweet potatoes
5 tbsp olive oil
2 tsp smoked paprika
3 cloves garlic
1/2 onion, chopped
250g chopped tinned tomatoes
1 tbsp tomato purée
a pinch of stevia
1 tbsp apple organic vinegar
salt and pepper
For garnish: olives, cheese, chorizo, cherry tomatoes and toothpicks
Preheat oven to 200 °C.
Peel the potatoes and sweet potatoes and cut into small squares.
Brush an ovenproof tray with olive oil and place the chopped potatoes on the tray. Season with salt and pepper and toss the potatoes in the rest of the olive oil and add 1 tsp smoked paprika so that they are lightly covered evenly. Place in the hot oven and bake for 30 minutes. Gently toss the potatoes on the tray to turn them over and return them to crisp up in the oven for another 10 to 15 minutes depending on the size of the potatoes pieces.
While the potatoes are cooking make the sauce. Sauté the onion and garlic in some olive oil. Add the tomatoes, stevia, organic apple vinegar, the other tsp of smoked paprika and season with salt and pepper. Once the sauce starts to boil turn the heat down and simmer for 15 minutes. Remove from the heat. Allow to cool and blend in a food processor to a smooth consistency.
When the potatoes are cooked transfer to a serving dish and pour some of the tomato sauce over the potatoes. Garnish with pieces of chorizo, olives, cherry tomatoes and vegan cheese on toothpicks. Serve warm.
If available, add some purple potatoes too for an even more colourful dish.
This recipe is gluten free, nut free, low fat and dairy free. For a vegan recipe garnish with vegan cheese and chorizo.
Spicy Gazpacho
You will need:
1 kilo ripe tomatoes washed
1 small white onion
3 small garlic cloves
1 medium cucumber
1 red bell pepper
1/2 tsp ground cumin
12 tbsp olive oil
2 tbsp apple organic vinegar
1 slice of white bread (optional)
½ tsp chili powder (optional)
¼ tsp sweet paprika
Salt and pepper to taste
A pinch of stevia
Water: enough to get the consistency of your liking
Wash and roughly chop the tomatoes and leave the skin on. Add the rest of the ingredients and use a liquidizer to puree to a smooth pulp. Simply add more water to acquire the consistency that suits you. Allow to cool in the refrigerator for at least two hours before serving.
Keep the serving bowl on top of a large dish filled with ice cubes to keep the soup very cold.
This recipe is vegan, lactose free, nut free, low cholesterol and diabetic friendly. For a gluten-free recipe use gluten-free bread.
Spanish Meat Loaf
You will need:
150g minced beef
150g minced pork
50g Jamon Serrano
1 heaped tsp smoked paprika
½ tsp dried oregano
¼ tsp cumin seeds, crushed
¼ tsp coriander seeds, crushed
¼ cup gluten-free oats
Zest of ¼ lemon
1 egg to bind
1 tbsp olive oil
A pinch of stevia
To garnish: Whole hazelnuts
Preheat the oven to 200°C. Mix all the ingredients together and cover with cling film. Place in the refrigerator for half an hour or more. Remove from refrigerator. Brush an oven dish with olive oil and place the meat mixture on the oven dish.
Press down with wet fingers until you have a smooth and flat surface. Stud all over with whole hazelnuts leaving even spaces in between one nut and the other so that you can cut the meatloaf up into bite size squares. Bake in the oven for 35 minutes. Brush with olive oil and allow to rest for 10 minutes before cutting up into squares.
This dish is gluten free and lactose free. For a vegan recipe replace the mince meat and jamon with 150g vegan mince and 150g cooked chick peas. Replace the eggs with 9 tbsp chickpea water and 1 tbsp ground linseed. For a nut-free diet replace the hazelnuts with pieces of sun-dried tomatoes.
Pan de Higo
1/2 cup almonds
500g dried figs
1 tbsp honey
1 tbsp liqueur of your choice
A pinch of cinnamon
A pinch of ground aniseeds
To garnish: flaked almonds
Toast the almonds and place them in the food processor. Pulse gently until the almonds are chopped. Remove from the processor and do not over grind as they need to be left in small pieces. Clean the dried figs and remove the stems. Place them in the food processor and add the honey or agave, liquor or aronia, ground aniseed and cinnamon and mince them until you have a smooth consistency. Add the chopped almonds and pulse lightly.
Line a small container with cling film. Press the mixture into the container and cover with cling film. Refrigerate overnight or freeze for up to three months. Decorate with flaked almonds and preferably leave out at room temperature for a few hours before serving.
This is a gluten-free and dairy-free recipe. For a vegan option, replace the honey with agave. For an alcohol-free recipe use aronia liquid concentrate.
Lea's Good Food Everyday is aired in English every Friday at 4.10pm and 9pm on Smash TV. You can follow Lea's blog on www.goodfoodeveryday.wordpress.com and find more of her recipes on www.timesoneline.com.
Independent journalism costs money. Support Times of Malta for the price of a coffee.
Support Us