Exploring the food from other Mediterranean countries gives the experience of new flavours, not necessarily from the use of obscure ingredients, but by mixing ordinary ingredients in a different way.
The food of Tunisia is strongly influenced by French and Arab culture. If you walk down the large tree-lined boulevards in Tunis, people are sitting in cafes speaking French and eating food that is a fusion of European, North African and Middle Eastern cuisines. As you travel to the suburbs and further out to the hilltop villages, the diet is typically abundant with legumes, grains and vegetables.
My recipes are adapted to suit local taste with the use of easily available ingredients.
Lablabi Soup with Homemade Tunisian Harissa
You will need:
2 tbsp olive oil
3 cloves garlic, grated
1/2 tsp cumin seeds, crushed
1 tsp coriander seeds, crushed
1/2 tsp fresh turmeric
1 tbsp homemade harissa [optional, leave it out if you do not like spicy food]
2 litres stock made with all-natural, no additive stock cubes
800g cooked chickpeas
1 tbsp tomato puree
1 tbsp apple organic vinegar
1 tbsp lemon juice
1 bay leaf
1 tbsp fresh coriander
1 tbsp parsley
salt and pepper to season
To serve:
100g desiccated coconut
5 cups filtered or bottled water
A pinch of salt
1 date
Crusty stale bread or toast cut into chunks to absorb all the juices and make a thicker soup with condiments served in small bowls such as capers, more parsley and fresh coriander, lemon wedges, yoghurt, tuna fish, chopped olives, sundried tomatoes, chopped fresh tomatoes and nuts.
Due to time limitations I used canned chickpeas when I made this soup during the TV show but if you have time use dried chickpeas and save the cooking liquid to use instead of stock.
Grate the fresh turmeric root and add to a large pot with a tablespoon of olive oil. Cook on low heat, stir and then add the onion. When the onion becomes translucent, add the garlic and the crushed coriander and cumin seeds and cook on low heat. Add the cooked chickpeas and stock followed by all the other ingredients.
Finely chop the fresh coriander and parsley. Keep aside.
Simmer the soup for 30 minutes. Remove from heat and allow to rest covered for 10 minutes before serving in individual soup bowls. In the meantime poach the eggs in a separate pan, allowing one per person. Place a poached egg in each bowl of soup and add the garnishes of your choice. Finish off the soup by adding a poached egg in every soup bowl and a drizzle of olive oil. Serve with a choice of condiments to garnish the soup according to personal preferences.
For a gluten-free recipe, serve with gluten-free bread chunks and omit the yoghurt for a lactose-free meal. This recipe is diabetic friendly.
Homemade Tunisian harissa
You will need:
50g dried red chilis
50g sundried tomatoes
¼ tsp cumin seeds
¼ tsp caraway seeds
1 tsp coriander seeds
120ml olive oil
6 garlic cloves
2 tbsp fresh lemon juice
¼ tsp salt
Place chillies and sundried tomatoes in a bowl and soak them in boiling water. Cover and allow to soften for at least 2 hours. Drain the water.
Dry roast the spices in a very hot pan. Place them in an electric blender and finely grind them. Add the chillies and sundried tomatoes and process to a smooth paste with the rest of the ingredients. Store in the fridge for up to a month.
Bite-size Brik with Peppered Ġbejna and Organic Sage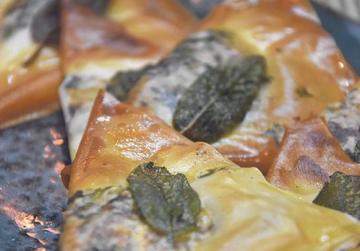 You will need:
2 sheets of filo pastry
1 peppered gbejna
50g nuts of your choice
1/8 tsp coriander powder
a handful of fresh parsley, very finely cut
8 organic sage leaves
Preheat the oven to 220°C.
Cut the peppered ġbejna into very thin slices. Chop the fresh parsley finely then add to the crushed nuts together with the spices. Mix.
In a pan heat some olive oil and gently fry the sage leaves on both sides. Remove the leaves from the pan and place them on a kitchen towel to absorb the access oil. Lay a sheet of filo pastry on a clean dry surface. Brush the filo pastry lightly with olive oil and place 1 teaspoon of filling, leaving a space of around 6 cm between each teaspoon of filling and another.
Cover the filo sheet with filling with another piece of filo pastry. Use a rolling pin to gently press down on the filo and flatten the filling to get wafer think pastries. Use a sharp knife to cut the sheets into squares with the filling in the centre of each square. Fold the squares diagonally in half to form triangles. Brik is usually fried but it is just as crispy when the pastry is brushed with olive oil and baked.
Prepare a baking tray by brushing it with olive oil. Place the triangular pastries on the baking sheet. On top of each pastry place a fried basil leaf. Bake in a very hot oven for 10 minutes. Serve hot or cold appetizers with drinks.
This is a vegetarian recipe.
Hazelnut Bouza with Pomegranate
You will need:
1 litre almond or hazelnut milk
200g hazelnuts
4 level tbsp cornflour
3 level tbsp stevia
A few drops of rose water
To garnish:
The seeds of 1 pomegranate
Grind the hazelnuts in a food processor. The consistency should be grainy rather than a dust. Mix the cornflour in 250 ml of the nut milk. Add the rose water. Mix the ground hazelnuts with the milk and stevia in a saucepan and bring to a gentle boil on low heat.
Add the cornflour mixture and keep stirring.
Remove from the heat.
Pour into individual glasses while it is still warm. Scatter some pomegranate seeds. The bouza in the photo is also garnished with handmade Tunisian sweets.
Allow to set in the fridge for at least an hour before serving.
This hazelnut cream can be used as a fruit tart filling as it sets very easily. This is a vegan, gluten-free, lactose-free and diabetic friendly recipe.
Lea's new book Good Food Everyday is available in English via major bookshops in Malta and Gozo and by mail order via www.midseabooks.com.
You can find more of her recipes on www.timesofmalta.com.
Independent journalism costs money. Support Times of Malta for the price of a coffee.
Support Us