The Park & Ride in Floriana is falling apart and the working conditions have become unbearable, according to frustrated van drivers who operate the shuttle service to Valletta.
"I can't even begin to describe the situation. There are potholes at the entrance, the ticket machines don't work properly and now we're having problems with the toilets," said one driver, who did not wish to be named.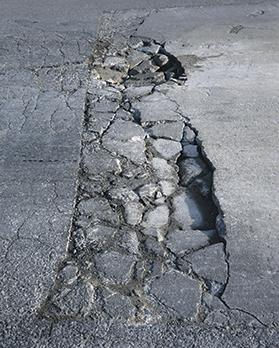 The Park & Ride facility is operated by Transport Malta. Users are charged a 40c flat rate, which includes the van rides.
Commuters have in recent months repeatedly complained to this newspaper that the electrically operated barriers often malfunction, causing traffic jams as drivers struggle with them. At one entrance the barrier has not worked for over a month, the van driver said, adding that things seemed to be going from bad to worse.
A few hundred metres into the road leading to the facility, drivers are forced to manoeuvre around two sizeable potholes, and some have damaged their wheels after failing to spot them.
The potholes were first reported in December but have yet to be repaired.
"We're always worried about puncturing out tires since we are constantly coming and going. It's not the first time this has happened and then it's we, the drivers, who have to deal with the damage."
Meanwhile, general upkeep of the area also seems to be lacking, with grass overgrown in some areas and used tickets strewn everywhere.
"Until recently the area used to be very well-maintained, but now everything seems to be falling apart.
"In fact, many people have complained to us," the mini-van driver said. To make matters worse, the toilets were of late not being cleaned regularly, he added.
Until recently the area used to be very well-maintained, but now everything seems to be falling apart
A spokesman for Transport Malta said it was taking steps to have the area cleaned more often. The facility's location, he said, made it "a magnet for dirt in the area, with the wind often carrying rubbish on site".
On the faulty ticketing machine, the spokesman said that both the machine and the bus shelter had been vandalised beyond repair in January.
"Transport Malta even filed a police report. As one can understand, ticketing machines are not some off-the-shelf equipment and therefore procuring those takes some time," the spokesman said.
The watchdog had also issued a tender to resurface parts of the facility, he said, adding that attendants were on site during operating hours. The area is also monitored by CCTV cameras.
Independent journalism costs money. Support Times of Malta for the price of a coffee.
Support Us