Updated Monday 3pm
Gale-force winds lashed Malta early on Sunday morning, uprooting trees, demolishing walls and damaging power lines, but no injuries were reported, a police spokesman told Times of Malta.
An uprooted tree along the Sliema front. Photo: Harry Briffa/Facebook
The winds, which reached gusts of up to 101 km/hour, caused damage to electricity networks and forced road closures across the whole island.
Civil Protection Department officials were called out to 300 separate sites to clear roads, remove dangerous walls and evacuate people from flooded residences.
On Monday, the government said that it would be looking at ways of tapping EU funds to help rebuild following storm damage. Farmers were among the worst hit.
People advised to stay indoors
Authorities advised people to stay indoors unless they needed to travel.
According to Wind Finder, in the early hours of the morning, Malta experienced gusts of winds that are described as a "high threat to life and property".
The Maltese Islands Weather site said on Sunday morning that the northeast wind was at its strongest in many years.
The 101 km/h (Force 10, almost Force 11) gusts measured by the site's weather station in Għarb were an all-time record.
One of the worst storms Malta has seen in recent years gradually died down as night fell, with the strong gale force gregale wind moderating overnight.
According to Wind Finder, Malta experienced gusts of winds that are described as a 'high threat to life and property'.
CPD overwhelmed
The CPD said it had worked with the police to evacuate homes in Sliema and Vittoriosa which had flooded. People evacuated will be offered alternative housing by the government until their homes are fixed, the Home Affairs Ministry said.
Trees were uprooted in several areas, including on the Rabat road where a large tree completely blocked access. Another tree blocked a road near the airport exit. They were later removed.
Cleansing Department director Ramon Deguara said most of the fallen trees had been cleared in the morning, but that people could expect further collapses.
Read: The storm by the numbers
"A number of large trees were partially uprooted and we're expecting them to fall soon," he said, pointing out that the incessant wind and rain was not helping.
The Sliema and St Julian's promenade was a "total disaster", he said.
"We still have to quantify the damage. The whole operation is going to take days," Mr Deguara added.
Among other incidents, a balcony at Portomaso crashed to the ground while a number of old trees at Balluta square were destroyed.
Read: How the storm turned Malta's roads into an obstacle course
In a bizarre sight, some citizens braved the weather to pick up hundreds of fish which were flung out of the sea onto promenades.
The following morning, the sea bream was being sold on the Xemxija promenade, fetching €10 for five fish.
Transport Malta said the storm had knocked out several sets of traffic lights. As of 2pm, traffic lights at the Żabbar junction remained out of order.
Video: Mark Zammit Cordina
The winds blew strong enough to bend this traffic sign in Dingli.
Political parties change plans
The storms forced the Nationalist and Labour parties to change their Sunday morning plans.
The closing session of the PN's general council was postponed to Wednesday evening. A Labour Party activity was cancelled.
Destruction along the Sliema promenade.
A collapsed tree blocks a traffic lane in Pieta'.
Power cuts
Enemalta said that the storm had damaged parts of its distribution network and warned that recovering electricity to affected areas could take longer than usual as weather conditions remained severe.
On Sunday evening, the company said it had fielded more than 1,500 calls from the public and identified 540 faults. Technicians would be working throughout the night to restore electricity to all affected areas, it said.
Watch: Before and after - how the storm wreaked havoc
The company noted that the cold weather and requests for people to remain indoors had also led to a spike in demand for electricity, which was 20 per cent higher than that on the average Sunday.
Flights and buses delayed
Several flights scheduled to take off on Sunday morning were delayed, a Malta International Airport representative confirmed. Turkish Airlines flight Istanbul to Malta and Emirates Malta to Larnaca have been cancelled, five flights have been delayed for one hour, and one flight delayed two hours.
Malta Public Transport warned customers to expect delays to all routes.
"Many roads are closed. This is affecting all bus routes, with buses being diverted by the authorities," MPT explained.
At 5pm, the company announced on social media that it was suspending all routes servicing St Julian's and Sliema, on the CPD's advice.
A damaged windscreen. Photo: Frances Chircop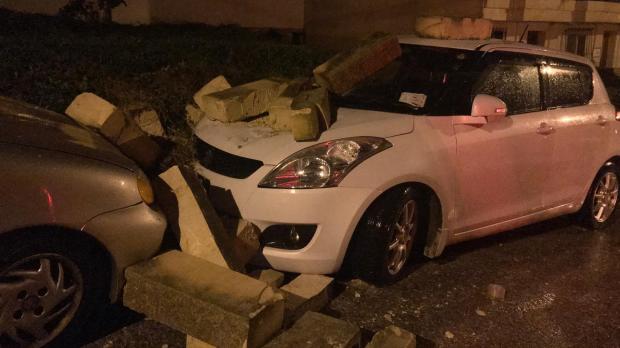 Cars damaged by a falling wall in Baħar iċ-Ċagħaq.
Rough seas and a windswept Balluta. Photo: Luca Catania
Wild seas made for an almost unrecognisable promenade at Spinola. Photo: Dominic Fenech
Gozo ferry operating, Sicily catamaran cancelled
Gozo Channel chairman Joe Cordina confirmed the ferry between Malta and Gozo was operating normally, although vessels were berthed on the far side of Ċirkewwa.
All Virtu Ferries catamaran trips to and from Sicily scheduled for Sunday and Monday were cancelled due to the weather, with additional trips scheduled for Tuesday to compensate.
Cemeteries closed until Monday
The Environmental Health Directorate within the Superintendence of Public Health said all government cemeteries were being closed until Monday nmorning as a precaution.
A destroyed tree by Saqqajja Hill in Rabat. Photo: Angela Galea Salamone
Boats, balconies wrecked
A power boat came undone at Manoel Island and sank a yacht, sources told Times of Malta. Two other boats in the area came undone and crashed onto rocks in the area.
A sailor said two pontoons had come loose at the Grand Harbour and were currently without power. Scuba divers were working to reconnect them, and boat owners were not being allowed onto the affected pontoons.
"Water levels are rising and falling by shocking amounts," a sailor aboard a docked vessel told Times of Malta. "It's freezing here, without power, but I'm glad I'm on board".
Videos of two separate cranes - one in Sliema, the other in Swieqi - with their steel hoppers swinging dangerously in the high winds prompted concern on social media.
Pedestrians have been urged to heed the dangers of this crane in Sir Arturo Mercieca Street, Sliema. Video: Peter Falzon
A steel hopper swings on this crane overlooking Pender Gardens.
Farmers suffer damage
The Għaqda Bdiewa Attivi said on its Facebook page that the weather wreaked havoc in farmers' fields with some estimating damages of more than €50,000 and fearing the worst as the wind blew stronger.
"It's heart-wrenching to wake up for another day of work to find your enterprise in tatters.
"We commend the bravery of our farmers to continue to fight and express solidarity especially with those whose livelihoods have been seriously threatened by these weather events."
A video posted on Facebook showed the main road in Xemxija full of small fish that had been dragged to land by the rough seas.
Historic fort damaged
A hall at Fort St Angelo and a boundary wall at the Tas-Silġ prehistoric site in Marsaxlokk were damaged, as was part of the Visitors' Centre at Ħaġar Qim, Heritage Malta said on Monday.
Sewage plant, water connections damaged
Prime Minister Joseph Muscat said Malta's northwest sewage treatment plant, in Mellieħa, was shut down after developing a fault and then evacuated, following concerns about an unstable three-storey wall.
Dr Muscat made reference to an evacuation of people in a Sliema building, but Times of Malta is informed that the operation was called off.
A damaged windscreen. Photo: Frances Chircop
On Monday, Water Services Corporation said that an undersea water connection between Malta and Gozo was damaged in the storm.
Dr Muscat said that a huge clean-up operation would be launched in the coming days to clear the debris all over the island.
He thanked all those involved in the ongoing operation. Dr Muscat spoke also on Gozo, saying such circumstances showed the necessity of having a permanent link.
'Millions' in damages - Delia
Opposition leader Adrian Delia said he had been contacted by farmers who claimed to have suffered "millions" in damages from the storm.
Farmers from the Mġarr community, he said, who were in tears after having their livelihoods destroyed.
Continuing on the weather story, Dr Delia said many people did not even have a roof over their heads to shelter from the storm.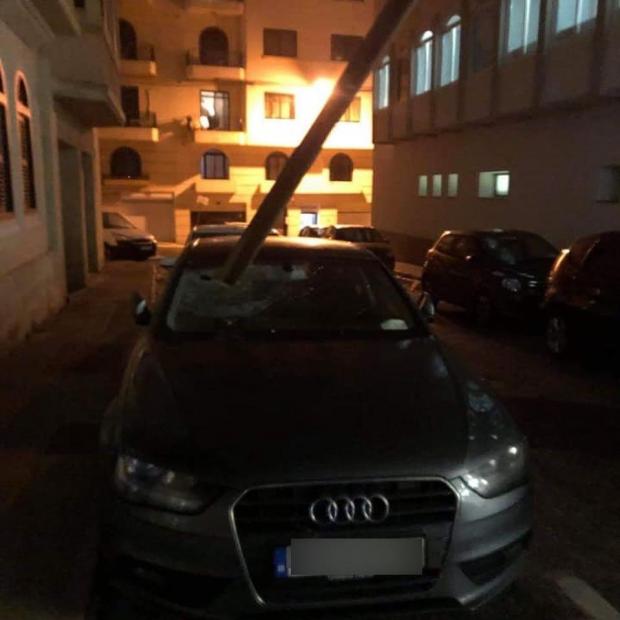 A pole smashed right through this car.
Mifsud Bonnici funeral put off
The funeral of former chief justice Giuseppe Mifsud Bonnici was also put off to Tuesday, relatives confirmed to Times of Malta. Judge Mifsud Bonnici passed away on Friday.
Damaged stadium, restaurant
Hibs Stadium incurred significant damage, with trees toppling hoarding and stone boundary walls falling over.
A clip uploaded on social media shows the moment waves destroyed the Buddhamann Restaurant in St Julian's.
Hibs Stadium was left the worse for wear.
Walls toppled over at Hibs Stadium.
Ballutta Bay lashed by winds and high waves.
Stormy Saturday
The bad weather started on Saturday afternoon with isolated showers developing into hail storms and the odd thundery spell.
Football matches on Saturday evening were cancelled as was the Malta marathon which was due to be held on Sunday morning. The Nadur carnival planned for Sunday has been postponed to Thursday.
Large marquees used to house carnival floats to be used in carnival celebrations blew over.
Tents set up on the University of Malta's Tal-Qroqq campus for an upcoming careers fair were also badly damaged, The Yuppie reported on Sunday evening.
Carnival floats built for next week's celebrations took a battering.
A toppled container. Photo: Daniele Braggioli/Facebook
Damage in Qawra.
Steel mesh came crashing down onto cars parked in a Sliema road. Photo: Hilary Galea Lauri
A reader sent in a picture of his neighbour's membrane which came apart and landed in his garden.
The gregale hitting Valletta and Sliema. Photo: James Vella Clark
Għargħur
A police spokesman said reports of damage came from across the islands.
A large tree near the Addolorata Cemetery completely blocked the road as did another near Hompesh Road in Żabbar.
A flight from Istanbul to Malta was cancelled because of the weather and some flights were also delayed landing. Trees were also uprooted in the vicinity of the runway.
Photo: @Keti.kate/Instagram
On Friday evening, the Met. Office issued a gregale advisory notice to mariners, warning them of very rough seas tonight and on Sunday as a low pressure zone over the Ionian sea extends over the Maltese islands.
The strong winds were accompanied by a drop in temperature, with the thermometer showing a temperature of 2 degrees Celsius in some areas, colder than most European countries at the moment.
Do you have pictures or videos to share? Send them to us on or on our Facebook page
Footage shot at Baħar ic-Cagħaq on Saturday night. Video: Clive Camilleri
Damaged street furniture in Għargħur. Photo: Matthew Mirabelli
Damage in Rabat. Picture: Shaun Grech
A tree blocking the road next to the bus stop in Triq Ta' l-Ibrag corner. Photo: Malcolm Naudi
Ċirkewwa. Photo: Owen Sant'Angelo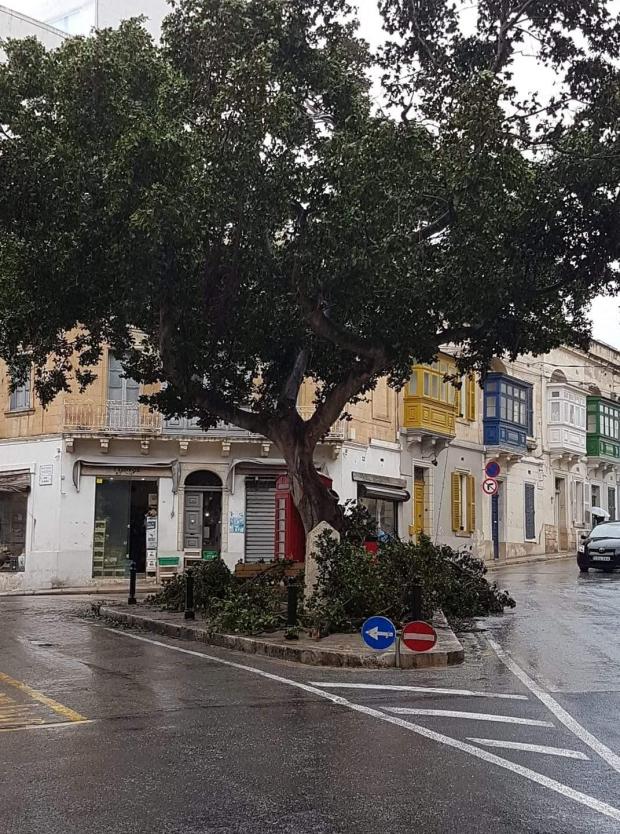 Three trees Dingli Street, Sliema. Photo: Rowena Pullicino - Facebook
Sliema Aquatic Sports Club. Photo: Daniela Said, Facebook
San Giljan Kiosk. Photo: Mr Borda, Facebook
Bonnett blown away, Windsor Terrace, Sliema. Photo: Karen Heneghan - Facebook
The Point. Photo: Sylvana Psaila - Facebook
Balluta. Photo: Luisa Busuetta - Facebook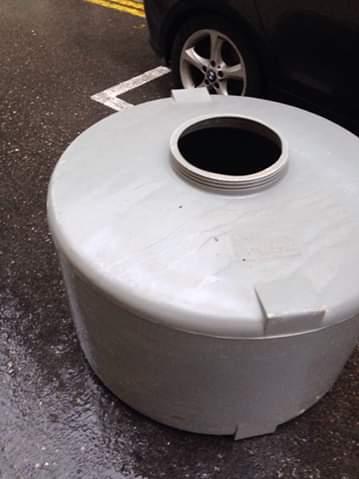 A water tank blew off a roof in St Agatha Str, Sliema. Photo: M Spiteri
Tanks damaged by a falling wall in Tower Road, Sliema. Photo: Thomas Agius Vadala
Photo: Attila Buris
Video: Bertine Madelen Sjoeholm