The residents of Casa Antonia Nursing and Residential Home and their guests were treated to an enchanting musical evening by tenor Nico Darmanin and pianist Leonardo Barilaro. The event served as a grand finale for Casa Antonia's 15th anniversary celebration.
Dubbed as a mellifluous and stylish Maltese tenor by Opera News, Nico Darmanin is fast establishing himself in the Bel Canto repertoire having performed at the Royal Opera House, Covent Garden, Welsh National Opera, Scottish Opera, Opera Vlaanderen, Opera Holland Park, the Wexford Opera Festival and the Rossini Opera Festival in Pesaro. Among his roles this year, he performed a dramatic Osiride in Mose' in Egitto with the Chelsea Opera Group Chorus and Orchestra in London which earned him further international acclaim.
Accompanied on the piano by the multitalented Italian pianist Leonardo Barilaro, the programme featured a selection of beautiful romantic classics, such as Tosti's Marechiare, Bellini's Bella nice del mio core, Donizetti's Una furtiva lagrima from L'elisir d'amore, and Gounod's Ah! Léve-toi, soleil! from the opera Roméo et Juliette.
Nico closed the evening with the beautiful song Be my Love by Nicholas Brodsky.
The musical performance was followed by a reception. Guests were also entertained by harpist Lydia Buttigieg, who provided background classical music during the reception.
"At Casa Antonia, we value these moments that we share with the residents, their loved ones guests and our dedicated staff, as all of us are constantly focussed on maintaining a family atmosphere," said Sarah Cassar, Casa Antonia's general manager. "Nico and Leonardo delivered a superb concert that evoked very nice memories – a performance that will be remembered for quite a long time."
As part of its anniversary celebrations, earlier this year Casa Antonia honoured 33 employees who gave more than 10 years of service at the residential home for their dedication and caring service to residents. The public was also invited to visit the home during an open day in June.
With a capacity to cater for 150 residents, Casa Antonia is a distinguished yet affordable retirement home. Nestled in a quiet cul-de-sac in Balzan and overlooking San Anton Gardens, the comfortable home offers an ideal central location where privacy and tranquillity are felt the minute one walks into the building and its garden.
Apart from being a retirement home, Casa Antonia offers respite accommodation that generally requires a more specialised treatment.
For enquiries at Casa Antonia, one can call on 21496277 or send an email to info@casa-antonia.com.mt.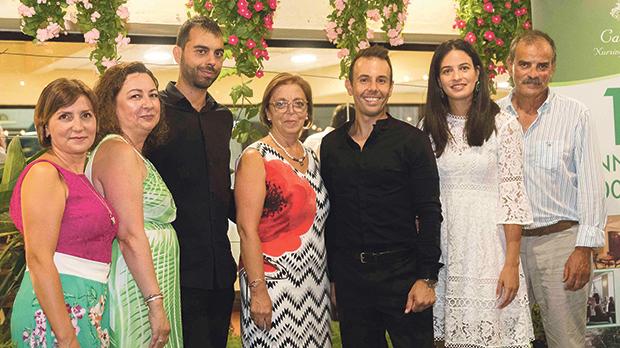 Leonardo Barilaro and Nico Darmanin together with Casa Antonia's staff members (from left) Claire Busuttil, Elaine Naudi, Antonia Attard, Dr Sarah Cassar and Edward Vella.
Tenor Nico Darmanin, Casa Antonia's managing director Edward Vella, pianist Leonardo Barilaro, Casa Antonia's general manager Dr Sarah Cassar and her children.