February will see the last cold days of winter through. Although the season will still have 21 days to run, the weather is normally milder in March.
With this in mind, the walks chosen for February are along tracks inland, as much as possible away from exposed coastal areas of our tiny island, with some cultural content thrown in for spice.
Valleys are targeted this month because they provide the nearness to nature that ramblers long for and enjoy. At this time of year, valleys are filled with native flora in full flush before blooming as spring approaches. They also offer cover from biting winds and the cold elements.
Our valleys are small but charming in their diversity of micro habitats as deep gorges open up to wider expanses of flat valley beds – about enough to relieve ramblers from the hubbub of development.
An even greater disaster is that the Planning Authority does not give blanket protection to our valleys by not permitting any development whatsoever within them
What a pity that there are still some who still treat valleys as their dumping ground! The long-running deficiency of local road-network planning has brought about the situation where our roads become rivers during storms while some of our valleys run dry. It was an undeclared admission of failure that underground tunnels had to be dug to relieve flooding from badly planned roads, when valleys were nature's simple solution to carry water away.
An even greater disaster is that the Planning Authority does not give blanket protection to our valleys by not permitting any development whatsoever within them, and even by establishing a buffer zone to protect them. No civil servant of the authority has ever been held accountable for the deterioration of our valleys by way of irregular permits, lack of enforcement and endorsing abuse within these scheduled areas.
On the contrary the slackening of regulations brought about by the recent amendments to rural policies are achieving what they were intended to do – promoting government policy of economic growth at all costs, even through encouraging urbanisation of outside development zones. Evidence of this are the shockingly immoral applications to bring about the total collapse (there is no better description) of the intrinsic nature of our valleys.
That the PA even considers such applications is immoral in itself; to approve them is diabolical. Cases in point are the valleys of Wied Għomor and those of Burmarrad, included in this month's walks.
Some may say: "Such is progress. It's the economy stupid!" But can we continue to let economics be the sole driver and measure of success for our society?
Xemxija
February walks
Sunday, February 3: Two valleys converging on Burmarrad – a moderate walk of some three hours starting at the roundabout near Ta' Alla u Ommu.
Sunday, February 10: Country lanes of the south – a hard walk with rough terrain and inclines along lanes and coast between Marsascala and St Peter's Pool. Start point: Marsascala parish church.
Wednesday, February 13: New villages around Wied Għomor – starting at San Ġwann parish church, this easy to moderate walk takes ramblers along San Ġwann, Swieqi and St Julian's, passing through Wied Għomor.
Sunday, February 17: Xemxija to Majjistral through Miżieb – a moderate walk on rough terrain with steep inclines, setting off from Xemxija Bay towards Manikata, taking some four hours.
Saturday, February 23: An easy village walk of two hours with cultural and historical interest around various old districts of Żabbar, ending up with a guided one-hour visit of the Sanctuary Museum. Starting point – Mediatrix Square, Żabbar, at 9am.
Wednesday, February 27: Għallis walk – starting at the chapel of San Pawl tat-Tarġa, Naxxar, this easy walk includes the Widna (the primordial stone radar), Qalet Marku Tower and the Magħtab complex in three hours of moderate walking.
All walks on Sunday mornings start at 9am, while those on Wednesday afternoons start at 2pm. Everybody is invited to join in the walks. However, it is important that beginners choose an easy walk to start with and then decide on the harder walks. The Ramblers' Association takes great care in picking the trail but every individual who freely chooses to walk or stop at his/her discretion is solely responsible for his/her safety. For further information visit the websites above or phone 9949 7080.
Alex Vella is executive president of the Ramblers' Association of Malta.
www.facebook.com/ramblersmalta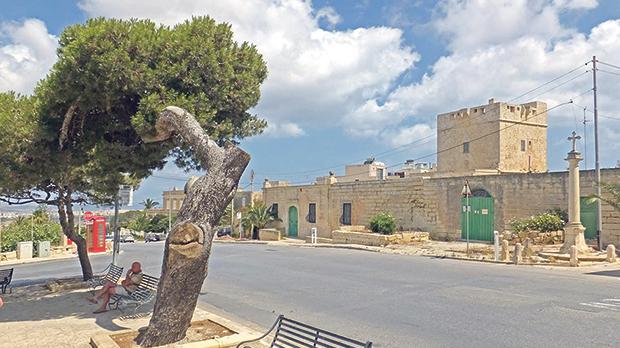 San Pawl tat-Tarġa
Miżieb