Thunderstorms caused widespread power cuts, flooded some roads and forced a flight to be diverted to Catania on Monday.
Parts of Żebbuġ, Qormi, Ħamrun, Sta Venera, Wardija, Bidnija, Luqa, Tarxien and Gudja were left without electricity when the bad weather caused a fault on Enemalta's distribution network.
The energy provider did not provide a timeframe for when it expected power to be restored to affected localities.
A Ryanair flight from Leeds was diverted to Catania in Sicily in the early afternoon because of the weather, although other flights arrived and departed as scheduled.
Parts of Msida and Pembroke were left badly flooded and traffic choked many key thoroughfares across the island. A section of road beneath the new flyovers being built at the Marsa Junction project also flooded.
Scenes from Msida where roads were flooded after heavy rain on Monday. Video: Matthew Mirabelli
According to the Maltese Road Traffic Updates Facebook page, traffic was jammed in both directions of the Sta Venera tunnels as of 3.30pm while traffic lights at Tal-Barrani road in Żejtun were not working. Part of December 13 Road was also flooded, causing a long traffic jam.
Aida Galea sent in a dramatic picture of a lightning strike in St Paul's Bay on Monday morning.
Videos posted online also showed streams of water rushing through roads in Mosta, Nadur, Gżira and Mellieħa, among others. A video shared by Maltese Islands Weather on Facebook showed the Marsalforn promenade sunk beneath a river of murky brown water.
The scene at Ramla l-Ħamra in Gozo.
Weather forecast
Thunderstorms are expected to continue until Tuesday afternoon, forecasters at the Malta International Airport weather station are predicting. The weather will remain cloudy after that, with isolated showers which could turn thundery on Wednesday.
The Met Office said that an unstable air mass covering the central Mediterranean was causing the wet weather.
Moderate to strong east-northeast winds are expected to pick up speed on Tuesday, with moderate northeasterly winds expected on Wednesday.
Moderate northwesterly winds, later becoming light to moderate, are predicted for Thursday.
Some roads were also flooded after downpours on Sunday.
In Gżira, water rushes out of manholes.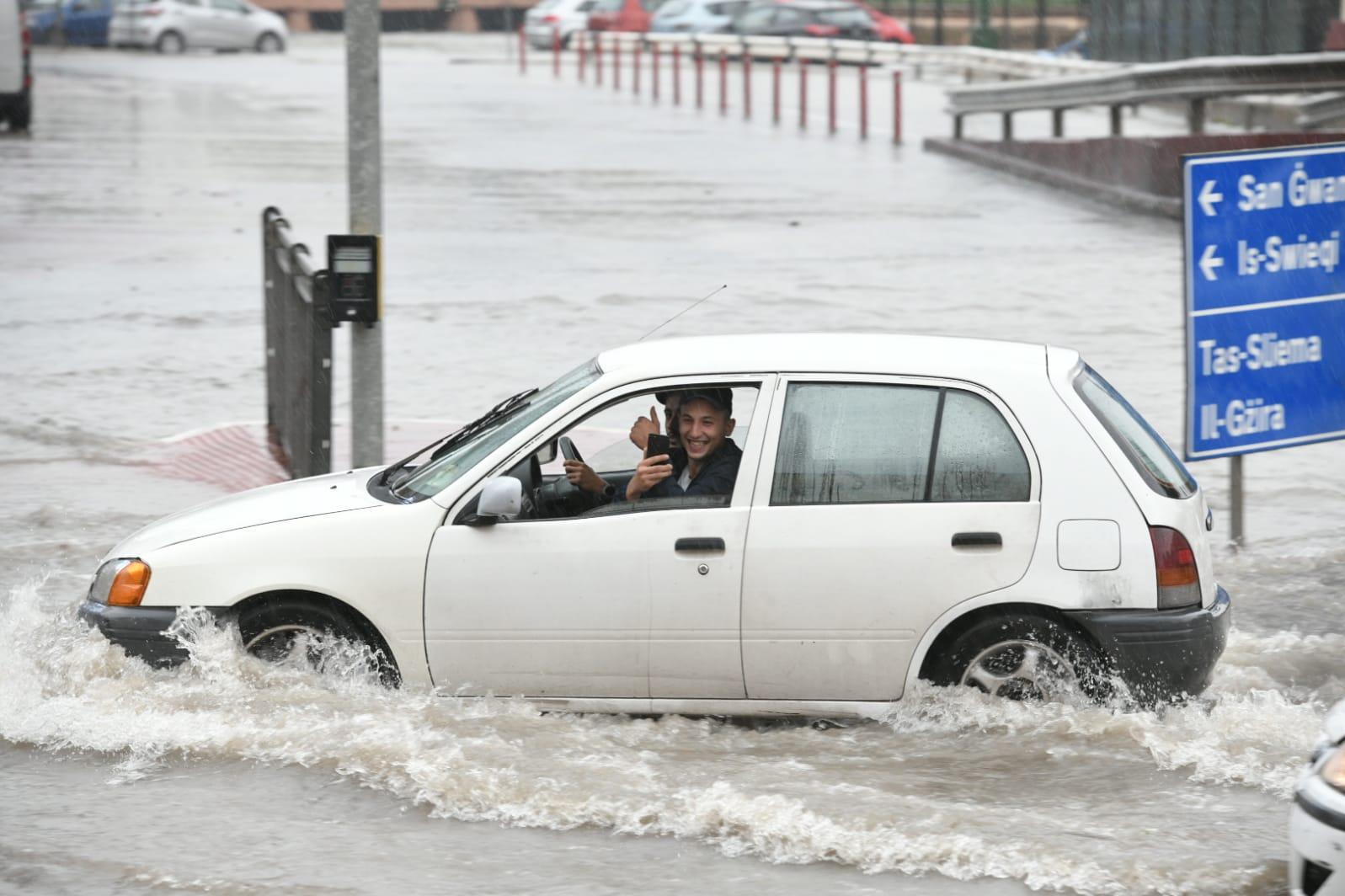 Photo - Matthew Mirabelli.
Got a good picture? Send it to newsroom@timesofmalta.com or Facebook Times of Malta.
Independent journalism costs money. Support Times of Malta for the price of a coffee.
Support Us