A child raised in a particular way will always be under its influence, says poet Roja Chamankar. She reveals to Veronica Stivala about how the vestiges of its impact can be traced in each and every word of her poetry.
Roja Chamankar grew up in a literary family. "I remember my childhood with large bookshelves at home, among poems and stories," she reminisces. The poet was encouraged by her parents to write from an early age and very early on writing poetry, as she says, "became my life".
Chamankar, 35, was born in Borazjan, in southern Iran. She was born two years after the 1979 Iranian Revolution and has a PhD in Persian Literature. Her poems have been published in various Iranian magazines and newspapers. She has also directed a film and has presented children's television programmes in Iran. She will be reading some of her work that has been translated into English on Thursday at the Mediterranean Literature Festival, and will also be interviewed.
We talk about the revolution and the poet explains how its influence on her has been "immeasurable". Soon, after the revolution, the war broke out and all her childhood was shadowed by this devastating war between Iran and Iraq. "You can imagine, that a child raised in a war will always be under this influence," she say.
"Wars usually last but a few years, but their impact would not fade away easily until a long time after. All the cultural, political, social and economic circumstances in the 1980s in Iran have made a huge impact on me and on what I write. The vestiges of this impact can be traced in each and every word of my poetry."
Speaking about her favourite poem, which she wrote, provides some insight into the poet herself, as well as, of course, her poetry itself:
"Louli (translated as Gypsy) is my favorite poem for a variety of reasons. It is, first of all, a poem intertwined with my everyday life in a specific period of my life," she comments. In Iran, some gypsy-like figures walk and drive along the streets during the day and buy the old household stuff. One of these figures used to walk every morning from under Chamankar's bedroom window and announced that he was ready to buy all the unusable of people.
"I thought this voice was exactly the voice of a frustrated human stuck in the modern life," she reveals, remembering how this poem took shape all by itself and was written in one session without much manipulation afterwards. Moreover, this is a poem loved by her father. And, in the end, this is a poem that she has whispered to herself over and over again in various situations, a sign, she believes, of a good poem. "So," she says, "it's stuck with me!"
All the cultural, political, social and economic circumstances in the 1980s in Iran have made a huge impact on me and on what I write. The vestiges of this impact can be traced in each and every word of my poetry
The poet admits she does not know exactly where her poetry comes from, though she attributes everyday events, even the most banal ones, to be a source of poetry to her, as well as the influence of all she has read, watched, and experienced on another, more educated, level.
"The moment of writing poetry is not a voluntarily reached moment to me, but before and after that moment, I work on both the form and the content of what is being shaped as a poem," she says, adding how she believes that "a poet must educate his or her mind to hear and see all that is happening around him or her, and practise his or her hand to write every day".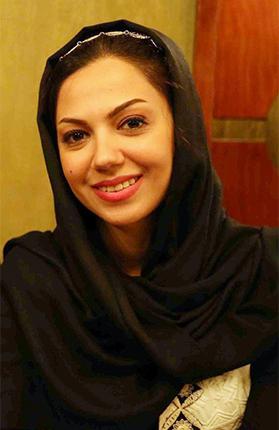 Asked about what she believes her voice to be, she notes that her "poetry is the voice of a human, just because I am a human, it is the voice of a woman, because I am a woman, it is the voice of an Iranian, because I am Iranian. And because I am from the south of Iran, my voice can be defined as the voice of a woman, born and raised in the South of Iran. But, from a more inclusive, global, point of view, my voice is just the voice of a human being in the times that we are living in."
The poet attributes her influences to Forough Farrokhzad, an important poet in Persian modern poetry, when she was a teenager. Also is Ahmad Shamlou as a poet and Sadeq Hedayat as a fiction writer. Among the non-Iranians she lists Sylvia Plath, Marcel Proust and many French poets such as Rimbaud and Baudelaire. However, she says that she is now passed those periods.
I am curious to know who Roja Chamankar is when she is not writing poetry. To this, the poet answers that the sees herself "a poet in all moments of my life". This, she notes, does not mean she is writing or reading all the time. "But all the time, this feeling is not detached from me that I am a poet, and therefore, need to see everything, even the most banal stuff, through a poetic point of view". But, besides that, she loves watching films, dancing and listening to music.
I ask Chamankar about her ambitions for the future, to which she replies that her biggest ambition "is to reach a point that my poetic world becomes so large that the real world becomes small in comparison: to gather all the real world in the closed hands and fists of my poetry".
And like any other human being who is sensitive to what happens around them, she wishes "we could live in a world that all the limitations and borders and intolerances disappear. Global peace!"
The Mediterranean Literary Festival runs from Thursday to August 27 at Fort St Elmo, Valletta.
www.inizjamedmalta.wordpress.com
Independent journalism costs money. Support Times of Malta for the price of a coffee.
Support Us