Joanne Cassar yesterday reached the end of a long and bumpy road when she walked down an aisle, lined with flowers and candles, and into the arms of her new husband.
The 33-year-old beamed with joy as she exchanged vows with Kurstin Sciberras Edwards after an eight-year battle for her right to marry.
"I can't believe this day has finally arrived after so much. This is my second celebration of my right to marry," she says, lifting part of her wedding gown to reveal the Ġieħ Ir-Repubblika brooch she was given two years ago, pinned to her dress.
Ms Cassar, who underwent gender reassignment surgery to become a woman when she was 22, had been blocked from obtaining her marriage banns in 2007.
But she was determined to pursue the case, all the way through to the European Court of Human Rights, and eventually reached a settlement with the government in April 2013.
She was instrumental in forcing a change to the law and allowing other people like her to tie the knot. In fact, the first transgender bride got married a year ago – on March 24, 2014.
I can't give you children. But I can give you as much love as you want
A few weeks before the settlement, which meant she could get married, she had met Mr Sciberras Edwards and things finally started falling into place.
The couple met through Facebook. "I told him: 'I can't give you children. But I can give you as much love as you want," Ms Cassar said, as she sat on a picnic bench in the front yard of her mother's Cospicua house.
Wedding preparations were in full swing around her and the neighbours, who helped paint the yard, were busy decorating it with plants to ensure their darling Joanne got the experience she deserved.
Mr Sciberras Edwards recounts how he had heard of "Joanne Cassar" in the news before meeting her.
"When I met and got to know her I realised she was an honest woman who had nothing to hide about her past. I had no issues with her story. If we couldn't have got married, it wouldn't have been a problem for me," he said, adding he had his parents' support.
As time passed and their relationship grew stronger, they started talking about consolidating their relationship – and the possibility of adopting a child – and on December 15, 2013, they got engaged.
Two days before that, on Mr Sciberras Edwards' birthday, Ms Cassar was granted the Ġieħ Ir-Repubblika award.
"Things started falling into place. Before, when I was about to get married to another man [in 2007] everything had crumbled down on me. I felt the world cave in and all doors shut in my face," she said.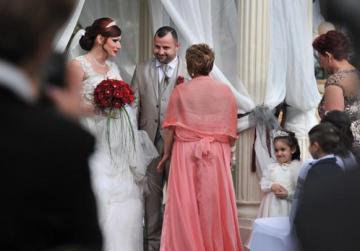 Joanne and Kurstin Sciberras Edwards during yesterday's wedding ceremony in San Ġwann.
Even though her relationship had ended she decided to keep fighting for her right to marry.
"Even though I was not with anyone then, no one had the right to take what was rightfully mine... Then God sent me Kurstin," she says.
A few days before their engagement, Mr Sciberras Edwards proposed. It was Christmas Eve 2013. "He gave me a present with a card asking if I wanted to marry him."
They picked March 31, 2015. The couple tied the knot yesterday in a civil marriage ceremony at Cortile, in San Ġwann, followed by a 400-guest reception.
Ms Cassar started her day by visiting the grave of her elder brother who passed away 12 years ago. At 5pm she was walked down the aisle by her parents Paul and Ċettina.
"She went through a lot. I'm very happy to see them happy," her mother said.
I look back and say, all those blows built my character and made me the woman I am today
Her daughter added: "When I look back I can't believe I went through so much. But all those blows built my character and made me the woman I am today."
All that is behind her now and this morning she will be sharing morning cup of tea with her husband in their Cospicua matrimonial home.
Before going off on their honeymoon this weekend they will head to Gozo to pay a special visit to the Our Lady of Ta' Pinu Sanctuary.
"When I was going through that bad phase, I went to Gozo for the weekend with friends and went to Ta' Pinu. As a person who felt crushed by life I told her: 'Our Lady, you've forgotten me'. I felt her tell me: 'The day will come when everything will work out for you'.
"When I met Kurstin, and we went there together, I felt her tell me: 'You see how I didn't forget you'. So now I must go and thank her."
Joanne's story
Ms Cassar had surgery in the UK when she was 22 after being diagnosed with gender identity disorder, a conflict between a person's physical gender and self-identification.
In a Times of Malta interview in 2008, she had recounted how she was happy during her early school years when she attended a mixed school. The nightmare started in secondary school when she was in a boys-only school.
After keeping her feelings bottled up for years, when she turned 15 she opened up to her mother. "She told me that she had been expecting me to tell her for years... My parents and sister were a pillar of support," she said.
Ms Cassar's family also stood by her side when she travelled to the UK for the gender reassignment surgery. Not doing the surgery was never an option for her.
After saving up, at the age of 22, she got the surgery done. Before going under the knife she was subjected to various hormone treatments and medical and psychiatric tests to ensure she was medically and psychologically prepared for this invasive surgery.
She was also informed that there was not a 100 per cent guarantee that the operation would be successful. She might end up in a wheelchair or, in the worst scenario, die.
"I was determined to go ahead. I would have rather died during surgery and had 'Joanne' written on my tombstone than lived a life in a man's body," she had said.
The surgery was successful and, following an excruciating recovery period of about six months, Ms Cassar filed a court application to have her gender changed to female on her birth certificate. Some nine months later the court upheld the request allowing her documents to truly reflect who she felt she was.
The legal battle
Ms Cassar's battle for marriage started soon after she and her former partner applied for the banns for a wedding planned for December 2007.
The Marriage Registrar refused to issue them even though Ms Cassar had legally changed her gender to female on her birth certificate after surgery.
In February 2007, Ms Cassar won a civil case in which the court ordered the registrar to issue the wedding banns, but the decision was overturned on appeal in May 2008.
In May 2011, the Constitutional Court held that although Ms Cassar's rights had been breached this was due to shortcomings in the law to cater for some form of partnership for people in her situation. It did not result that the banns should have been issued.
In mid-2011, she took her case to the European Court of Human Rights claiming the government was breaching her rights by refusing to issue marriage banns after her gender was changed to female on her birth certificate. The ECHR asked the then Nationalist Government if it wanted to reach an agreement. The government stuck to its argument – that marriage could only take place between a biological male and female and Ms Cassar's gender was only changed on paper to protect her private life.
A month after Labour won the March 2013 general election, the government announced it was willing to reach a settlement. Ms Cassar withdrew the case and was given €10,000 in moral damages after the government amended the law to allow people who underwent gender reassignment surgery to marry.