Emilia
Valletta
Food: 8/10
Service: 7/10
Ambience: 8/10
Value: 8/10
Overall: 8/10
It is all terribly straightfor-ward here.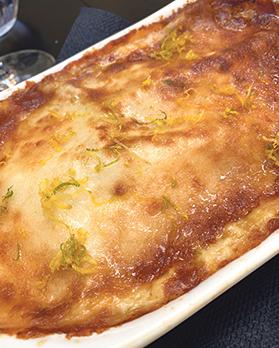 At Emilia, a casual trattoria in Merchants Street, the concept is a simple one – a limited, unelaborated menu based solely on soups and freshly-made egg pasta. There may be no meat or fish for main course but make no mistake about it, we are fed delightfully.
We choose to sit outside and on a sunny morning it's rather lovely. A compact menu delivers a small succession of pleasing dishes. There's no list of antipasti.
Totally unrequested comes a very welcome platter of fluffy focaccia topped with sundried tomatoes. It may be all spring but it's far too wet, and not in an agreeable oily softness sort of way. It's not what I expect from a restaurant proudly flying the flag for Emilia Romagna.
A plate of gnocchi fritti – those wonderful fried, billowing golden pillows of bread dough, all lightness and crispness; would have been far more fitting.Gastronomically the region of Emilia Romagna holds outstanding significance. It is a jewel in the crown of Italy's gastronomy; a region of culinary delights and iconic dishes. This is the land of exquisite produce: of Parmigiano Reggiano cheese, of Parma ham, of mortadella and, of course, glorious balsamic vinegar. It is an especially delicious region.We begin with the soups. A world beyond minestrone, out of the vast and varied realm of traditional Italian soups, come Emilia Romagna's offerings.
Steeped in regional tradition are these fine examples of a cherished winter comfort food. All of humble origin, the majority is an intense expression of the so-called cucina di recupero and cucina povera. Such is the heavy irony that forever surrounds 'peasant food'.
Wholesome and generous, Emilia's soups prove a defence against the bleakness of a burgeoning, brooding winter.
The vegetable minestrone with pearly barley is earthy and filling; the swollen barley is cooked in vegetable stock and a mirepoix of onions, celery and carrots before being enriched with potatoes, zucchini, chard, cabbage and green beans. It is a hearty, soulful delight.
The bean and sausage soup is a concentration of boisterousness and bold flavour. The borlotti beans retain their bite and ensure that the dish is rich and substantial.
The soup is soothing, but with a forceful kick of spice and salt from the crumbled beef sausage that butches everything up nicely. Bolstered with chopped tomatoes and chicken stock, it has all been simmered together until a thick, intensely flavourful, sauce-like consistency is attained.
At the heart of Emilia Romagna's cooking is pasta, with homemade fresh egg pasta reigning supreme; the product of deep-seated and well-practised tradition.
The quality of the eggs is the subject of much scrutiny. It is the eggs that imbue the pasta with a golden, soft yellow hue, with a delicate richness and a sumptuous velvetiness.
Food that sells itself, its virtue lying in its simplicity
Emilia Romagna is the homeland of tortellini; cherished throughout Italy and the subject of legend, having been divinely inspired by the goddess of love herself.
Common lore would have it that the tortellino's sensual form is said to be sculpted in the shape of Venus' navel. With centuries of tradition behind it, this skilfully crafted, ring-shaped pasta has become a timeless classic, traditionally served in broth.
This is the way that Emilia serves their beautifully fashioned tortellini. The rolled, paper-thin, pliable sheets of dough have been cut into small squares, a dab of Parma ham filling placed at the centre of each, then folded into a triangle and rolled around the finger.
The result is a voluptuous dumpling, folded impossibly small – a mark of the pasta artisan's true skill. Served in a warming bowl of steaming poultry broth, this dish brims with warm tenderness and subtle flavour.
It is comfort food at its best. We slurp joyously, savouring one appetising morsel after another.
Another type of egg-based pasta recognised as a typicalproduct of Emilia Romagna are garganelli. The garganelli romagnoli dish comes in an assertive cherry tomato sauce, all freshness and vigour, livened with basil and a fruity extra virgin olive oil and topped with milky buffalo mozzarella.
It's an excruciatingly uncomplicated dish, yet divinely delectable.Likewise, the dish of scrigni with burrata is simply hewn but nonetheless exquisite.
Sublimely thin and deliciously al dente, the quality of the handmade pasta is allowed to shine. Each pocket is packed with creamy, buttery burrata and lies in a heavenly sage and butter sauce that enhances the subtle pasta flavours marvellously.
The leaves of sage are beautifully crisped and impart a rich, earthy savouriness. Coupled with a flourish of grated Parmesan, the butter sauce, the burrata and the silky-textured pasta together work themselves into a luxurious creaminess in the mouth.
We eat voraciously. The lasagna alone is disappointing. We find no issue with the pasta itself but the classic ragu alla Bolognese isn't somehow ripe enough.
That slow cooked, deep umami savouriness from the beef, garlic, onion, tomato and wine alchemic amalgam just isn't present.
Furthermore, the lasagna's crinkled crust has been topped with wholly unnecessary ribbons of orange zest which soften and melt away imparting marmalade-like flavours that perfume every meat-filled mouthful. It's an unconvincing addition to say the least and it's doing the lasagna no favours. Emilia Romagna is no longer represented when it comes to dessert. A short four-choice affair of Italian classics is what is presented to us.
Texturally, the chocolate panacotta doesn't feel right. While flavours are indeed lovely, the panna cotta is the consistency of the densest of chocolate mousses.
Reasonably good is the semi freddo; a cold cup of yoghurt, dotted with pistachios and raspberries.
It is no mean feat to take on the gastronomic titan that is Emilia Romagna. At Emilia they are striving to give this region's repertoire the love it deserves. And, without much over adornment, they succeed with food that sells itself, its virtue lying in its simplicity.
The food isn't perfect but an awful lot does please.