Mahmoud Zeid's wife and five daughters were at home when the missiles first hit.

"We were queuing up to buy cooking gas," Mahmoud recalls in the video above. "I heard a huge explosion in our neighbourhood. The planes were bombing everywhere."

The bombs destroyed parts of the Zeid's two-room home in Yemen's capital Sana'a and forced the family to seek refuge in a nearby school. War forced Mahmoud to shut down his tailoring business, and the family now rely on the Norwegian Refugee Council for food assistance.

Since war between Houthi rebels and a Saudi-led coalition force tore through Yemen over a year ago, the Middle East's poorest country has spiralled into a gargantuan humanitarian crisis.

Four out of every five Yemenis need some form of humanitarian assistance, 2.4 million people have been internally displaced and 1 million children are malnourished. 137 children die every day of preventable causes. Yet while western news reels play footage of conflict in Syria and Libya, not much is written about Yemen's plight.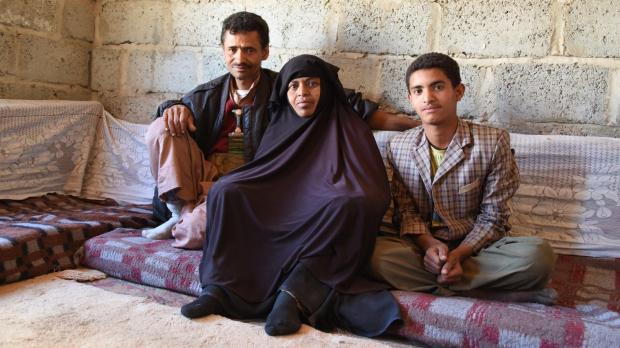 Mahmoud and Sabah Zeid together with their son. Source: Karl Schembri/NRC
"I've been asked by many Yemenis why nobody cares about them," says Maltese humanitarian and NRC media advisor Karl Schembri. "It's a question that haunts me."

Part of the problem, Mr Schembri believes, is that the western nations have no skin in the game.

While Syrian and Libyan refugees reach European shores, most displaced Yemenis are stuck.

"They don't afford to leave, and the [Saudi-led] blockade stops them from leaving," Mr Schembri notes.

Conflict broke out after Houthi forces overthrew the government and took over the capital, Sana'a. Led by Saudi Arabia and with the help of US intelligence and logistical support, a coalition began a military campaign to oust the Houthis and restore the previous regime.
In the midst of the mess, the world's two most renowned terrorist groups – Al Qaeda in the Arab Peninsula and ISIS – have also carried out attacks.

A fragile ceasefire has been in place since last week, and humanitarian agencies warn that, should it break down, the consequences would be catastrophic.

Should the ceasefire not hold, "those breaking it must be held accountable for the bloodshed," insists NRC Secretary-General Jan Egeland. "Every day of war is another day of massive death, displacement and despair."

Mahmoud and his wife Sabah aren't holding out much hope for a better future.
"The future is a black canvas," he sighs as Sabah looks on. "This war blots out the future of millions of children. How can we talk about the future? If it goes on it'll be a future of blood and darkness."
Independent journalism costs money. Support Times of Malta for the price of a coffee.
Support Us