When viewing a fashion show or presentation, understanding the inspiration behind the collection is fundamental. It is this that allows you to appreciate the finer details and understand the hidden meanings and references.
Silver everywhere you looked at MM6 Maison Margiela. Photo: London Fashion Week
At Malone Souliers, the collection and presentation were inspired by anatomy. Nude mannequins and semi-nude models lay on sofas and chairs each way you looked. The designer was inspired by what lies beneath rather than surface aesthetics, and the shoes themselves are fabulous, with intricate detailing and excellent craftsmanship.
Different materials such as nappa, velvet, suede were used, each taking on its own characteristics. The collaboration with the renowned French Couture House Emanuel Ungaro was also showcased, using fabulous polka dot patterns, ruffles, pleats and flamboyant colours.
At MM6 Maison Margiela silver was a rather obvious highlight, with an entire room and capsule wardrobe in silver coating. For this edition of London Fashion week, MM6 Maison Margiela coated an entire pub in a metallic silver material.
The disco vibes were present in both the concept and the actual pieces. Large quilted jackets, disco ball coats took centre stage with shiny silver boots and metallic silver denim jackets also making a presence.
Preen by Thornton Bregazzi were inspired by the Haenyeo women - divers of Jeju Island in Korea, a place where women are the breadwinners. The women dive for shellfish whilst the men take care of the homes. This led to a collection inspired by powerful women, feminism and the captivating world of the underwater.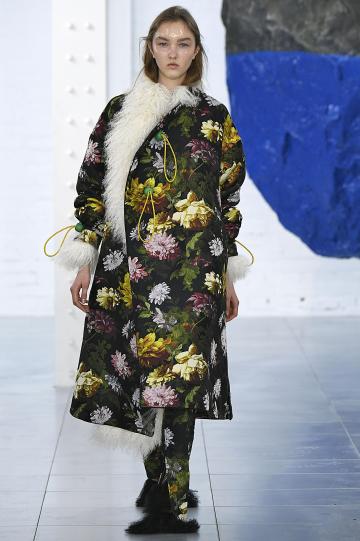 The Preen collection took its inspiration from women living on a Korean island. Photo: London Fashion Week
Translate this inspiration into a fashion collection and you have woven netting inspired by fishnets, wetsuit-inspired details, sequins, traditional fishing knits and Korean inspired textiles and shapes. All these elements found their way onto a diverse range gorgeous dresses, suits and coats.
Caroline Paris is a fashion blogger. For more about the world of fashion, check out Caroline's Fashion Styling blog.
Independent journalism costs money. Support Times of Malta for the price of a coffee.
Support Us