A photographic expedition to Japan and South Korea has introduced new territories and spectacular new effects of light to Lucia Pica's ever-expanding beauty landscape at Chanel.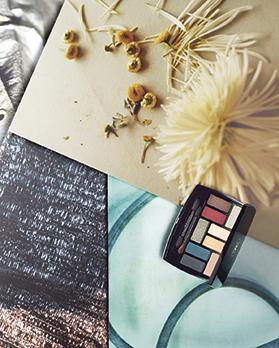 From a glimmer of fish scales captured at a market in Tokyo to a nest of wires shot suspended over a side street in Seoul, Pica has immersed herself in the intimate minutiae of everyday life to which East Asian culture accords sacred value to. Such a close-up appreciation of quiet beauty and the elevation of the humblest of objects has inspired a richly nuanced make-up collection.
In this spring/summer 2019 collection, Vision d'Asie: L'Art du Detail, depth and refinement is expressed in Pica's signature play on light and the luminous architecture it builds. The translucent, new product Baume Essentiel creates a dewy, 'wet' glow on the skin that brings life to the face through gentle sculptural effects. These are enlivened by strokes of pearly luminescence that add definition without a hint of heaviness.
The eyes shimmer with vitality as a dynamic match between the textures of Ombre Première Crème and Les 9 Ombres lies at the heart of this collection.
The creamy, metallic Ombre Première Crème Patine Bronze fascinates on its own but also acts as a transversal shade to be worn under Les 9 Ombres to intensify their shades. They chime against the powerful, lush matte Rouge Allure Velvet and Rouge Allure Liquid Powder lip colours, and the provocative Le Vernis shades.
Through these captivating vibrations of light, colour and texture, the collection comes alive in the wearing. "I like to give makeup the freedom to travel," Pica says. "I never want to restrict women to conventions or clichés of perfection."
(Content provided by Alfred Gera & Sons)