Outgoing prime minister Joseph Muscat gave his final farewell speech on Friday night, saying he would stay in Malta to encourage more civil rights reforms and work on the sports sector.
"I will remain with you," he said as applause drowned out his voice.
Dr Muscat also indicated that he would remain in parliament as a backbench MP "for a little while longer", though people could expect to see less of him in the days and months to come.

Amidst tears and applause from the crowd that gathered in the Corradino Sports Pavilion, Dr Muscat gave his last goodbye to the Labour Party faithful telling them he was proud of what he had delivered, that he loved the Labour Party and Malta, and that while he had regrets, he was happy to have walked the road as prime minister.
Dr Muscat became Opposition Leader in 2008 and rose to power as prime minister in 2013.
Despite record popularity levels, he was forced to announce his resignation last month after the Daphne Caruana Galizia murder investigation implicated his own chief of staff, Keith Schembri, in the crime.
Mr Schembri has not been charged but remains under investigation.
As many party supporters feared, the chosen venue proved to be too small for the people who gathered for Dr Muscat's final speech. Party officials were seen by the entrance at 6.45pm, directing people who did not make it in to watch the speech on big screens set up outside the venue.
On Saturday, some 17,500 paid up Labour Party members will vote on Dr Muscat's successor, choosing between Chris Fearne and Robert Abela.
Future plans
Some had asked what would come next for him, he said. Dr Muscat said he wasn't going anywhere, prompting a roar of applause.
He would be working to usher in new social reforms, and to oversee a major sports-related project that would seek to lift Maltese athletes onto the world stage.
"We have a lot more to do in the civil rights field. And without the weight of political office, I will be freer to speak my mind," he said.
An empty inbox
He admitted that the "flood" of emails he was used to receive had slowed to a trickle over the past weeks, as scandal took its toll on his government.
"I realised who my real friends are," he said. "But I heard from many people who gave me strength".
A woman in the crowd weeps as Joseph Muscat delivers his final speech. Photo: Matthew Mirabelli
Regrets and resignation
Dr Muscat said that he had decided to resign "to overcome hatred" that was being sown.
"I am the first to apologise for whatever mistakes I made or were made by others," he said.
"They hurt me. Maybe I hurt others. But let us continue to love our country until our dying breath."
He said Ms Caruana Galizia's murder would continue to be the biggest regret of his time in office.
"Her writing hurt me, but nothing can compare to what her family went through," he said.
Electoral success
The Labour Party had become an electoral victory machine, winning 10 consecutive elections with historic margins under his stewardship, he told the roaring crowd.
Recalling the first time he addressed Labour supporters as leader back in 2008, he said he had been faced with skeptical looks.
Some had popped the champagne at Nationalist Party headquarters, because they believed they could walk all over him.
Thousands packed the sports pavilion to listen to Joseph Muscat. Photo: Matthew Xuereb
"Who knows how that sip has stuck in their throats," he said.
"Many might celebrate the fact that I'm leaving," he said. "But they can never celebrate having beaten us."
Sharing an anecdote from the 2013 campaign trail, he regaled the crowds with a tale of how former prime minister and president Eddie Fenech Adami had addressed the Nationalist Party crowds.
That, he said, was when he realised that they were panicking, about the movement that had been started by a "boy they were meant to walk all over", prompting a roar of cheers from the crowd.
Appeal to unity
He said that from the first day of his leadership, he had a vision to unite the country, whether they be Nationalist, Labour, man or woman, gay or straight.
The PL's adversaries, he said, wanted to sow division.
His appeal to Labour supporters was to not let divisiveness win over unity.
Achievements in government
Dr Muscat talked up the power station which he said heralded an age of lower utility bills.
And lower bills were just a small part of the "social revolution" ushered in under the Labour government.
Chris Fearne and Robert Abela were all smiles. Photo: Matthew Mirabelli
The PL inherited a country riddled with crippling national debt, stagnant economic growth, and a minimum wage that hadn't been improved in a quarter of a century.
He said he was proud to be leaving behind a country with the highest rate of economic growth in Europe, €600 million in the bank, and job creation that outpaced the Labour supply.
Poverty rates had dropped to record lows and pensions had risen annually.
Labour's pro-business approach, he said, had been pro-worker.
A lonely job
The role of Prime Minister was a lonely one, Dr Muscat told the crowds. He had spent the good times and the bad largely alone, and in silence.
He said regretted the price paid by others, including his family - his wife and his two daughters.
"We cried together as a family. But today I look back and say that my family became stronger through these attacks," he said.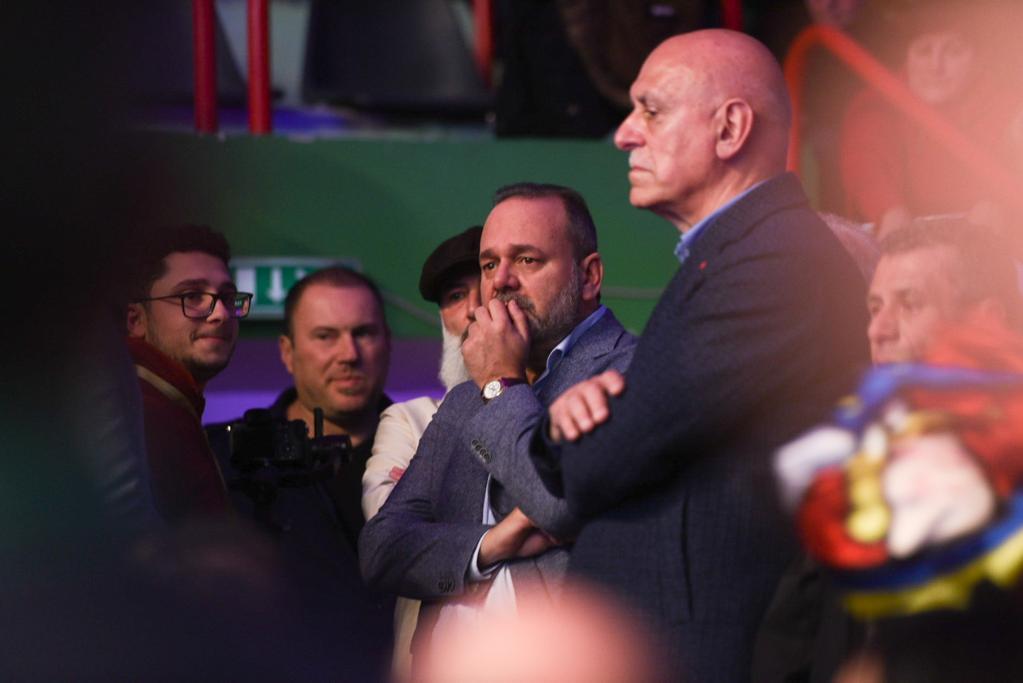 A tearful Chris Cardona looks on from the sidelines.
Dr Muscat lashed out at political adversaries who had dragged his family into the political arena. Without mentioning the Egrant claims, he said his family had suffered a frame up by those who were desperate for power.
"I do not call these people politicians but cruel," he said.
Dr Muscat's wife Michelle was accused of owning secret company Egrant back in 2016. A magisterial inquiry into the claims found no evidence to back them.
Further regrets
On his regrets, Dr Muscat said he had thought that he would see the end of personal attacks in the political arena.
He regretted not having ushered in further gender equality.
He regretted the time racial hatred reared its ugly head with the murder of Lassana Cisse. Mr Cisse was gunned down in Birżebbuġa last year in a seemingly racially-motivated attack. Two former AFM soldiers stand accused of murdering him.
Thanks to his family
Dr Muscat thanked those who had stood by him, not least of all his wife. He looked forward to spending time with her, adding that he was however sure she would continue with her charitable work and even her swims.
"She can swim all she wants. I'll be on a deck chair," he joked.
Labour supporters who did not fit inside the venue followed events on big screens outside.
He thanked his parents, and above all his twin daughters Etoile and Soleil, who had grown into two strong girls, despite the hatred that had been thrown at them.
His closing words: "I love you all".
'Surreal' - PN
In a statement, the Nationalist Party said that Dr Muscat continued to deceive his supporters and the people to the very end.

His speech was full of "surreal declarations", they said, which did not reflect the reality the people were facing.

The PN noted problems with early school leaving rates, cheap labour and environmental degradation and said he had failed to mention corruption which, under his administration, had taken over the government and smothered the institutions and their autonomy.