Malta marked the feast of St Joseph in an unprecedented manner on Thursday as people were urged to stay indoors to contain the spread of coronavirus.
---
Highlights from Thursday:
Five new COVID-19 cases were reported, bringing the total in Malta to 53;
Minister says more ITU and coronavirus beds are opening;
Employers say the raft of fiscal incentives announced by the government will still not resolve the problem of job losses;
Air Malta sets up a 'lifeline schedule' to facilitate outbound travel for stranded travellers.
---
It's a wrap
We're wrapping up this live blog for today. We'll be back tomorrow. Keep following the constant updates on Times of Malta. Most of our team might not be based at our offices in Mrieħel but our reporters are still on the beat.
Spotted something worth sharing or have a suggestion about a story to follow up? Send us a message at newsroom@timesofmalta.com
---
Applauding the carers
6.45pm The public is urged once again to pay tribute to the carers on Thursday evening by lighting candles at 7.15pm and "make some noise" at 7.30pm
---
The great outdoors?
6.30pm Seems like the vast majority of Maltese listened to the health authorities' advice to remain indoors to try to contain the coronavirus. But we're informed there were quite a few people who couldn't resist staying in on a public holiday and congregated in places like Ġnejna.
The government has not imposed a total lockdown, but many are saying this is the next inevitable step. The prime minister said this would be tantamount to "house arrest".
---
And in Italy...
6.20pm Italy on Thursday overtook China's coronavirus death toll, with 427 new fatalities taking its total since the first case was registered in February to 3,405.
China has officially reported 3,245 deaths since registering the first infection at the end of last year.
---
Numbers grow in US
6.10pm The United States has 10,755 cases of people infected with the novel coronavirus while 154 people have died from the pathogen, a tracker maintained by Johns Hopkins University showed on Thursday.
This makes the US sixth on the overall list behind China, Italy, Iran, Spain and Germany, and ahead of France and South Korea. Globally, there have been 229,390 cases confirmed and 9,325 deaths, the tracker said.
---
Measures should not bar innocent people
5.45pm The UNHCR said that while all states must manage their borders in the context of this unique crisis as they see fit, it should not result in closure of avenues to asylum, or of forcing people to return to situations of danger.
@Solutions exist. If health risks are identified, screening arrangements can be put in place, together with testing, quarantine and other measures, said Filippo Grandi, UN High Commissioner for Refugees.
---
Urban myth debunked
5.40pm People in Gozo have been very worried by the sight of a white van going around homes.
There were rumours that robbers were telling old people that they were there to fumigate, and were then robbing the houses. Our reporter Ivan Martin checked the story out. Police said they had received no such reports.
It turns out that the van has been hired by Gozo General Hospital and that some sort of "device" is being offered to residents.
The van sparked concern in Gozo.
---
All foreign workers' health permits renewed
5.35pm Resident and work permits of all foreign workers in the health, disabled and care of the elderly sectors are being extended by three months in light of the recent COVID-19 developments, Parliamentary Secretary Alex Muscat said.
You can read the details here.
---
Good, but not good enough, GWU says
5.15pm The General Workers' Union has reacted to the fiscal initiatives announced by the government on Wednesday night.
It said the stimulus package was good but was not enough to avoid dismissals.
It proposed new incentives, including direct assistance to pay wages and tax credits. We'll have a separate report about that shortly.
---
World at war on virus as China offers ray of hope
4.40pm So what's happening around us?
The world stepped up its war on coronavirus as deaths soared again in Europe on Thursday, despite a sign of hope from China where zero new domestic cases were reported for the first time.
Spain's death toll jumped by almost a third overnight while Italy and France were set to extend the lockdowns that are keeping tens of millions of people trapped in their homes.
Italy appears set to overtake China as the country where the most people are confirmed as having died from the COVID-19 disease.
One major milestone came in China which listed no new domestic infections for the first time since the outbreak first erupted in the central city of Wuhan in December, before spreading worldwide.
A fruit and vegetable seller picks artichokes at the Testaccio market Rome. Photo: AFP
---
Where art thou?
4.20pm We've invited parents to submit their children's drawings to us, while schools remain shut. And we've received dozens of images! It's encouraging to see parents and children getting creative in these surreal times. Keep them coming on newsroom@timesofmalta.com
Claire Caruana has compiled some of the images we've received.
---
Protect jobs before anything else
4.10pm Alternattiva Demokratika said help given to businesses should only go to those which have suffered a drastic reduction in their income compared to last year. Any direct assistance to businesses should be linked to the obligation of protecting jobs.
---
Even monarchs aren't immune
4.05pm Monaco's Prince Albert II has coronavirus, the palace has confirmed. There are no concerns for his health, they assured us.

---
'A disaster of immense proportions'
3.45pm Meanwhile, Malta's hospitality industry was witnessing a disaster of immense proportions and the decision to ban all inbound flights by Saturday meant the industry was at a complete standstill, Malta Hotels and Restaurants Association president Tony Zahra has told Times of Malta.
Read his snapshot of the situation after a chat with Matthew Xuereb.
---
'Stop begging, help the country,' rich companies told
3.20pm Andre Callus from left-wing Graffitti Movement has lashed out at the greed of large companies and entrepreneurs for turning into "beggars" overnight.
Instead of trying to help the country by dipping into the millions accumulated over the years, they are claiming the government is not giving them enough and threatening to lay off workers, Callus wrote on Facebook.
---
What are the leaders saying?
2.40pm German Chancellor Angela Merkel: "Not since the Second World War has our country faced a challenge that depends so much on our collective solidarity".
Italian Prime Minister Giuseppe Conte: "The measures we have taken... must be extended beyond their original deadline."
The head of the World Health Organization, Tedros Adhanom Ghebreyesus sounded a special alarm for Africa, saying the continent must "wake up" and "prepare for worst."
EU Commission chief Ursula von der Leyen: "We understand that measures that seemed drastic two or three weeks ago, need to be taken now."
Donald Trump: "I view (myself) as a, in a sense, a wartime president. I mean, that's what we're fighting. I mean, it's a very tough situation here."
---
No last orders
2.25pm As we come to terms with the stark reality imposed by the coronavirus outbreak, the tourism minister said no establishments were found in breach of the law when a series of inspections were carried out on Wednesday night to ascertain outlets remain closed for business.
---
Attention all stranded travellers
2pm Air Malta says it has set up a 'lifeline schedule' to facilitate outbound travel for stranded individuals to their home countries and ensure essential connectivity for critical medical cases apart from medical equipment and medicines to the islands.

Starting from Monday, March 23, the airline will introduce a new schedule operating to London, Paris, Amsterdam, Brussels, Frankfurt, and Vienna. The schedule could be changed subject to demand.
Selected flights from the outbound only schedule will be available for individuals to book online on www.airmalta.com or through all travel agents and their systems. All the flights will be operated on a point to point basis and will be available for customers who can prove that they are travelling back to their home country in the Schengen area either byproducing a valid passport or residents' card.
During this period, no on-line check in will be offered to be able to control the validity of the passengers. Passengers are asked to present themselves two and a half hours before the flight's departure time.
We've been reporting about several individuals who got stuck because of the virus measures. This is one particular story.
---
Passenger from Malta shows 'symptoms'
1.45pm A passenger from Malta is being examined in Paphos after appearing to be in a febrile condition and displaying COVID-19 related symptoms, according to news reports.
The aircraft, which arrived at 11.05am, had a total of three passengers on board, two of whom had health certificates, while the third passenger displayed symptoms, according to Cyprus Mail.
Health professionals are carrying out checks.
Paphos airport. Photo: Shutterstock
---
No match point
1.25pm More terrible news for sports lovers. All professional tennis tournaments have been suspended until June 7, ruling out the entire clay-our season, the sport's two governing bodies have announced in a joint statement.
---
€9,000 fine for breaching quarantine!
1.10pm We've confirmed that a French national has become Malta's first serial quarantine breaker! He left the house three times when the fine was initially €1,000 and were that not enough he was caught twice more when the fine was hiked up to €3,000!
While most people have voluntarily followed the quarantine directive, there have been some report of people ignoring the orders.
Police have been carrying out spot checks.
---
Olympics on hold?
1pm World athletics chief Sebastian Coe admitted on Thursday that the Tokyo Olympics could be moved to later in the year by the coronavirus outbreak, but said it was too early to make a definitive decision.
---
Reduce utility prices, Gozo chamber says
12.55pm In a statement, the Gozo Business Chamber is asking why the government has not mentioned the possibility of subsidising utilities, in a scenario where the international prices of oil and gas have plummeted as a result of the pandemic.
If you're just catching up, you might want to read the initiatives announced by the government on Wednesday night to boost the economy.
---
'Your health also our priority,' president tells foreign residents
12.45pm President George Vella has just addressed the nation in a televised address.
He thanked all care-givers on the frontline of the battle against coronavirus and urged everyone to follow directives issued by the health authorities.
Addressing non-Maltese in English, he said: "we are all in the same boat and that as part of our extended family, your health was also a priority to us," he said, while urging them to observe the directives issued by the health authorities.
---
'The peak has yet to come'
12.30pm So, Malta now has 53 confirmed cases of COVID-19. The majority of cases have been related to travel, some happened because of cluster contact and some others within the local community.
Prof. Charmaine Gauci said the fact five cases were reported (less than the cases confirmed in recent days) should not put the country's minds at rest.
"We can't say the situation is good. The peak has yet to come," she warned.
Prof. Charmaine Gauci
---
Five new cases
12.10pm The new cases are the following:
A 56-year-old woman, whose relative had already tested positive for the virus;
A 29-year-old man who travelled to the UK between March 8 and 15;
A Spanish man, 33, who returned from overseas. He reported to work for one day but tests showed his colleagues did not get into close contact.
A 35-year-old Maltese national who returned from Brussels. He went into quarantine as soon as he arrived.
A 64-year-old Maltese national who happens to be a relative of a person who had tested positive for the virus.
---
Health update
12pm Superintendent of Public Health Charmaine Gauci said there are five new cases of COVID-19. Report to follow.
---
Measures won't prevent layoffs - Delia
11.45am Opposition leader Adrian Delia has slammed the government's fiscal initiatives, saying the measures announced would not prevent layoffs.
Giving struggling employers assistance to cover just two days of every five was inadequate. The PN felt the government should cover 50% of the salaries of companies at risk of going under, he said.
---
Brexit negotiator contracts the virus
11.40am Michel Barnier, the EU's Brexit negotiator, is among a growing list of prominent personalities, politicians and celebrities who have tested positive for coronavirus.
"I am doing well and in good spirits. I am following all the necessary instructions, as is my team," the 69-year-old wrote on Twitter.
"For all those affected already, and for all those currently in isolation, we will get through this together."
Photo: AFP
---
Hoteliers for a good cause
11.25am Former Manchester United stars Gary Neville and Ryan Giggs are to open their hotels free of charge to health workers to help with the coronavirus crisis.
Renowned Maltese hotelier Winston Zahra, who heads GG Hospitality in the UK, said that during these very tough times the company was trying to do its best to look after its team to the best of its ability while extending support to the wider community by offering rooms to the NHS staff.
Zahra told Times of Malta the government needs to be looking at what other European countries are doing and tangibly support hospitality and other industries in a way that really protects people's jobs.
"If this is done, hotels and other companies would then also be in a position to help the wider community more effectively especially by retaining higher levels of employment. We have to work together and support each other as a community to get through this.
---
Send us children's art works!
11.05am Amid all the doom and gloom, we are informed many children are using the extra time at home to show off their creative skills.
Times of Malta wants to see these art works. Whether it's a painting or drawing, crafts, a poster... pass them on to us on newsroom@timesofmalta.com and we will try to share them on our platforms.
Art teacher Sherryanne Gauci, who is behind one of the initiatives, told our journalist Claire Caruana that most children look forward to their art class and so she wanted them to still be able express their creativity even while schools are shut.
The teacher also hopes the initiative could help bring families together by getting both children and adults involved in creating art.
Art teachers are also taking the initiative to upload art lessons and activities for the public via Facebook group Primary School Art Lessons during School Shutdown
---
GRTU sounds the alarm bells
11am The retailers association said on Thursday Malta should brace itself for mass layoffs, business closures and unemployment.
In a statement, it said the government needs to act fast and will be held responsible for the "time wasted, ignorance of social dialogue functions and the harm done to Malta. Ill-thought and half-baked solutions are unacceptable."
---
And the band played on...
10.35am Our videographer Jonathan Borg just captured these two musicians playing band tunes from their balcony in Rabat. The town was forced to cancel its annual St Joseph feast because of the virus. Thousands would normally attend the feast on a day like today.
This clip is wonderful... yet sad.
Some still couldn't' resist the temptation...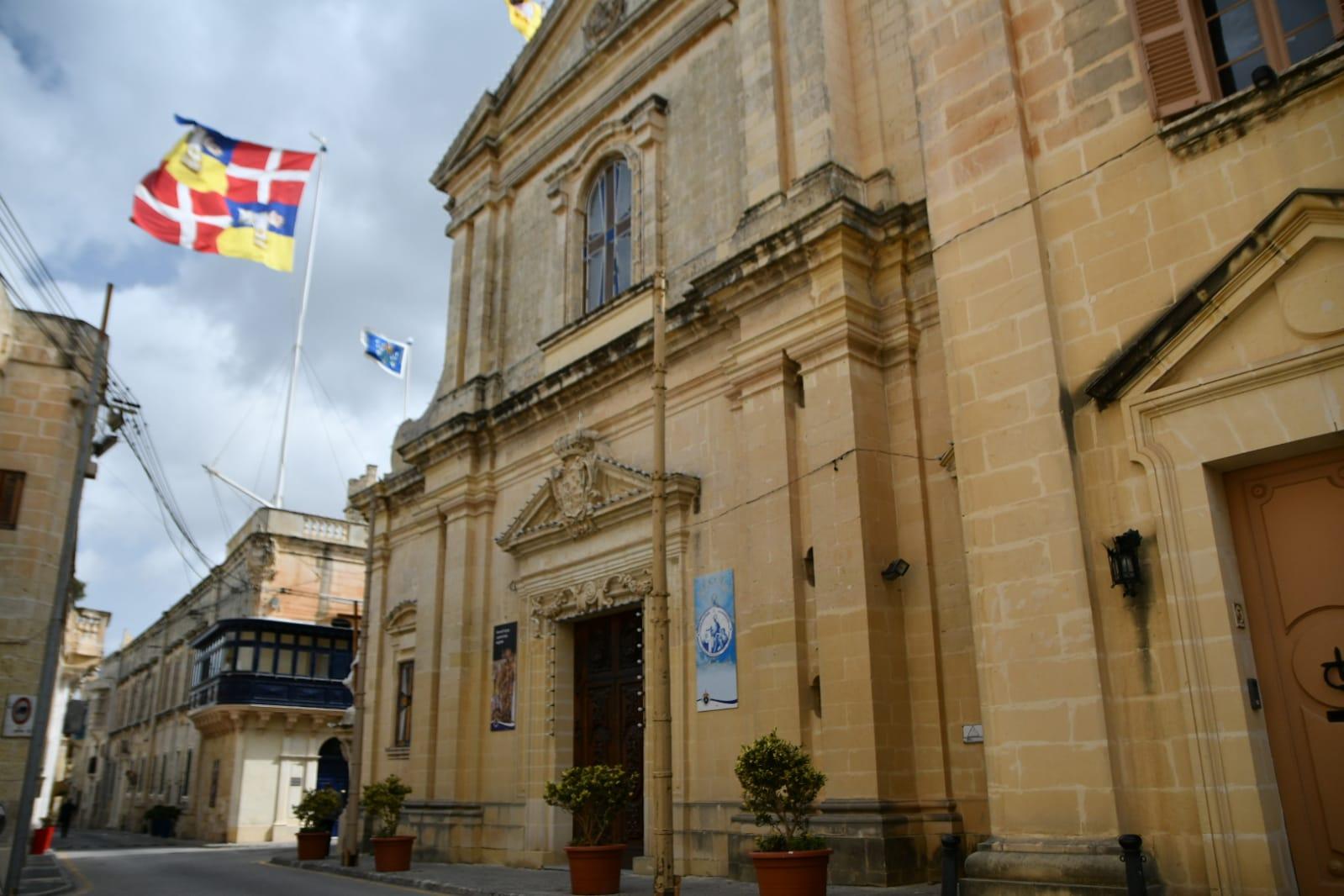 ---
Teachers taking the lead
10.30am Several teachers have taken initiative to help with homeschooling amid the coronavirus outbreak. Many are posting this text on their Facebook walls:
"If you are homeschooling/remotely/digitally educating your kids, if you need assistance with understanding something that has been assigned to your child, or if you need more resources, just give me a shout. I'll be happy to answer questions and help where I can. We're all in it together.' 💛❤️"
Meanwhile, the UK Paediatric Mental Health Association has responded to different initiatives being taken:
"We are not advocating ignoring the advice of teachers or not trying to educate your children in the case of prolonged school closures. But give yourselves a break. Take the stress out of it - especially initially. There is enough stress in the situation already. Enjoy spending time with your children if you get the chance."


---
What's happening elsewhere?
10.15am
China reports no new domestic cases. This is a major milestone.
Confirmed cases worldwide pass 200,000, more than 8,000 people have died.
UK schools are set to shut down, prompting calls for clarity on exams.
Hungary's decision to ban non-citizens from entering the country has sparked confusion and long lines along its borders.
Australia and New Zealand are to close their borders to non-residents.
In an interview with the Financial Times, Annegret Kramp-Karrenbauer says Germany will deploy the army to help in the fight against the virus.
A policeman controls the entrance and exit of Mitterteich. The District Office in Tirschenreuth issued a curfew on Wednesday evening. Photo: AFP
---
Health update at noon
10am We're informed Superintendent of Public Health Charmaine Gauci will hold a health update at noon. A total of 48 COVID-19 cases have so far been confirmed in Malta, with 10 announced on Wednesday.
---
Situation can be sustained for just a few weeks - hoteliers
9.50am The Malta Hotels and Restaurants Association stressed its members are facing zero income and only massive expenditure, a situation that cannot be sustained for more than a few weeks.
In another statement, the MHRA said it is disappointed that the fiscal measures announced fell short from addressing the business needs at present and cannot view the outlook as positive.
---
Don't be fooled by the package label - employers
9.40am In a statement, the Malta Employers' Association said that while the figure of €1.8 billion of government assistance sounds impressive from a public relations perspective, the contents of the package are different from the label, and will cost the government significantly less than the amount stated.
---
Italy to extend lockdown
9.15am Prime Minister Giuseppe Conte said Thursday that the week-long lockdown in Italy, the European country hit worst by the coronavirus pandemic, will be extended beyond the April 3 deadline.
"The measures we have taken... must be extended beyond their original deadline," Conte told Thursday's edition of the Corriere della Sera newspaper.
---
Ghost towns
9am Għajnsielem mayor Kevin Cauchi has just sent us these pictures of his village.
"This is the sad and almost haunted village centre, which is usually bustling with activity. However, its good to note that residents are cooperating and staying inside,"Cauchi said.
His comments echo those made earlier by Health Minister Chris Fearne, as traditionally many seek the outdoors on public holidays like today's.
Sergio Muscat sent us this picture of St George's Square in Victoria.
---
China to help EU
8.40am The EU Commission chief said China will send Europe 50,000 coronavirus testing kits and two million surgical masks, as the continent battles to contain the pandemic.
---
More ITU, COVID-19 beds opening in Malta
8.25am Health Minister Chris Fearne just told Times of Malta that a four-pronged strategy is currently in place:
Chris Fearne
1. Testing and containing. More than 300 tests were carried out on Wednesday. A second lab will open at Mater Dei on Thursday to deal with increased testing.
2. Plan and prepare for the expected increase in numbers. More ITU and coronavirus beds are opening.
3. Protecting healthcare workers. Protective clothing is available and staff continues to be trained in its use.
4. Social distancing. This is essential and is the fulcrum upon which the outcome of this pandemic will turn.
"My appeal today - a public holiday - is for each and every one of us to do our part and avoid as much social contact as possible. Look after your loved ones, phone them, Skype them ... but avoid crowds."
---
Listen to the children
8.20am Many have been attaching messages of optimism and advice from their balconies and windows to try to contain coronavirus. Children seem to be taking the lead.
Our cartoonist Steve Bonello shot these messages pinned to balconies and doors in Attard.
---
Disappointing measures, says Chamber
8am In a bid to fight the economic devastastion caused by the virus, on Wednesday night, Prime Minister Robert Abela unveiled a package which includes €700 million in tax deferrals, €900 million in loan guarantees, and a €210 million injection to assist the economy, which includes €35 million to health authorities to fight COVID-19.
On Thursday morning, the Chamber of Commerce said it found the measures "very disappointing" and well short of what it had called for and warned there would still be job losses.
On the other hand, economist Gordon Cordina said the package should be sufficient to restore economic activity over a three-month period to its usual levels should the economy lose half of its business as a result of COVID19.
"It is certainly not a magic wand that will bring back tourists to the country or eliminate threats to human health. It is nevertheless an intervention of an unprecedented size and can be expected to defend jobs and incomes for a short-term period, until the root causes of the crisis dissipate."
---
Malta as you've never seen it before
7.40am Our photographer Mark Zammit Cordina shot this incredible picture of Valletta's City Gate on Wednesday. The thriving entrance to the city was practically devoid of people as the vast majority chose to abide by the health authorities' advice to stay home.
His picture graces today's print edition of Times of Malta.
Similar scenes were witnessed in normally busy towns like Sliema and Birkirkara.
Feel free to send us your pictures on newsroom@timesofmalta.com
---
Highlights from Wednesday
7.30am The government announced a €1.8 billion aid package for businesses and families on Wednesday.
Malta confirmed 10 new COVID-19 cases.
Italy reported its highest one-day death toll. A study released on Thursday found that more than 99 per cent of all those who died of the virus in Italy had pre-existing medical conditions.
The Sicilian port authorities refused to allow passengers to dock a catamaran bound for Malta.
The Eurovision song contest is among the major international events cancelled.
You can read our online editor Bertrand Borg's marathon live blog on Wednesday here.
---
General information
If you are stuck abroad and need help to return to Malta, dial +356 22042200.
If you are in quarantine and need food or medicine, dial +356 21411411.
If you have questions about the impact of the coronavirus, dial 25981000.
If you have questions about measures for hotels and tourists, dial 21692447.
If you are an older citizen and need help at home, dial 25903030.
Independent journalism costs money. Support Times of Malta for the price of a coffee.
Support Us