The compilation of evidence against alleged Daphne Caruana Galizia murder mastermind Yorgen Fenech resumed on Monday.
Caruana Galizia had been killed for over six months when the self-confessed middleman in her murder, Melvin Theuma, began recording conversations he was having with the prominent businessman.
Highlights from Thursday's case
Middleman feared Yorgen Fenech and Keith Schembri were plotting to eliminate him;


Fenech felt protected with the Labour Party in government;


Schembri and former deputy police commissioner Silvio Valletta had informed Fenech about the raid on the middleman;


Theuma speaks of his desperation after the murder, at one point contemplating speaking to Daphne Caruana Galizia's son;


Theuma says he told Fenech to speak to the then police commissioner;


One of the hitmen wanted to reveal information about seven crimes, but not about the 2010 HSBC heist where "important people were involved".
---
No comment from Theuma
Ivan Martin caught up with Melvin Theuma outside court after Monday's case. But the murder middleman would not give any comment.
Video: Mark Zammit Cordina
---
Case adjourned to Thursday
3pm The magistrate adjourns the case to Thursday at noon, when we will again provide you with a live commentary. We'll be back shortly with the highlights of Monday's almost six-hour session.
---
The Girgenti party
2.55pm Azzopardi asks about a party held at Girgenti, the prime minister's summer residence, on February 2019.
"On that day, Fenech called him to pick him up from Portomaso. I drove him in his Rolls Royce back and forth," he says.
Asked whether Fenech had told him if Joseph Muscat asked about him then, he replies: "no, he didn't".
Theuma leaves the courtroom for a few moments but re-enters shortly after. He tells the magistrate he feels shattered.
---
'It was an ugly week'
2.50pm Theuma recalls Fenech was not in a good state on the first anniversary of Caruana Galizia's death, especially with the public protests taking place.
On October 19, 2018, Fenech messaged him saying "it was an ugly week".
Asked if Fenech ever told him anyone else was involved in the murder, Theuma is categoric: "No, never."
"He never told me that Schembri was involved in the murder, nor why he always spoke in the plural. He only said that Schembri was a source of information."
---
Safe with Labour in power
2.40pm Jason Azzopardi questions how Fenech could claim that the phones of the Degiorgios in jail were being tapped.
On October 7, one message read "I'll put my neck on the line for the gambling issue as well."
Another message sent by Fenech refers to a Malta Today survey showing Labour ahead by 80,000 votes.
"If Labour retained power, they would be OK. That is what was implied by that message," Theuma explains.
---
Threat to send recordings to 'Stamperija'
2.30pm Arnaud asks for an explanation into a message dated October 17, 2018.
"I don't wish to trouble you," Theuma said, telling Fenech he was very worried because the prime minister had just declared that there was to be "another inquiry" into the Caruana Galizia murder.
"There was a time when I used to equate Keith Schembri with Yorgen. I begged Yorgen: please don't let them kill me," Theuma said, clarifying that at the time he believed that Schembri "was involved" and was plotting to get the middleman out of the way.
Asked why he is referring to "they", Theuma replies: "because they may have contracted someone else to kill me".
He says he knew Schembri and Fenech were very close, that they were relaying information to each other and he was convinced that they would kill him or put him behind bars.
Theuma says he had told Fenech that if he was killed, the recordings would have been posted at "Stamperija," the Nationalist Party's headquarters.
Fenech had always sought to calm him down, reassure him that nothing would happen to him for as long as he was around.
---
The bachelor's party
2.15pm The magistrate asks why he is linking Schembri to the matter.
"Because of the time that Kenneth and Johann came to my place with the promise of bail, and so on," he replies.
Arnaud now refers Theuma to a newspaper article about a bachelor's party at Fawwara.
"I was glad when other persons were mentioned (implicated). That article apparently mentioned Cardona. It was good to see others being mentioned."
The article had said the economy minister had met one of Caruana Galizia's alleged killers at a bachelor party four months before the journalist was murdered in a car bomb.
---
'KK tried to get rid of me'
2.05pm Arnaud now asks about another issue in the transcript. Theuma had told Fenech that he wanted to fix a prison appointment to meet Alfred Degiorgio.
Theuma says at one point Fenech had promised to hand over a phone line to the Degiorgios in jail "since all phones there were tapped".
"Yorgen had drummed it into my mind that as long as we stood firm together, we would be fine.
"After Koħħu began to spill the beans, I sensed that they (Fenech and Schembri) were plotting against me to get me out of the way."
In one of the messages to Fenech, Theuma told him that "if it weren't for Yorgen, he would have landed in jail", adding that he knew that Keith Schembri tried to get rid of him.
Theuma reveals that he occasionally referred to Schembri as "KK".
Keith Schembri photographed with Melvin Theuma at Castille.
---
Theuma asked to guard Schembri's home
1.45pm Jason Azzopardi asks about Edwin Brincat (il-Ġojja), a father figure for Theuma.
Azzopardi: "Did Edwin ever get information from the police commissioner about who was to be involved in the raid? Or that they wanted to protect you?"
Theuma: "Never".
Around a month before the raid, Johann Cremona had warned Theuma that he was in trouble over money laundering. But it was Fenech who had tipped him about the date of raid, November 16.
Theuma also confirms that on day of last election, Fenech had asked him to guard Keith Schembri's home "because he doens't trust everyone".
But Theuma had refused, telling Fenech he was spending the day with his family in Gozo.
Former police chief Lawrence Cutajar walking out of court in a file photo.
---
Il-kbir ta' Ħal Luqa
1.40pm Theuma reveals he had asked Fenech to talk to "il kbir ta' Ħal Luqa" (the hotshot in Luqa - former police boss Lawrence Cutajar) to get him to spare his relatives during the looming raid.
He says he asked for the intervention because he knew that Cutajar had asked il-Ġojja for information about him.
Fenech and Cremona had promised that after the raid, Theuma would just face questioning and then be let off.
Theuma had begged Fenech for time, to put off the raid until "they" got their act in order. These messages were exchanged on the eve of the middleman's arrest.
At that point, Fenech promised to do his best to spare the middleman's relatives but could do nothing about the raid.
---
Theuma in tears
1.30pm The self-confessed murder middleman breaks down in tears in court. He says he is sorry that he had to hurt his relatives so much.
Fenech had texted Theuma on November 13 that he had been doing his best to help him. The businessman warned him to make sure that "everything is clean, not only on this case".
Fenech had been referring to pendrives and numbers in connection with Theuma's illegal betting.
But Theuma says he had done otherwise. He had kept the USBs very close to his chest and was determined to reveal all as soon as the first opportunity came along.
---
'It's happening on Saturday'
1.20pm On November 12, Theuma had texted: "have you forgotten me, my friend?"
Fenech replied: "I hope you're not thinking I'm not taking note. And don't worry, we will get there."
Theuma: "Big problems. It's happening on Saturday. Nobody told me."
Fenech: "I don't know why you always doubt me, because I was always on your side. And will continue to do so."
Azzopardi asks why he addressed Fenech in the plural.
Theuma replies that once again says that while he cannot be sure, he thought Keith Schembri would be the one to help them.
---
Case resumes
1.10pm After that one-hour break, the case resumes. Jason Azzopardi takes the stand. We are going through messages exchanged between Theuma and Fenech.
Theuma confirms that those messages had been on devices found in plastic box at the time of his arrest last November.
---
The fear of il-Koħħu's pardon
12.05pm Jason Azzopardi asks Theuma who spoke of the presidential pardon first. He says it was Fenech who told him that il-Koħħu (Vince Muscat, one of the three alleged hitmen) was speaking to police to get a pardon.
Background: Theuma was given a presidential pardon last November in return to tell all about the car bomb which killed the journalist.
Theuma says he feared that a pardon for il-Koħħu would uncover their involvement.
He also says he was upset because neither Fenech nor Cremona had tipped him off about the list of places targeted by the upcoming raid.
We're having a short break until the prosecution traces a particular piece of evidence they want to ask questions about.
---
'Under oath, I can't implicate Keith Schembri'
12pm Asked about Keith Schembri's role in the murder, Theuma says the former chief of staff was mentioned in relation to kickbacks and so on.
"So I deduced that he was involved. But under oath, I cannot implicate him. I never met Keith Schembri nor Kenneth Camilleri (from OPM) on this matter.
Once when I could not get through to Yorgen, because his mobile was switched off, I went outside Castille to try to spot Keith Schembri to ask him to tell Yorgen to switch on his phone. I went twice to Castille, but didn't see Keith."
He says he wanted to speak to Fenech urgently that day after Mario Degiorgio had just told him they wanted €80,000 because lawyer Franco Debono was going to join the case, but he added he doubted if this was the case.
Lawyer Marion Camilleri stands up to clarify the point immediately.
"Dr Debono was never involved in the case," she says, as Theuma acknowledges her comment.
---
Some recordings given to Fenech alone
11.55am Theuma is asked about USB sticks featuring recorded conversations, copies of which he had handed to Fenech. He says he gave him some three recordings of the conversation but never handed the recordings to anyone else.
"If Yorgen gave them to everybody, that's his business," says Theuma, adding, when asked, that there are other recordings made with Cremona.
Fenech is suddenly heard objecting vociferously to some comment by Brincat, the middleman's lawyer.
---
More recordings found
11.40am Arnaud explains that when Theuma was arrested, he seemed to have the impression that there were more recordings, on other devices. Investigations continued and indeed, more recordings came to light which had not been found in the plastic box.
You can read Times of Malta's story about the case here.
Magistrate insists that Theuma must testify on all recordings.
The self-confessed middleman is called back inside the court.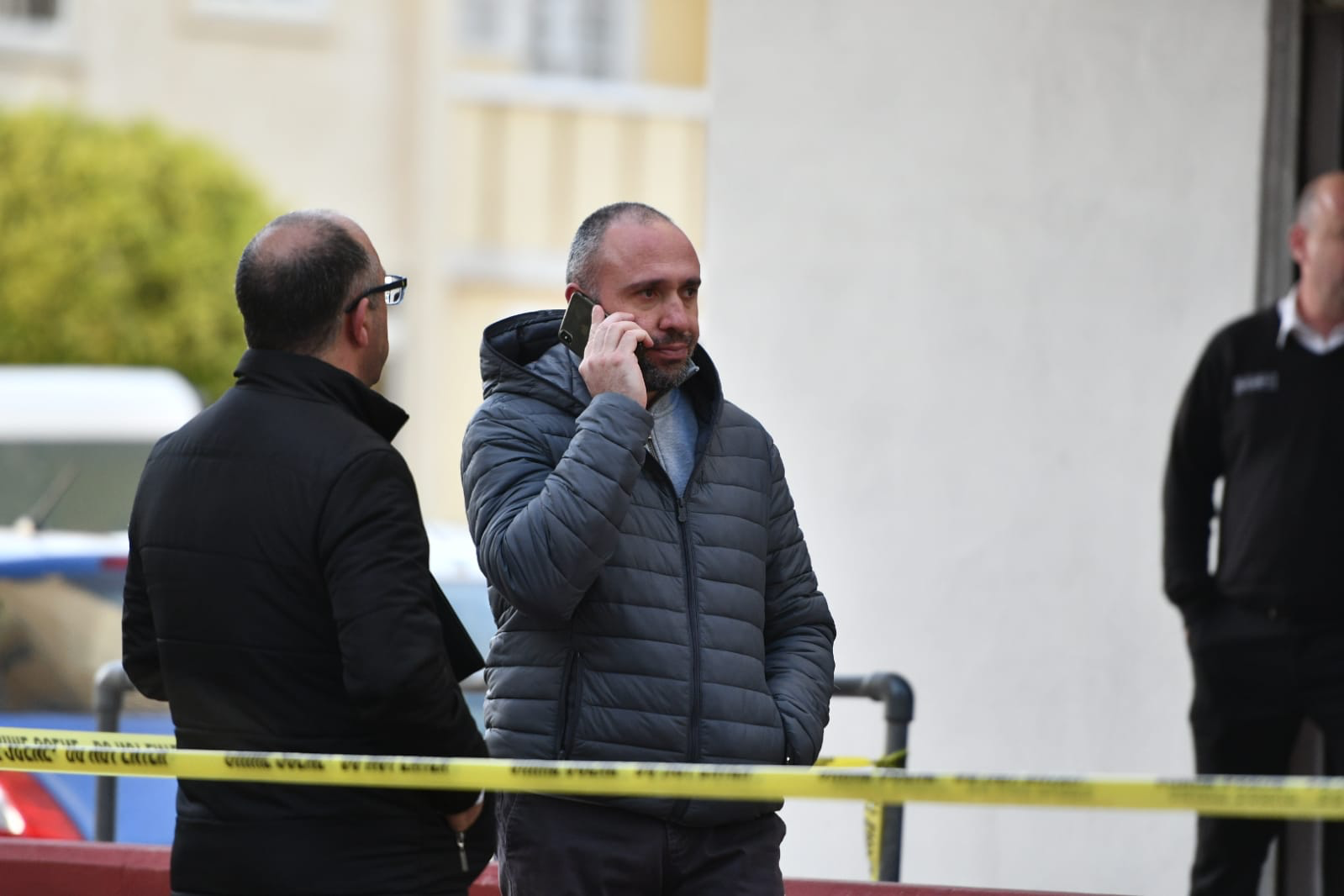 Inspector Keith Arnaud in a file photo.
---
'I never spoke to Cutajar'
11.35am He says that one day Edwin Brincat (il-Ġojja) had gone to Lawrence Cutajar to fix a fine, and the then police commissioner had asked whether he knew of recordings about the murder, which were in Theuma's possession.
Brincat had gone back to Theuma with the information.
"Keep your eyes on the ball. If the commissioner knows, the police know," Brincat had warned.
Theuma insists that he never spoke to Cutajar.
"But if Johann and Yorgen were to trick me, I would bluff about my contact with the commissioner."
A reference is made to some other recordings. Theuma is asked to leave the room.
---
Warning about a raid
11.30am They had told him that police would search the remissa, in which he was hosting migrants. That was the only place the police did not search, Theuma says. When the police zeroed in on him, they had also arrested other family members and that terribly upset him because they had nothing to do with the crime.
Before the arrest, Fenech had promised to do what he could to spare his relatives but he told him he could do nothing about the date of the arrest.
Arnaud asks where did Fenech get the information about the upcoming raid.
"It was [former OPM chief of staff] Keith Schembri and [former deputy police commissioner] Silvio Valletta."
Theuma told Fenech to speak to the "man from Luqa" when he learned of the arrest.
That man is former police commissioner Lawrence Cutajar.
---
Dak orrajt!
11.20am Theuma says Fenech and Johann Cremona had promised to forewarn him about places which were to be searched by police from the economic crimes unit.
He says that Cremona also told him that he would be spoken to by (officer) Raymond Aquilina: "Dak orrajt!"
But that list of places to be searched by police in money laundering investigations never saw the light of day, Theuma says.
Fenech had told him that the police were to arrest him "on the 16th". Theuma was upset because it was a short warning.
---
Middleman insists he wanted to come clean
11.15am Theuma insists that as soon as he was arrested last November he demanded to speak to inspector Arnaud, to tell all.
"You know that when I was brought to depot, I had told you immediately that I wanted to tell all about the murder," Theuma tells Arnaud in court.
He was arrested by Nicholas Vella, economic crimes inspector, in connection with money laundering.
Theuma says that when they were about to arrest him, Fenech had said he would be waiting outside the police depot to buy him pastizzi, but instead he was busy trying to escape on the boat.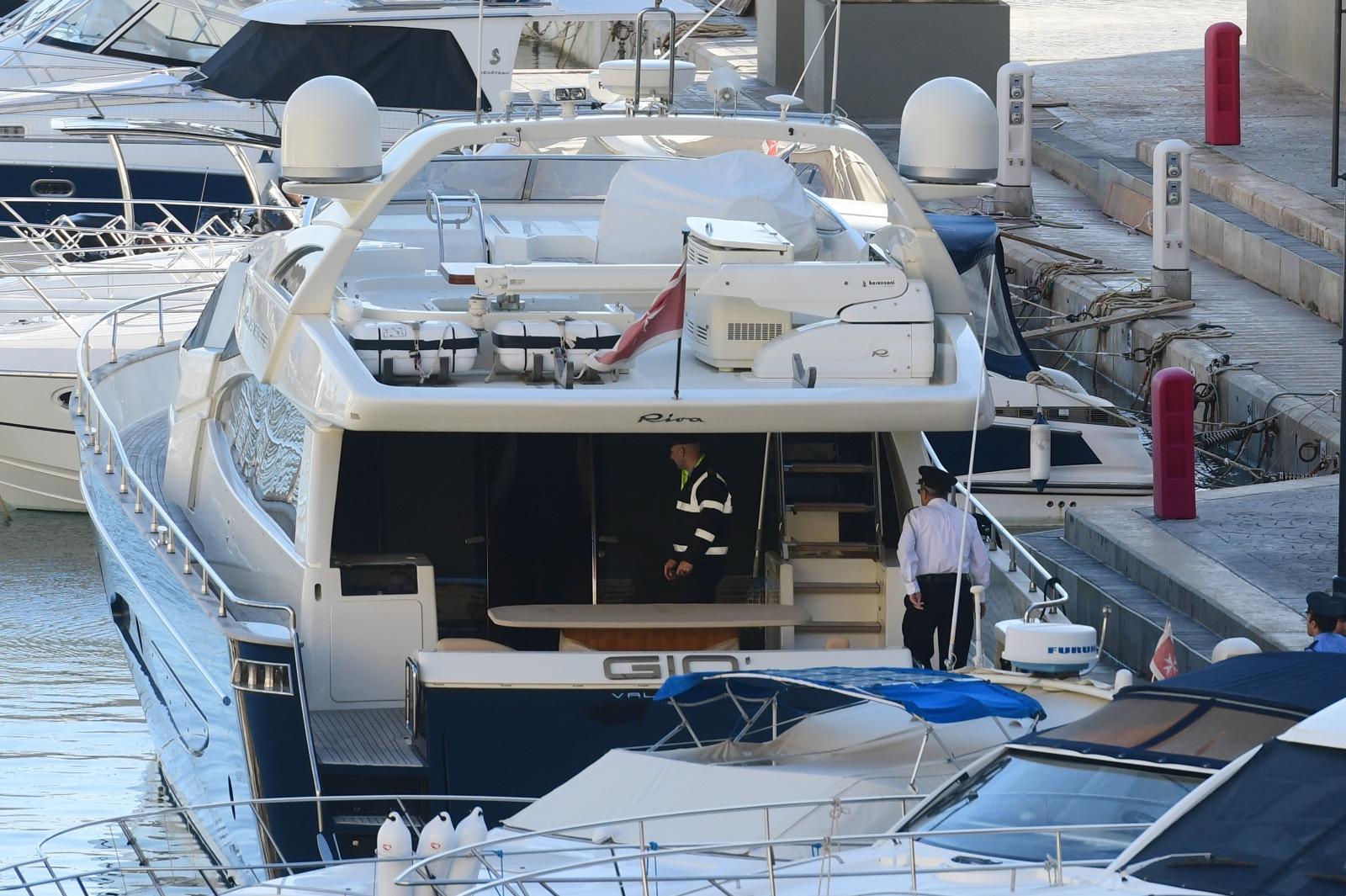 Yorgen Fenech's luxury yacht at Portomaso after it was intercepted by the AFM.
---
'I was insignificant compared to Fenech'
11.05am Theuma says he used to speak to Edwin Brincat (il-Ġojja), the former police chief's friend, about his troubles when he learnt Il-Koħħu began to speak to the police.
The Times of Malta story last October.
"When Times of Malta broke the story about the involvement of the businessman and gambler, I was going crazy.
"But I was insignificant compared to Yorgen Fenech. Had I found some backup, some support, I would not have ended up here today."
Fenech used to tell him "they can't do anything to us" because he had contacts in high places.
"The stress got to me so much that I suffered depression. I used to spend whole days, sobbing my heart out with Johann (Cremona)."
Theuma says he used to get in the car and drive towards police headquarters and then turn back at Pieta.
"I was taking pills. Fenech knew I was under depression. He had even handed me medication."
---
'I was terrified'
11am We move on to a new conversation, which Theuma says was recorded after the murder, but has no recollection of the date.
He says that on that occasion he had gifted two bottles of whisky to Fenech to thank him for the €5,000 holiday he had paid for him.
The issue of bail to the alleged hitmen is being discussed here.
Theuma was worried that if the Degiorgio brothers were granted a pardon, they would reveal all about his own connection.
"They only knew me, not Yorgen," he explains.
"I was terrified of everything. I wanted to speak to Matthew Caruana Galizia. I wanted to speak to the the church," he says, explaining that he was troubled when he heard in the news that Degiorgios wanted to speak to MEPs Anna Gomes, David Casa and lawyer Jason Azzopardi.
---
'The government would collapse'
10.50am Azzopardi asks Theuma about his reference to Cardona.
The middleman replies that the former minister had been in the headlines because of the brothel claims [Caruana Galizia had alleged that Cardona had been spotted in a brothel in Germany].
The lawyer takes Theuma back to a car bomb attack in Buġibba in October 2016. Theuma says Fenech used to speak to him about other bombings that murder suspect Vince Muscat had wanted to reveal.
"I want to make it clear here, that I was told about these matters by Yorgen. I didn't know about them," Theuma insists.
We also now have a bit of context to the earlier claim.
In it, Fenech tells Theuma that if Cardona's phone were to end up in third party hands, "the government would collapse."
Again, there is reference to David Gatt, a lawyer close to Chris Cardona. Theuma insists he doesn't know Gatt.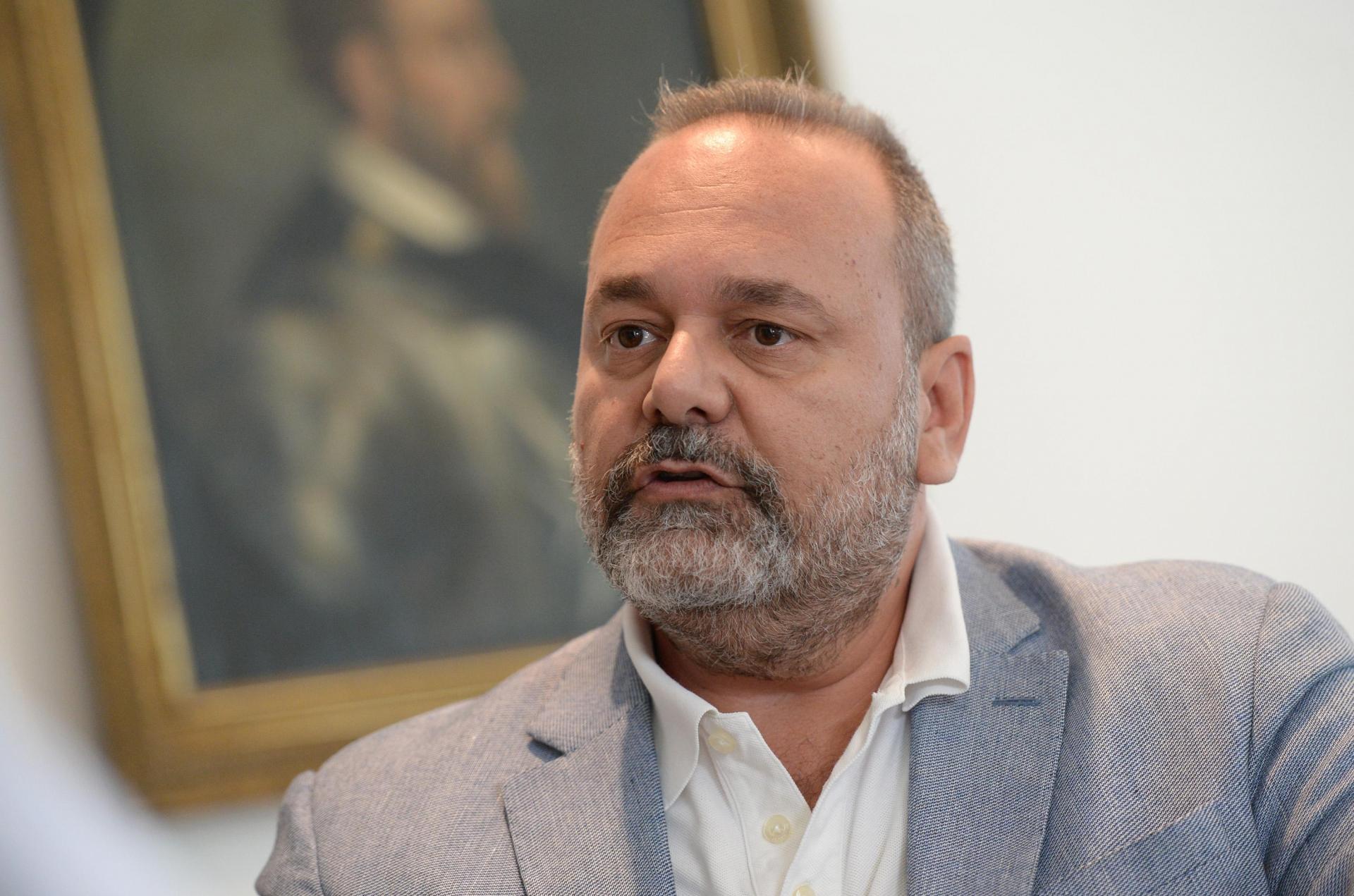 Chris Cardona interviewed by Times of Malta last Wednesday. Photo: Matthew Mirabelli
---
'I'll handle my own affairs'
10.35am Theuma says he is unable to hear a part of the recording. However, Arnaud suggests Fenech and Theuma were discussing a particular newspaper. A defence lawyer points out that "no suggestions to the witness" can be made.
Jason Azzopardi asks about a particular snippet of the conversation where Theuma had asked Fenech: "you didn't tell me how you would fix things if we were to get caught out."
Fenech had replied: "I'll handle my own affairs."
---
Claims about Cardona's burner phone
10.20am We continue listening to the recordings. Fenech seems to reassure Theuma that "they think" Chris Cardona's burner phone had been found in the water. It was linked to murder suspect Alfred Degiorgio.
If there was someone else involved in the murder, that would put the pressure off him as the middleman, he says.
Background: In an interview with Times of Malta, Cardona insisted that the burner phone claim is false. "My number was never found either in a burner phone or dumped at sea," he maintained, insisting the police never questioned him about it.
---
Confusion over recordings
10.10am We are hearing more recordings, some of which remain unclear. At one point Yorgen Fenech is saying: "the government would collapse" and "these are serious things". We still don't know the context.
In fact, Theuma himself has informed the court he's struggling to understand the recordings and is uncomfortable with the set-up.
His request is upheld. He stands next to the stand, following the transcripts. The microphone is moved out too so that he can manage better.
Melvin Theuma (centre) in a file photo.
---
Seven crimes
10.05am Theuma says alleged hitman Vincent Muscat wanted to reveal information about seven crimes, but not about the 2010 HSBC heist "because important people had been involved" in that one.
Theuma says that he got to know this information through Fenech and Johann Cremona, an official in the gaming scene.
Fenech had told him he got to know such information through his "friend" Keith Schembri and former police deputy commissioner Silvio Valletta.
---
Phones in the sea
9.55am Theuma takes the oath and puts on headphones. He is handed a copy of the transcripts.
We are hearing that on one occasion money was exchanged between Theuma and Fenech.
At one point, Fenech tells Theuma "they've found Cardona's mobile".
When Theuma had heard that mobile phones had been found in the sea off Marsa, he thought of his own burner phone, the one he used to communicate with alleged hitman Alfred Degiorgio.
The magistrate notes that there is no mention of Degiorgio in these recordings.
---
Chunks of 'missing text'
9.40am Magistrate Rachel Montebello takes her place. She reads out a decree stating that Theuma examination is to be concluded and then three other witnesses, including former chief of staff Keith Schembri, will testify.
Inspector Arnaud points out that in the latest batch of transcripts, he has found missing text. Lawyer Jason Azzopardi adds that "significant chunks" of text were found missing.
Arnaud suggests that after hearing the recordings, any party noting such missing parts is to point it out to the court expert tasked with the transcripts.
Defence lawyer Gianluca Caruana Curran said the whole point of having an expert is for him/her to do the job, without having any of the players indicate the missing words.
The magistrate directs that Theuma is to hear the recordings through headphones so that he may clearly indicate any relative parts that are missing in the transcripts.
---
Fenech enters court room
9.10am Yorgen Fenech has just walked into the court room, accompanied by four guards. He is approached by two of his lawyers, Gianluca Caruana Curran and Charles Mercieca. The trio are having a private chat, standing outside the dock.
The witness stand today has been equipped with a Perspex shield, box-like, separating the witness from those seated close by.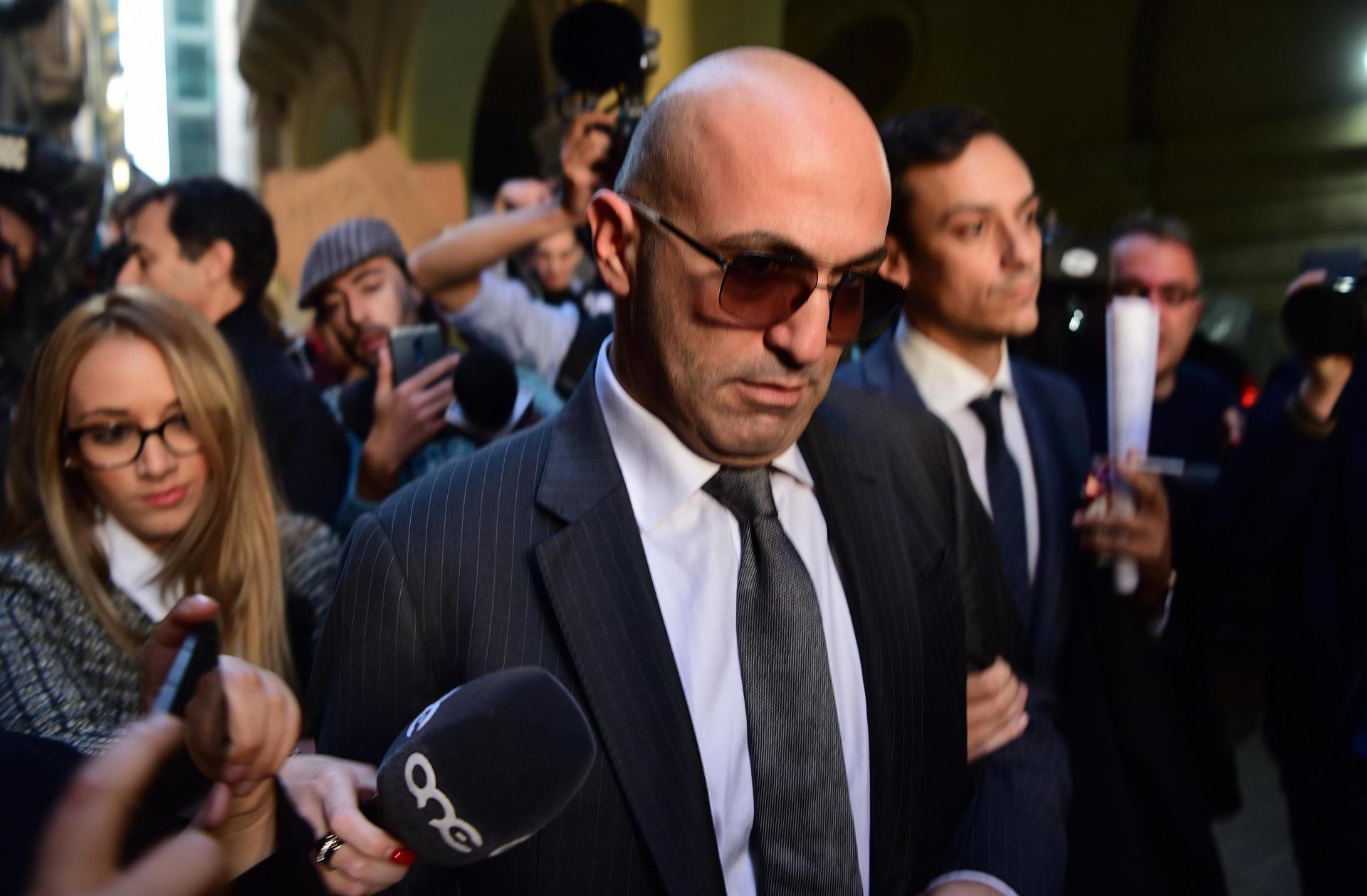 Yorgen Fenech outside court in November. Photo: Mark Zammit Cordina
---
Welcome
8.55am Welcome to our live blog from the court room. We are expected to hear more of the secret recordings made by Theuma. The magistrate said she would like to bring to an end Theuma's testimony in this particular compilation. So this could be a long one.
The victim's relatives, Peter Caruana Galizia, his son Matthew and Helene Asciak are in the courtroom.
Matthew Caruana Galizia (left) and his father Peter (right) walk to court together with lawyer Jason Azzopardi. Photo: Mark Zammit Cordina
---
The highlights from last week
A four-hour hearing on June 1 sparked new revelations.
Theuma said hitmen took "350 over and above from (Chris) Cardona" to carry out the journalist's murder'; In an interview with Ivan Martin, the deputy leader of the Labour Party strongly denied the claims.


'Il-Biglee' was named as a middleman between Cardona and one of the hitmen.
A lawyer in Cardona's firm sent threat to stop attempt to link minister to murder. Again, lawyer David Gatt dismissed the claim as "fantasy".


Theuma saw former police deputy commissioner Silvio Valletta at Fenech's house
---
Background
Fenech was arrested last November as he was about to leave Malta on board his luxury yacht. You might want to read the story behind that dramatic arrest here.
Theuma, a taxi driver who claims to be the middleman in Caruana Galizia's murder, has been granted immunity from prosecution in exchange for his testimony.
Caruana Galizia was murdered in a car bomb in October, 2017.
---
The players
For reference, inspectors Keith Arnaud and Kurt Zahra are prosecuting. Lawyers Matthew Brincat and Kathleen Calleja Grima are assisting Theuma. Fenech's lawyers are Gianluca Caruana Curran and Marion Camilleri. Lawyer Jason Azzopardi is assisting the victim's family.
Lawyer Nadia Attard from the AG's office will be assisting the prosecution.
Magistrate Rachel Montebello is presiding.