"Find someone to kill Daphne", the former prime minister's chief aid told businessman Yorgen Fenech, he claimed during police interrogation revealed in court on Thursday.
Keith Schembri wanted to kill journalist Daphne Caruana Galizia because she was "trouble", the man accused of masterminding her murder told investigators.
And former prime minister Joseph Muscat was one of three people who knew about Fenech's involvement in the car bomb afterwards, he claimed.
The details of Fenech's police interrogation following his arrest in November were laid out by inspector Kurt Zahra.
Fenech is charged with conspiring to murder the journalist in a car bomb outside her home in October 2017. He was arrested on board his yacht on November 20 after it was intercepted by the Armed Forces of Malta as it left the Portomaso marina.
---
LIVE BLOG
---
What Yorgen Fenech told police
Yorgen Fenech told police during his interrogation that:
Keith Schembri wanted to murder Caruana Galizia;
Schembri allegedly paid Melvin Theuma €85,000;
After the murder, three men knew of Fenech's involvement: Joseph Muscat, family doctor Adrian Vella and Fenech business associate Johann Cremona;
Schembri called Fenech 'some 30 times' on the day of Theuma's arrest;
Schembri wanted to help him escape from the country;
Muscat told him to 'control' Melvin Theuma during one of two conversations they had;
Muscat also warned him about a police raid on Theuma and asked if he "trusted" the taxi driver.
---
Court resumes on Monday
4.04pm Zahra's evidence stops here for today. Defence lawyers ask for the appointment of an expert to verify calls were made between Edward il-Ġojja and ex-police chief Cutajar.
They request that service providers give call profiles for both men for November. They request copies of data on other devices.
We'll have a brief summary of the main points of this revelatory hearing in a few moments.
---
'I'll reveal more at the right moment'
4pm At no point in the investigation was there evidence that Fenech wanted to stay out of the plot to kill the journalist, Zahra explains.
Fenech never filed reports about being threatened by Theuma.
He consistently told police that he would reveal more "at the right moment".
The memorial to murdered journalist Daphne Caruana Galizia. Photo: Chris Sant Fournier
---
'I was trying to protect Keith'
3.52pm Fenech told police under interrogation that he had trusted Keith Schembri until recently.
According to Melvin Theuma, Fenech was the mastermind behind the murder. Fenech told police that Theuma was implicating him and Keith and "I was also trying to protect Keith."
---
Keith Schembri and tal-Maksar
3.50pm Lawyer Azzopardi asks Zahra: "Did you trace any link between Keith Schembri and tal-Maksar?"
"So far I haven't traced a link," Zahra replies.
---
Vince Muscat il-Koħħu mentioned in Castile meeting
3.47pm Fenech said that alleged hitman Vince Muscat il-Koħħu was also mentioned when the former prime minister sent for him at Castille.
"It appears that Yorgen Fenech knew that Kohhu was spilling the beans. Melvin Theuma was panicking and so Keith Schembri sent Kenneth Camilleri with a bail promise," he said.
Another reference was made to "certain persons from Żebbug." "Keith had called me and told me 'see to it. Get Melvin to speak to Maksar'."
Those people, tal-Maksar, were arrested in the aftermath of the assassination, Zahra confirms.
Vincent Muscat, along with Alfred and George Degiorgio brothers, stands accused of the murder of Daphne Caruana Galizia.
---
Muscat told me to 'control' Theuma
3.43pm More detail now on the alleged conversations between Yorgen Fenech and the former prime minister.
Joseph Muscat had told Fenech to make sure that "he controlled" Melvin Theuma, Fenech told police. Muscat had twice spoken to Fenech, once summoning him to Castille, then at the Girgenti party.
"In Yorgen Fenech's chats we found that he was invited to the party at Girgenti. In one message the prime minister asked if Yorgen Fenech had enjoyed the event," Zahra said.
Fenech's response: "Yes, but I didn't speak to you because you were surrounded by guests and I'm rather shy."
Fenech had allegedly been asked by Muscat at the Castille meeting "do you trust him [Melvin Theuma]?"
"Not really because he's recording me," Fenech said he replied.
---
Everything 'on hold' for election
3.39pm Fenech knew in December 2016 about the general elections of 2017, he told police. Even Melvin Theuma knew about that, Zahra adds.
"I'll clarify at the opportune moment," Fenech again said, when question.
Theuma had said that when the date was announced, Fenech had told him to put "everything on hold." Then told him to proceed after the election.
---
Is 17 Black yours?
3.36pm Zahra said he repeatedly asked Fenech if he owned the secret company 17 Black. But Zahra says he cannot testify about that because of ongoing investigations.
---
'Of course I had cause to worry'
3.33pm Fenech told police he felt he was "between a rock and a hard place" between Melvin Theuma and Keith Schembri.
"Of course, I had cause to worry," he had said during interrogation. He said the person who fixed the plan did not have as much of a cause to worry as the one who did it.
He said he felt blackmailed (mhedded, then rikattat).
---
The €120,000 payment
3.25pm Questioning turns to the alleged murder payment. Police had asked Fenech if he had paid €120K at any time? Fenech replied: "I will reply at the right time, opportune stage."
Melvin Theuma had previously said that Yorgen Fenech's share for the murder was to be €120,000.
Theuma had already paid €30,000 and so, Fenech had handed him €50,000, but not for the murder, only to get Theuma off his back, he told police.
When he was asked about whether there was €120,000 upped to €150,000 for the murder, Fenech again said he would "explain at the opportune moment".
Theuma always insisted that he went to Fenech for the money for the hitmen.
Fenech said he had passed several sums of money to Theuma: "But I think they were not all for them."
---
Schembri 'called me 30 times' on Theuma's arrest date
3.23pm Fenech told police that he knew beforehand about Melvin Theuma's November arrest.
Fenech said he was unwell and Schembri called him "some 30 times" on the app Signal the day of Theuma's arrest. His wife was witness to that.
---
Schembri to Fenech: 'I will miss you'
3.19pm Before the Gozo trip, Fenech said he had spoken to Schembri who said: 'I will miss you' and that Schembri sounded moved.
"What do you mean?" Fenech had asked. "Now Adrian will explain to you" Schembri had replied.
At that point, Fenech said he had no idea of the plan between Schembri and Vella to get him away. Fenech then went to Gozo but called his brother, Franco, and told him to go and take him back to Malta.
---
'A story was going to be published'
3.17pm Fenech told police that the doctor wanted to take him to Gozo. A story was going to be published the following Sunday, he told officers. He had even been advised to leave his mobile behind.
---
Escape plan
3.13pm Fenech told police during interrogation that two days before, he had spoken to Keith Schembri, who wanted to help him escape.
"They wanted to help me escape two days before (Xtaqu jħarrbuni jumejn qabel)," he told police. That referred to a conversation during the Gozo trip.
Another message from Keith Schembri was "Leeeee [Noooooo]" when Fenech asked him if anything was up.
They also planned to set up a legal team for Fenech.
---
The day of the arrest
3.06pm Captain of the yacht Logan Wood and Yorgen Fenech were arrested on November 20. Inspector Kevin Pulis got their versions of events at the time and Zahra later spoke to the captain.
Somewhat suspicious, Zahra says, was Fenech's insistence to switch on the tracking device, to inform the Valletta port.
"I found that strange. He was an experienced captain." The yacht captain also told Fenech they "better leave in the morning. It looks less fishy."
The magistrate asks why police did not ask the captain about the use of the word 'fishy'. Zahra says he was not present at the sitting when Wood testified.
Again the defence complains. The word 'fishy' was used as part of chats on Fenech's phone, that are only in the prosecution's possession.
Yorgen Fenech's family yacht Gio. Photo: Jonathan Borg
---
Four statements on four CDs
3.03pm Fenech gave four statements on four CDS, Zahra explains. He was cautioned and legally assisted each time.
---
Fenech pardon request report
3pm Police inspectors Zahra and Arnaud had filed a report about Melvin Theuma and Yorgen Fenech's pardon requests, passing it on to then police commissioner Lawrence Cutajar. The Attorney General also filed a report, Zahra says.
---
Fenech's statements recorded after pardon refusal
2.55pm Earlier, Zahra had said that Fenech's statements to police were not recorded, in any way.
He now explains that after his pardon request was turned down, he was cautioned and then from then on, all statements were recorded.
---
'All quiet' Schembri told Fenech before arrest
2.48pm Lawyer Azzopardi asks what led to the decision to arrest Fenech. Zahra says he was not present for the arrest. He reminds the court that at the time, police had already arrested Melvin Theuma.
"Arnaud told me that there was new information that Yorgen Fenech planned to escape. He was arrested on [his yacht] the Gio."
He is asked what communication there was with Fenech days before the arrest.
A relative sent Yorgen Fenech screenshots showing lightning bolts. Fenech replied, saying he checked with "K" (understood to be Keith Schembri) who told him "all was clear".
We got this information after we seized Yorgen Fenech's mobile phone, Zahra goes on. "All will be presented in court."
"So 'K' was Keith Schembri, right?" Azzopardi asks.
Yorgen Fenech said that Keith Schembri, the day before his arrest had called him on the phone. The call lasted some 11 minutes. There was also a message "Le kwiet (no, it's quiet).
That message added to what Adrian Vella told us, led to Keith Schembri's arrest, Zahra says.
---
Fenech first suspected in 2018
2.42pm Parte civile lawyer Jason Azzopardi has been allowed to ask some direct questions, after many objections by the defence.
He asks if Fenech was involved or associated in business regarding insecticides and gold mining. 'No' is the answer.
Then, he asks, when he became a person of interest in the 2017 murder.
"Through Arnaud I know that Yorgen Fenech was first suspected at the end of 2018, beginning of 2019."
He explains: "There was intelligence about Melvin Theuma, including intercepted calls where Melvin Theuma referred to "dak tat-torri" (the Portomaso tower).
"There was surveillance, I presume," Zahra says.
---
Fenech's interrogation wasn't recorded
2.33pm Unlike Melvin Theuma's interrogation, Yorgen Fenech's was not recorded in any manner, not even typed, Zahra says. His lawyers did not want it. The police took notes because they had to draw up a report afterward.
Inspectors Kurt Zahra (left) and Keith Arnaud entering court on Thursday. Photo: Chris Sant Fournier
---
Yorgen Fenech requested 'confrontations'
2.31pm The recordings of the interrogation had to be interrupted at various occasions throughout the interrogation because of verbal spats with his lawyers, Zahra says.
Fenech requested "confrontation" with Keith Schembri, Melvin Theuma and Adrian Vella. Police deny that.
Fenech also wanted to speak to someone from the Economic Crimes Unit.
---
Murder payment of €150,000
2.28pm Yorgen Fenech was asked about €150,000 that alleged hitman Alfred Degiorgio had asked for from Melvin Theuma. In police interrogation, Fenech said the original sum was €120,000, then upped to €150,000
---
'Plan was to escape to Dubai'
2.22pm Yorgen Fenech told police he was not escaping when he was arrested on the way to Pozzallo in Sicily in November. Had he wanted to, he could have left two days earlier because Adrian Vella and Keith Schembri wanted to get him out of Malta, he claimed.
Vella had spoken to him over the phone saying: "We will miss you."
The plan was to head to Tunis and then Dubai.
There was a chat with relatives on November 18, when a relative sent Yorgen Fenech a link to a Times of Malta article. The next day, Fenech replied that "all was quiet."
Fenech also made contact with a lawyer. The plan was for Fenech to go to France then onwards. He checked flights to Paris but there were none available. He was advised it would be better to go by boat.
[Fenech was arrested on November 20.]
Yorgen Fenech, wearing sunglasses, accompanies police to his yacht in November, days after his arrest. Photo: Jonathan Borg
---
'Schembri paid €85,000 to Melvin Theuma'
2.20pm Yorgen Fenech told police that he wanted to protect himself and Keith Schembri, who had also paid some €85,000 to pass on to Melvin Theuma.
---
Fenech 'felt threatened' by Theuma
2.17pm Yorgen Fenech told police that he felt threatened by Melvin Theuma. Zahra distinguishes between threatened and blackmailed.
The defence asks: How did Yorgen Fenech feel threatened?
Melvin Theuma once turned up in the presence of his children, once with a weapon in his sock. Another time he pulled out a weapon and placed it on the table at Yorgen Fenech's office, Fenech told police.
---
Money handed over
2.14pm Yorgen Fenech told police that Melvin Theuma had forked out €30,000 for the job. Melvin Theuma told Yorgen Fenech that he was committed because he had handed over €30,000.
Fenech told police that he had handed over €50,000 to Melvin Theuma, not for the murder but to get Melvin Theuma off his back.
---
'Carry on' Schembri told Fenech on Daphne murder plot
2.08pm Yorgen Fenech told police that Keith Schembri passed on "a great deal of information" about the investigation, including that his phone was tapped and warning him to be careful.
He told him about the Melvin Theuma raid, including about the change in date, from Saturday to Thursday. In fact, the reason for the change was to make sure that no data was "lost", Zahra said.
According to Fenech during the police interrogation, Keith Schembri used to go to Yorgen Fenech "almost every day" to seek a way to get rid of Daphne Caruana Galizia but "he never personally actively sought hitmen for the job".
Then Yorgen Fenech said he told Keith Schembri that he had found hitmen for €30,000. The plan wasn't carried out.
Then, in 2016, while at a meal at Yorgen Fenech's farmhouse in Żebbug together with Melvin Theuma, there were "innuendos about Daphne Caruana Galizia".
"We can get rid of her easily," Fenech had said. He spoke to Keith Schembri about the plan mentioned by Melvin Theuma, which carried a price tag of €120,000.
Fenech went to Schembri about that plan and the answer was "mexxi, mexxi, mexxi (carry on)".
---
Schembri wanted Daphne dead 'because she caused trouble'
2.05pm Yorgen Fenech in his police interrogation insisted that it was Keith Schembri who wanted to "get rid" of Daphne because she caused a lot of trouble."
Keith Schembri told him this more than once. The allegations dated back to 2014 after the 2013 elections.
Keith Schembri spoke to Yorgen Fenech both directly and indirectly along these lines.
---
'Joseph Muscat knew after the murder'
2pm Yorgen Fenech insisted under interrogation that there were three others who knew of it after the murder, according to Zahra. They were:
former prime minister Joseph Muscat
family doctor Adrian Vella
friend Johann Cremona
Fenech claimed Joseph Muscat had spoken to him twice: first at Castille asking if he trusted Melvin Theuma and again at a party at Girgenti.
Muscat asked about Melvin Theuma during the Castille meeting: Was he to be trusted? Yorgen Fenech had told him that he was not trusting him because he was being recorded.
Fenech claimed the prime minister told Yorgen Fenech that there was to be a raid on Melvin Theuma in summer 2019
He also asked about Keith Schembri.
---
'Keith Schembri told me to find someone to kill Daphne'
1.56pm Zahra says that Yorgen Fenech had said that it was not him who started off the plan to kill Daphne Caruana Galizia.
It was Keith Schembri who told him to "find someone to kill Daphne Caruana Galizia".
---
Yorgen Fenech 'never denied' involvement in murder
1.52pm The businessman "never denied his involvement in the murder plan", during police interrogation, Zahra tells the court.
That statement immediately prompts vociferous objections by the lawyers.
"Let him testify", the magistrate says.
---
Yorgen Fenech's statements
1.48pm Zahra says that Yorgen Fenech gave four statements. Melvin Theuma had asked for his statements to be recorded on camera, but not so in case of Fenech.
The first statement was taken on November 29 in four parts. The other three on November 30. He was informed verbally that his pardon request had been turned down. The inspectors wrote a report about this.
He said that what Fenech was saying in relation to his request for pardon, bore some inconsistencies.
Zahra was entrusted with the interrogation after Fenech had filed proceedings against Arnaud.
---
What to expect from Inspector Kurt Zahra
1.45pm Zahra says he will testify about the investigation in three parts.
First, the proceedings leading to the arrest of three alleged hitmen;
Second, the phase up to the arrest of Melvin Theuma;
Thirdly, the phase until today, including investigations into money laundering.
---
Proceedings continue
1.43pm The magistrate has returned to her place at the bench. Inspector Kurt Zahra takes the oath.
---
Court adjourns for half an hour
1.04pm Time for lunch. The sitting is suspended until 1.30pm. Kurt Zahra will then testify until 4pm.
We're going to grab something to eat and a coffee ourselves.
---
12 recordings
12.56pm Arnaud says there are 12 recordings in addition to those Theuma initially handed over in the ice-cream box.
They are conversations between Yorgen Fenech and Melvin Theuma, and Melvin Theuma and Johann Cremona.
To an earlier question from the defence, Arnaud says there are no other 'hidden' tapes.
---
Melvin Theuma 'cleaned up' tapes
12.48pm The defence is claiming in the 'hidden' tapes, Melvin Theuma spoke to Johann Cremona. And that he had more tapes which he concealed before he was arrested. He knew of the looming arrest and so had time to prepare, Mercieca argues.
"I absolutely do not know about that," Arnaud says.
Mercieca suggests Theuma "cleaned up" the tapes.
"I don't agree there", Arnaud says. "We found enough information to base the case."
"And Melvin Theuma got a pardon for the money laundering case, right?" Mercieca asks.
"Yes," he says.
---
Who has access to Fenech's phone?
12.39pm The issue now revolves around the number of copies of the data from Yorgen Fenech's phone. Who has access to Yorgen Fenech's mobile phone in the magisterial inquiry? Mercieca asks.
Arnaud says that he cannot answer about the inquiry. He has no access to the inquiry but only to a copy of the mobile data which he asked for
Mercieca: Do private people have access?
"That should not be the case", Arnaud says. "As far as I know no one else should."
He continued: "Do you know that today there were leaks from Yorgen Fenech's mobile phone and persons have resigned?"
Arnaud said that he had reported those leaks.
"The only case I know was about those regarded the opposition leader and it should not have happened. In fact I myself reported the matter to the investigation of the leaks."
Arnaud says: "In respect of the opposition leader, that was the exact text." Mercieca says that this very morning there were leaks and public figures resigned.
[Last month, Times of Malta revealed messages between Yorgen Fenechand Adrian Delia. This morning, Malta Today also published the contents of messages.]
---
Yorgen Fenech's phone
12.29pm Data from Yorgen Fenech's phone has been extracted, the police inspector says but the device is with the court expert. He also has laptops and other devices.
At least two copies of Fenech's phone data have been made: one for the prosecution and one for the task force investigating the murder.
---
'Missing evidence'
12.21pm Arnaud says police only searched for more recordings when Theuma hinted there may be more.
Other devices included mobiles, a laptop, a tower, and equipment belonging to other members of the Theuma family. There were three mobiles in the ice cream box as well as another mobile.
"What if I tell you that that other mobile has recordings implicating other persons in this case?" Mercieca says.
Among the "hidden" tapes, there are some missing he claims.
"I don't know about that and if you know something, please say so so that we may recover them," Arnaud says.
---
Relevant evidence
12.06pm The row over evidence continues. Arnaud details some of the data that he has: screenshots, a photo of Keith Schembri and Melvin Theuma that has already been exhibited and voice recordings.
He will check if there is other relevant information in the devices seized from MT and his family. The defence argues about who is deciding what is relevant.
The magistrate intervenes now: "so who decides on what evidence is put forward?"
Arnaud is adamant that both the prosecution and defence decide. The prosecution puts forward the evidence and the defence points out exculpatory evidence relevant to the case. The magistrate says she will not allow any more hypothetical questions and orders that the cross-examination to continue.
Keith Schembri (left) with Melvin Theuma (right).
---
Evidence delay
11.56am There's an ongoing argument in court between the defence and the prosecution about a delay in submitting evidence.
The defence claims they are being "kept in the dark" with the prosecution deciding on when to put forward evidence.
Arnaud says that there are two reasons for the delay. Firstly, the police were not aware from the start about relevant material on other devices. Secondly, data as not presented "so as not to prejudice the case."
He says this includes evidence from Fenech's phone.
The defence calls for full disclosure. The magistrate does not uphold request.
---
Hidden recordings
11.48am The magistrate asks if all data from the magisterial inquiry has been exhibited in the compilation.
Arnaud explains that in February or March, police got to know about new recordings and that he filed an application saying that they would be exhibited in this compilation. The defence will have them too, he says.
The defence has claimed it is not being given all evidence. Arnaud says this is not fair and that he had not known about 'hidden' recordings as they could not be accessed.
---
Ice-cream box of evidence
11.36am Arnaud says he first spoke to Melvin Theuma on November last year. He spoke to him informally before his arrest, but the inspector did not want him to say anything until he was assisted by a lawyer.
Arnaud spoke to him formally on November 19. Arnaud says that he was not present when Theuma was arrested and had "held close to the ice-cream box containing the tapes [of conversations with Yorgen Fenech]".
But Arnaud was present along with the inquiring magistrate when the box was opened. He said there were four phones seized, and the process was filmed as part of the magisterial inquiry.
The defence asks: "What if I tell you that Melvin Theuma had other phones?"
Arnaud: "Possibly yes, more devices were seized from other premises of the middleman."
Mercieca: "Did they contain messages by Melvin Theuma?
Arnaud: "I can verify that. There is more digital equipment and investigations are still ongoing."
---
Arnaud visited Melvin Theuma in hospital
11.27am The cross-examination now turns to the police dealings with self-confessed murder middleman Melvin Theuma.
They spoke seven times, and all conversations were filmed, except for casual exchanges at the depot, before testifying or after he testified in court.
The last time they spoke was on June 4, for an hour and a quarter.
Arnaud also visited Theuma in hospital "to see what led him to do what he did". He said he wanted to know how it happened and to make sure that "no one even scratched Melvin Theuma".
That is why I communicated with officers handling that separate investigation and gave feedback to each other.
[For background: Theuma was found with stab wounds last month, which he says were self-inflicted.]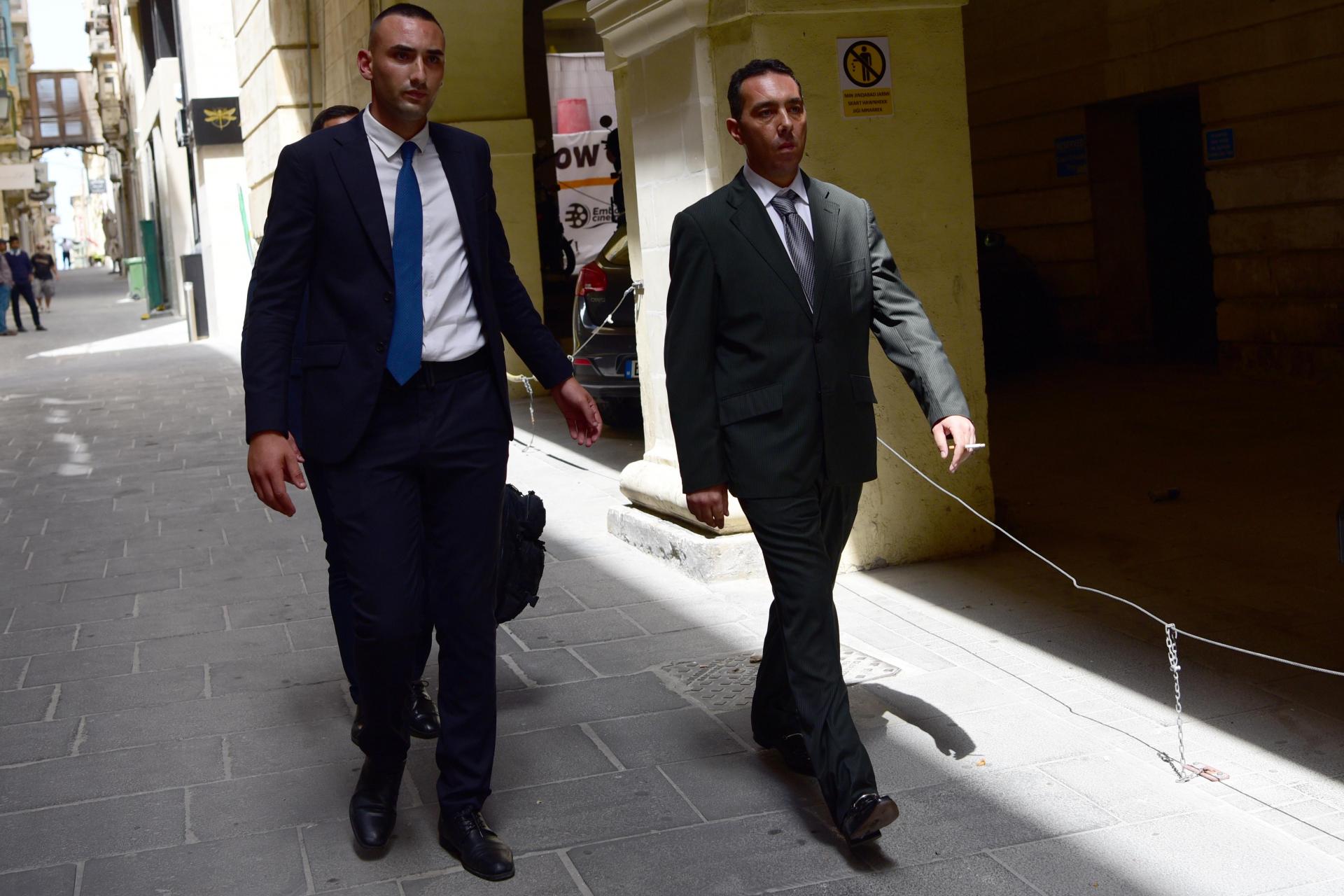 Melvin Theuma (right) was found in a pool of blood in his Swieqi home on July 21. Photo: Mark Zammit Cordina
---
Investigations into pardon payment claims
11.17am Mercieca asks if Arnaud probed Brincat on his friendship with Cutajar.
"No. But at the time, i.e. in November, I was not yet aware of the contact between the two that same week. The question must be answered in context," Arnaud says
He said the purpose of interviewing Brincat was to see whether Melvin Theuma was telling the truth. "It was only later that police discovered that there was a long, friendship between il-Ġojja and Cutajar," Arnaud says.
He did not know about Brincat giving money to Cutajar nor about alleged money paid for Melvin Theuma's pardon.
"We heard about that later and investigations are ongoing," Arnaud says. "I was approached by my superiors about this matter and I know that investigations are ongoing about allegations of money passed on to Cutajar."
Arnaud identifies his superiors as police commissioner Angelo Gafà and deputy commissioner Antoine Casha.
Former police commissioner Lawrence Cutajar is currently facing a magisterial inquiry over allegations he tipped off Melvin Theuma ahead of his arrest. Photo: Mark Zammit Cordina
---
Ex-police chief 'contacted Brincat before court'
11.08am The defence claims that the ex-police chief may have communicated with Brincat before he testified in court, basing this assertion on "call data".
Arnaud says it is the service provider and not the police who would present call data.
Mercieca: "So the ex-commissioner communicated with Ġojja before he testified?
Arnaud: "That seems to be the case."
Arnaud said he did not send for Brincat again, not did he send for ex-police chief Cutajar.
Mercieca: "After this shocking revelation, didn't you feel the urgent need to send for Cutajar?"
Arnaud: "No. Investigations are still ongoing."
---
The silence of Edwin Brincat (il-Ġojja)
11am The defence brings up the role of Edwin Brincat, an associate of Theuma, who was previously revealed to have held secret meetings with former police commissioner Lawrence Cutajar.
Arnaud says Brincat remained silent throughout police interrogation, days before he testified in court. He was arrested twice, took a statement that lasted 35 minutes but did not utter one word.
"Yet he felt comfortable talking to the commissioner!" defence lawyer Mercieca remarks.
Mercieca: "Was the commissioner present for Ġojja's statement?"
Arnaud: "No, he wasn't, according to my notes."
Arnaud says he does not recall that he was there but cannot exclude and would need to check the recording to verify.
The former commissioner was in the same building, but may have been in another room.
Brincat's mobile was seized the first time he was arrested.
---
Johann Cremona and Kenneth Camilleri
10.52am Arnaud turns to two other characters in the case: Johann Cremona and Kenneth Camilleri.
Cremona is a close contact of Yorgen Fenech's and an alleged link between middleman Theuma and the businessman. Camilleri is a former security official at the office of the prime minister.
Arnaud says he sent for Cremona twice in November and a few days before his eventual court appearance.
Arnaud says Camilleri was never arrested. He had said he doesn't know Fenech and never met him and there was no reasonable suspicion.
Recordings were not played to Camilleri, Arnaud says.
---
Will you arrest Keith Schembri?
10.49am The defence asks Arnaud if, after last week's testimony by Vella, there was reasonable suspicion to arrest Keith Schembri.
On the basis of the letter, Arnaud said Schembri had already been spoken to, and he persisted in denying involvement.
Mercieca: "Have you sent for him after last week's testimony?"
Arnaud: "No, but that doesn't mean that the investigation is over."
---
America trip
10.47am Arnaud is asked if Fenech said he had gone to America with Keith Schembri and Adrian Vella.
"Could be," is the reply.
---
Police did not seize doctor's phone.
10.43am Arnaud says police did not seize the doctor's phone.
"He told us that he got a paper from Keith Schembri and passed to Yorgen Fenech. That is what Yorgen Fenech told us. The doctor's mobile had nothing linked to that paper."
The defence asks Arnaud if he knew the doctor that night had contacted Keith Schembri?
"No. At the time we didn't know. I only got to know some three weeks later."
He said he didn't know he was Keith Schembri's doctor too.
---
Schembri arrested 'on basis of what Fenech told us'
10.37am Arnaud says Schembri and Fenech's doctor Adrian Vella were arrested on the basis "of what Yorgen Fenech told us". It happened on the night Fenech's pardon request was denied.
"He gave us new info that he had never given before," Arnaud says.
A police team led by Kevin Pulis went to arrest the doctor. Then as officers began to interrogate Vella, they turned their sights on Keith Schrembri. The doctor told them about the paper [Vella says he passed notes between Schembri and Fenech during the investigation].
Arnaud says he is not sure if the former police commissioner Lawrence Cutajar was there.
Police arrested Schembri around 6am.
"Did you inform him?" he is asked. "Of course not."
---
Keith Schembri's arrests
10.32am It didn't take long for the name of Keith Schembri, the former prime minister's chief of staff, to crop up this morning.
Defence asks Arnaud how many times he sent for Schembri for questioning.
Twice.
He elaborates that Schembri was arrested on November 26, around 7am until the next day, 11.50pm. He was granted police bail until the following day, November 28.
He was summoned to the depot around 11am and was kept there until evening and gave three statements: one that was two hours long, the second close to an hour and the third, 40 minutes.
Keith Schembri in a previous court appearance.
---
Who seized evidence?
10.27am The defence is asking if Europol seized items during searches. Arnaud explains that it was Maltas forensic police who lifted the items and passed them on to the Europol officers present at the searches.
Arnaud says that he was not present at the searches related to Melvin Theuma, the self-confessed middleman.
Arnaud says there are four Europol officers working on the murder inquiry.
[For background: Theuma claims he hired the hitmen who killed Daphne Caruana Galizia under the instructions of Yorgen Fenech. He has been granted a pardon in exchange for his evidence]
---
Europol role
10.22am Arnaud is asked about Europol's role in the investigation and who in Malta Police coordinated with them in November [Fenech was arrested in November]. "Various persons," he replies.
Europol had people appointed as court experts and others supported in police work. The latter were in touch with various officers, depending on who was on duty, Arnaud explains.
There were two Europol police officers, who always came to Malta and were always the ones Malta Police communicated with.
The court tells Arnaud not to disclose the names of officers appointed as court experts and he is also not sure about revealing other names, so will discuss with Europol and get back to the court.
---
Investigation team
10.16am Mercieca asks how many people are investigating the case. Arnaud says there are around three people at a time, working in shifts. There is also the homicide task force and 7-9 from another team.
Inspectors Arnaud, Zahra and five other officers make up the homicide squad.
---
Lead investigator Arnaud faces cross-examination
10.15am Arnaud will face cross examination first. It had started in an earlier session. Today he will continue where he left off.
Keith Arnaud, the lead investigator in the Daphne Caruana Galizia murder case.
---
Who is in court for proceedings?
10.12am Yorgen Fenech is here, along with his usual tight security. His wife, friends and relatives are at the back of the hall.
The Caruana Galizia family are here too: the victim's sons Andrew and Paul, their father Peter and her sisters.
Lead investigator Keith Arnaud and second-in-command Kurt Zahra are alongside parte-civile lawyer Jason Azzopardi.
Fenech is assisted by Gianluca Caruana Curran and Charles Mercieca.
Magistrate Rachel Montebello has entered the hall.
---
What happened in the previous sitting?
10am While we are waiting in hall 20 for the sitting to begin, a quick catch up on the previous session. Last week Yorgen Fenech's doctor, Adrian Vella, testified.
He told the court he had been a go-between for Fenech and Keith Schembri, the former prime minister's chief of staff after Fenech was arrested.
The doctor also said he heard Fenech exclaim at one point: "If I go down, I'll take everyone down with me."
---
9.55am Good morning, and welcome to our live reporting from the compilation of evidence against Yorgen Fenech. We're expecting proceedings to begin at around 10am.
---