Valletta are the Premier League champions for the 25th time in their club history after a dramatic penalty shoot-out victory over Hibernians at the National Stadium on Saturday.
It was a hard-stopping encounter that saw Hibernians take the lead through Taylon after 13 minutes.
But Valletta fought back and Jonathan Caruana pulled them level 14 minutes into the second half.
That goal seemed to sway the tie in Valletta's favour but the Citizens could not find a winner and the match went into extra-time.
Mario Fontanella looked as if he had won it for Valletta when he put them back in front on 98 minutes.
But Hibs kept fighting and a goal by Marko Sahanek took the match to a dramatic penalty shoot-out.
Valletta players lift the Premier League trophy after defeating Hibernians in the title decider. PHOTO: STEPHEN GATT
It was here that Valletta's character came to the fore as the Hibs players crumbled with Sahanek seeing his effort hitting the upright before Henry Bonello saved Taylon's shot to put his team on the brink.
Fontanella ensured there were no delay to the celebrations when scoring his penalty to seal his team victory as Valletta retained their title of Malta champions for a second successive season.
It also pushed them level with their fierce rivals Floriana who also have 25 titles to their name and just one adrift of Sliema Wanderers who top the all time list with 26 championships.
---
7.16pm Fontanella sends Jovicic away to send the City fans into a frenzy as Valletta are the 2018-19 champions
7.15pm Taylon sees his shot saved by Henry Bonello and Valletta are just one penalty away from the title.
7.14pm Gavrila does not miss to keep Valletta ahead 3-2
7.13pm Fonseca scores with a central shot - 2-2.
7.12pm Malano scores to put Valletta ahead after two penalties 2-1.
7.11pm Jake Grech scores second penalty to pull Hibs level 1-1
7.10pm Alba scores... Valletta ahead.
7.09pm Shoot-out underway... Sahanek first on the spot... misses as his shot hits the upright.
7.05pm It's all over we're heading to a penalty shoot-out.
7.02pm GOAL SAHANEK!!! Hibernians are level as Marko Sahanek was played in by Dunstan Vella and he beat Bonello with a low drive.... we're heading for a shoot-out.
7pm Only five minutes to go.... Hibs are trying their final efforts with Taylon's shot finishing just wide.
6.52pm Hibs finally threaten when Fonseca heads towards goal but Ryan Camilleri is on hand to clear.
6.45pm Second half under way... Valletta are just 15 minutes away from their 25th league title. Can Hibs find a way back?
6.40pm GOAL RULED OUT!!! Fontanella has the ball in the Hibs net again as he flicks Alba's cross past Jovicic. But the 'goal' is ruled out for an offside position of the Italian striker.
Mario Fontanella is mobbed by his team-mates after putting Valletta ahead. Photo: Jonathan Borg
6.37pm Fontanella shows everything that makes him such a lethal scorer as he latches onto Nwoko's pass and outmuscles Barbosa before hitting past Jovicic for a fine goal - 2-1.
6.36pm GOAL!!! FONTANELLA
6.33pm Muscat cannot continue and is set to be replaced by Antonio Monticelli.
6.29pm Back under way here with Valletta Rowen Muscat on the floor in some discomfort but he is back on his feet.
6.22pm FULL TIME... We're off to extra-time as referee Malcolm Spiteri signals the end of the game and we need at least another half an hour to declare a winner if not a penalty shoot-out.
6.18pm Almost a winner. Rowen Muscat's cross-shot almost deceives Jovicic who somehow turns the ball to a corner.
Valletta's Enmy Pena Beltre in a tussle with Nemanja Radojevic. Photo: Jonathan Borg
6.15pm Three minutes to play with Valletta the team looking for a winner. But will we have another goal or this decider is heading for extra-time?
6.08pm CHANCE!! Alba's cross is met by Steve Borg who heads the ball across the face of goal but finds no takers to the relief of the Paolites.
6.05pm The match of City's goalscorer Jonathan Caruana is over as the Malta defender picked up an injury and is replaced by Ryan Camilleri
6pm Valletta look on top now and substitute Bogdan Gavrila, who replaced Kaljevic, hits a ferocious drives that finishes just wide.
Jonathan Caruana (right) is mobbed by his team-mates after scoring Valletta's equaliser. Photo: Jonathan Borg
5.47pm Alba's delivery from a corner is met by Malano and Jovicic somehow keeps the ball out. Malano is first on the rebound but is again denied by the Hibs no. 1. However, Jonathan Caruana makes no mistake to put the game level.
Jonathan Caruana (no. 2) scores Valletta's leveller. Photo: Mark Zammit Cordina
5.46pm GOAL!!! VALLETTA ARE LEVEL!!!
5.43pm Alba finds Kaljevic at the far post but the Montenegrin striker is denied by an excellent save from Jovicic.
5.40pm Valletta are as expected on the front foot with Malano heading wide from Alba's corner.
5.36pm We're back under way.
5.34pm Both teams are back on the pitch with no substitutions planned by either side as Valletta chase the equaliser while Hibs will hope to find a second 'killer' goal.
Marcelo Barbosa (top) outjumps Valletta's Mario Fontanella. Photo: Jonathan Borg
5.20pm So at the interval Hibs are leading courtesy of Taylon's goal after 13 minutes. Valletta have tried to force their way back into the match but are looking to sloppy in front goal. Coach Gilbert Agius has a big half-time talk to make.
We'll be back for the start of the second half. See you in 15 minutes.
5.17pm That was the final kick of the half as the referee sends both teams to their dressing rooms.
5.15pm Another big chance for Valletta. Malano's inswinger passes through the Hibs wall and falls to Nwoko who isblocked by Jovicic and from the rebound neither Kaljevic nor Steve Borg can conclude.
5.10pm MISS!!! Huge chance for Valletta. Santiago Malano sends a cross inside the area which falls kindly to Alba but the Argentine incredibly fires wide with only Jovicic to beat. Big chance....
Hibs striker Taylon is closed down by Jonathan Caruana, of Hibs. Photo: Jonathan Borg
5.03pm Valletta are awarded a central free-kick but Alba's inswinger is too central to trouble Jovicic.
4.58pm Valletta goalkeeper Henry Bonello came to the rescue when he charged out of his goal to intercept Taylon after the Brazilian pounced on Steve Borg's poor backpass.
4.50pm The match is very much alive... On 18 minutes, City's defensive struggles were exposed again when Taylon raced through and intelligently release Jake Grech but the Malta midfielder elected to shoot first time and his shot was blocked by Bonello.
Two minutes later, Valletta finally came close when Kyrian Nwoko connected to Rowen Muscat's pass but his flick was brilliantly saved by Marko Jovicic.
Taylon celebrates in front of the Hibs fans. Photo: Mark Zammit Cordina
4.40pm GOAL!!! Taylon scores... Hibernians take the lead when Isaac Ntow made headway on the right and sent a teasing ross towards the Brazilian striker who headed past Henry Bonello.
4.36pm GOAL ANNULLED!! Hibernians had the ball in the Valletta net after four minutes when Kristensen lobbed the ball towards Jake Grech who squared the ball towards Taylon who stabbed home. However, referee Malcolm Spiteri annulled the 'goal' for a dubious offside position.
4.32pm Sparks are flying in these opening stages with Miguel Alba, of Valletta, and Hibs wing back Isaac Ntow already having been booked by referee Malcolm Spiteri.
Video: Mark Zammit Cordina
4.30pm The wait is over the players are on the pitch.
4.20pm Eyes on the prize.... Hibs and Valletta will be doing everything in their power to take this trophy back home come this evening.
4.10pm The Valletta FC official facebook page sent a good luck message tot heir team ahead of today's title showdown.
3.55pm A clear message from the Valletta fans to their players: "It's now or never" for the league title as Valletta look to win their 25th title that would move them level with their fierce rivals Floriana.
3.50pm The Valletta FC players are out on the pitch warming up to the delight of their fans.
Video: Mark Zammit Cordina
3.40pm On the eve of the match both Gilbert Agius and Stefano Sanderra spoke to the Times of Malta to give their views ahead of today's bumper clash.
The Valletta coach said that he was hoping that the club fans will again prove to be the 12th man for his team with their vociferous support as they seek to retain the title for a second successive season.
On the other hand, Sanderra played down Valletta's struggles and said that he was wary of the Citizens' backlash after dropping two precious points against Ħamrun Spartans on National Stadium.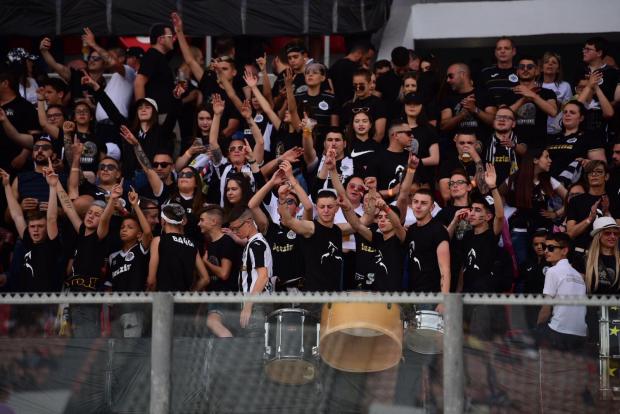 Hibs fans making their voice heard at the National Stadium. Photo: Mark Zammit Cordina
3.30pm Just less than an hour to go for kick-off and both sets of fans are buzzing.
Valletta fans in joyous mood at the National Stadium. Photo: Mark Zammit Cordina
3.25pm Stefano Sanderra the Hibernians coach, effected one change from the team that crushed Balzan last week as Bjorn Kristensen was handed a starting berth in the absence of Marcelo Dias who failed to recover from a muscle injury.
3.20pm The line-ups are out for today's decisive match.
Valletta coach Gilbert Agius has named an attacking formation that sees the Malta champions fielding a three-pronged attack formed by Kyrian Nwoko, Bojan Kaljevic and Mario Fontanella.
Jean Borg replaces the injured Ryan Camilleri in a three-man defence while Kaljevic is making his first start after two minutes as Joseph Zerafa starts a three-match ban.
3.15pm Welcome to our minute-by-minute blog of the Premier League title decider between Valletta and Hibernians.
The match kicks off at 4.30pm but the stands at the National Stadium are filling up nicely as a sell-out crowd is expected for this vital clash that will declare the 2018-19 champions.
Independent journalism costs money. Support Times of Malta for the price of a coffee.
Support Us