The Assoċjazzjoni Sport Muturi u Karozzi held the first ever Ladies Demolition Derby at the Ta' Qali Complex, last weekend.
Ten competitors registered to take part in the race.
The competitors were Carol Bowell on a Toyota Starlet, Michaela Sammut on VW Polo, Francesca Schembri on a Ford Fiesta, Panthea Butler on Skoda Favorit, Kayleigh Desira on a Toyota Starlet, Mandy Farrugia Lomax on Skoda Favorit, Yanica Gilford on Kia Pride, Mary Butler on Skoda Favorit , Jessica Magro Butler on Subaru J10 and Maronia Mallia on another Skoda Favorit.
Following their entry into the track and a line-up they first made two Laps as an exhibition parade and a warm-up for all.
From the Start Signal, it was clearly noticed by the crowd present that although the ladies never had the opportunity or experience to be behind the wheel in a Demolition car, they began giving spectacular banging to each other but with neat technique and driving under the strict safety rules without even narrowly breaking any.
Jessica Butler Magro in action during Sunday's Ladies Demolition Derby. Photo: Darrin Zammit Lupi
After nearly 50 minutes of battling between these cars the remaining dwell was between Jessica Magro Butler and Michaela Sammut for almost 15 minutes where though we saw these two cars bumping each other without anyone shutting down his engine.
While Sammut had her car still on the move Butler continued running and crawling with both rear wheels completely jammed against the bodywork.
Where it is usual practice to see the final blow that determines who will be the winner both cars had their engines running like new cars.
In a while Sammut's car engine developed a small oil fire and she had to abandon the car. That meant that Jessica Magro Butler won this first edition of the 'First ASMK Ladies Demolition Derby'.
Both drivers greated each other among cheers from the crowd.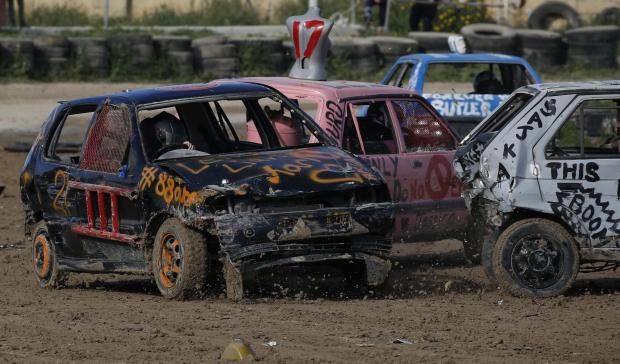 Action from Sunday's Ladies Demolition Derby. Photo: Darrin Zammit Lupi