Any budding entrepreneur will tell you that the first few years after starting a business are always the hardest, with tough decisions to make. Valery Bollier and Violet Kulewska tell Claire Caruana how relocating their business to Malta helped them find success.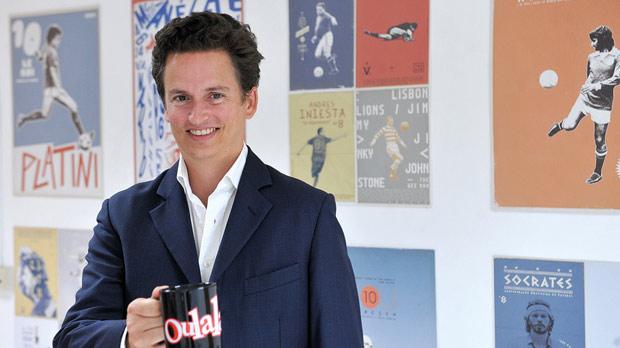 Valery Bollier. Photo: Chris Sant Fournier
Valery Bollier
Valery Bollier arrived in Malta from France 10 years ago, eager to launch a company that would serve as a competitor to French horse racing betting company Zeturf.
"During that period, I came to realise that young customers, 18 to 35 years old, were increasingly seeking richer experiences than the ones offered by games of luck.
"Three years ago, I started working on Oulala, a fantasy football game based on European football, with Benjamin Carlotti," says Bollier.
Oulala is part of an industry known as daily fantasy sports, which is very popular in the US and is slowly making its way to Europe.
"The daily fantasy sports industry has grown at an amazingly fast pace especially in the US and here in Europe we are one of the only companies ready to ride the wave."
Maltese people have an amazingly positive vision of the future and this is certainly an asset
Bollier insists the survival rate of start-ups is dramatically low and picking an efficient location is a key strategic decision for any entrepreneur.
"The choice of location could have direct consequences on a company's future," he says.
Bollier has come to learn that there are various factors that come into play when choosing to relocate. Had he set up his company elsewhere, things would have been much different, especially from a financial point of view.
"The break-even point of Oulala would have been three-and-a-half times higher in France but then there are also some less visible factors that one might want to consider," he says. "For instance, Maltese people have an amazingly positive vision of the future and this is certainly an asset.
"As a start-up, you desperately need to be surrounded by a positive and upbeat atmosphere. Overall, Malta is offering a lot of obvious, but also hidden advantages for start-ups."
He insists that while lifestyle is not an important personal matter for an entrepreneur during the first few years, the Maltese lifestyle, which offers a balance between work and fun, is attractive. Bollier says this also helps with attracting young talented people from abroad and keeping them happy.
Bollier believes start-ups are being carefully guided and a number of business incentives have been implemented specifically to help them out.
"Within just a few years, Malta has built a very efficient ecosystem for digital start-ups. Business incentives today come from various actors: Malta Enterprise, Takeoff business incubator, the Minister for the Economy, Investment and Small Business and his team, to mention a few.
"In the worldwide race to attract start-ups, Malta has built some strong competitive advantages with a lot of pragmatism. The overall system will obviously have to keep improving, but I think that Malta needs to work on one particular area: raising the awareness of the brand Digital Malta in the start-ups world.
"I believe that Malta now needs to invest with its successful business partners to promote Malta abroad and attract new companies from all over the world. Local start-ups can be very efficient ambassadors to promote the local ecosystem in exhibitions and fairs. We should all be willing to do so, as we have a common interest in building the most efficient local cluster."
Violet Kulewska
Violet Kulewska
Violet Kulewska moved to Malta in 2008 and is currently based in Valletta where she runs VKstudio. An interior and furniture designer by profession, Kulewska studied and worked in London and Warsaw before setting up base in Malta.
"I moved to Malta from London and Warsaw in September 2008. It was just a calling. I got a job at a well-established architecture practice where I was offered to work on an interesting project and so I decided to take the opportunity.
"I didn't know anyone here, but after a short time I met some wonderful people and decided to stay. It's been three years now and I've since set up my own freelance practice," Kulewska says.
Although Kulewska loves the sea, initially, there wasn't anything in particular that made her choose to build her career here.
"I would have done the same thing anywhere else. Growing up, I was exposed to a lot of creative freedom. I moved out of my hometown at the age of 15 to study in a school of arts. That was an amazing experience.
"What I've come to find very attractive about Malta is that it's a cosmopolitan place which attracts a genuine diversity of people from many different backgrounds," she says of the perks of relocating to Malta.
It's a cosmopolitan place which attracts a genuine diversity of people
Coming from a country where "cultural life is quite developed", Kulewska insists a lack of high-quality arts and cultural understanding has made the move tougher, especially in her line of work, as has a broad lack of environmental awareness which she says she witnesses all around her.
Yet she also insists Valletta is a gem and she values running her studio, as well as residing, in the capital city.
"One of the main reasons I live in Malta is Valletta itself. In my opinion, it's one of the most beautiful capital cities in Europe. Unfortunately I'm witnessing over-development and an aesthetic assault on the traditional architecture of the city.
"The number of old signs that still feature in old properties are disappearing. These elements are an important part of the city. They make Valletta so charming and stylish," she says, adding that more people need to realise there is heritage value even in the smallest things, such as the old signs. We need to preserve and promote them in a bid to attract more entrepreneurs to Malta.