Malta has established diplomatic relations with the Cook Islands and Papua New Guinea.
Signing ceremonies to establish relations were held during bilateral meetings held on the fringes of the Our Ocean Conference, held this past week in Malta.
Foreign Minister Carmelo Abela followed the signing ceremonies with discussions on how to take the new relationships forward with Cook Islands Prime Minister Henry Puna and Papua New Guinea Foreign Affairs Ministers Rimbink Pato.
Dr Abela also held a bilateral meeting with Seychelles President Danny Faure, in which Mr Faure described Malta as "an island we need to model ourselves on." Talks to cooperate with the Indian ocean island-state on waste management, maritime issues and financial services are in the pipeline.
READ: Malta to get €8m grant from EEA countries
In yet another bilateral meeting, Dr Abela met with Palestinian Foreign Minister Riad Malki, who thanked Malta for helping Palestine join Interpol and the country's unwavering support of the Palestinian cause. Dr Abela was invited to visit Palestine.
Finally, Dr Abela met with Norwegian Climate and Environment Minister Vidar Helgesen, with the two officials discussing areas of further cooperation, Brexit, the single market and migration.
Dr Abela thanked Norway for providing development funding which was used to conserve the Hypogeum and modernise prison facilities.
Norway will host the next Our Ocean Congference, to be held in 2019.
Signing ceremony to start diplomatic relations with the Prime Minister of the Cook Islands, Henry Puna.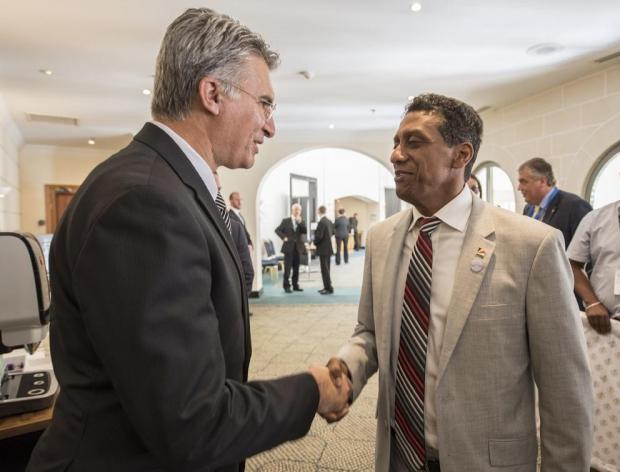 Dr Abela with Danny Faure, president of Seychelles. Photo: MFTP
Independent journalism costs money. Support Times of Malta for the price of a coffee.
Support Us