Richard England:
Sanctuaries of the Soul.
Kite Publications, 2016.
A publication commemorating a specific corpus of architecture by Richard England has just been released. Sanctuaries of the Soul sees this award-winning architect showcasing over 50 of his completed projects. However, as the title suggests, the book is dedicated to the sacred spaces created by the architect and thus includes projects that have been designed by Prof. England but which have not been constructed.
Among the completed works are arguably Prof. England's best-realised architectural endeavours. These include the recent Dar Il-Ħanin Samaritan Conference Centre and Meditation Garden which was among the 15th Venice Architecture Biennale winners just this summer, to mention but one example.
The Manikata church dedicated to St Joseph takes centre stage, as indeed it should for the statement it made on the local artistic and architectural scene in the 1960s.
The book is divided into six sections, beginning with a foreword composed of four elements by different authors: Chris Abel, Edwin Heathcote, Daniel Libeskind and Juhani Pallasmaa.
The longest and most comprehensive essay in these prelims is that by Abel who discusses several of Prof. England's projects that feature in the publication. Abel is an architectural critic and theorist who lived in Malta and wrote several books on Prof. England's architecture.
The other essays are by the architect, writer and designer Heathcote, who is the architecture critic for the Financial Times, the architect and urban designerLibeskind who, among other things, was master planner for the World Trade Centre redevelopment and professor emeritus and architect Pallasmaa, who is a great philosopher with a deep-rooted understanding and sensitivity towards his trade that has been widely recognised internationally.
These four authors are meaningful names in the architectural and academic world. They all have established a bond with Prof. England and with whom they have collaborated in the past on various projects. Their writing clearly reveals what a profound respect they have nurtured for Prof. England.
This publication rightly glorifies a portion of the work of one of Malta's most cultured people
As already mentioned, this book also encompasses spaces created by England specifically for one to find peace and solace, among which is his Garden for Myriam, lovingly inspired by and dedicated to his wife and muse. Just like art, architecture is, after all, also about creating meaningful open spaces enveloped by built structures. And Prof. England is very much an intellectual artist who applies artistic concepts such as a sophisticated palette to his architectural projects.
The book then progresses by briefly mentioning the origins of Maltese temple architecture – the Neolithic heritage – that ultimately influenced Prof. England's own architecture. Baroque architecture is also mentioned in this regard. His many drawings that feature in this section attest to the impact that local Baroque edifices had on him. This is a clear contrast to Prof. England's own architecture, that is largely due to other influences, such as the paintings by De Chirico, Gio Ponti's sacred edifices (in whose studio he worked as a student-architect in Milan), the Segesta Greek temples and the like.
The third section consists of Prof. England's completed projects that are divided between Silent Spaces and Sacred Spaces and consists of projects that have come to fruition including spaces for meditation and for prayer such as gardens, papal stands and actual private and public chapels and churches.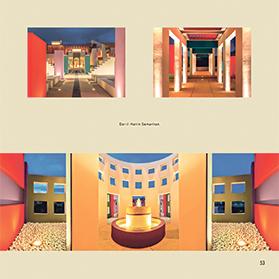 The fourth section is then dedicated to those projects that he has conceived on paper but which were never executed. Among these are a church in idyllic Dingli, a church in Wroclaw Poland, the Filfla Chapel proposal which would be a haven for soul-searching and the interfaith shrine proposal for Gozo which shows how sensitive he is to other religions. In these sections, a description of each project helps the reader to identify better with the spaces.
The book's next component is dedicated to concept sketches, where Prof. England's modus operandi is made manifest. He is one who firmly believes that architects should have a sound knowledge of design, a tool with which an idea can be quickly put to paper which he, in fact, here calls "The eye of the hand".
The conclusion by Prof. England himself encapsulates the spirit of this publication and of his work. This explains his raison d'être and ultimately demonstrates the research that went into the creation of these projects and Prof. England's knowledge of history and the Catholic doctrine. This erudite man proves how knowledgeable he is on a multitude of subjects. He is a true polymath.
The book is beautifully illustrated and designed, with an apt colour scheme reminiscent of his own projects. Throughout the book, photographs of the featured projects by different photographers illustrate the said spaces in the best way possible.
Sanctuaries of the Soul is dotted with inspirational and meaningful quotations. One of the more striking is by Prof. England himself: "Many roads lead to God. I have chosen architecture". Among the snippets from reviews on his work is one by the late Charles Knevitt's who wrote that Prof. England is "the architectural Caravaggio of our times".
The book closes with Prof. England's comprehensive biography. What is not included in this biography is a recent honour the architect has received. He was awarded a well-deserved Doctor of Engineering Honoris Causa Degree by the University of Malta held in a ceremony on December 2 at the University church in Valletta.
The honour was bestowed on a man who has been instrumental to pioneer change in Malta's art and architectural outlook, with whose international contacts and friendships Malta has been enriched over the centuries through his academic and professional activities. This was not the only Honoris Causa England has received in the past decades. He has received others from Universities in Argentina, New York, the Republic of Georgia, Bulgaria and Romania.
This publication rightly glorifies a portion of the work of one of Malta's most cultured people, one who produced a high quality book that is the result of refined good taste. And it reveals England's own profound spirituality.
Sanctuaries of the Soul also comes in a limited collector's edition with unique covers with different drawings by Prof. England's own hand.