Updated 2.30pm
A man is in critical condition following a car explosion this morning in Msida, right by the traffic lights alongside the Workers' Monument.
Two other people, travelling in separate vehicles were also injured, caught up in what appears to be a criminal underground war.
The car, a Renault Megane, was seen bursting into flames at about 10.30am. The blast, believed to have been caused by a car bomb, was heard over a wide area.
The victim suffered severe leg injuries in the blast. Romeo Bone, 40 of Floriana, who is well known to the police, was taken to intensive care at Mater Dei Hospital.
WATCH: Cabinet to discusses beefing up police resources
Eyewitnesses told the Times of Malta that moments after the explosion, Mr Bone was seen lying on the tarmac beside his car gesturing to his flaming car and the lower half of his body.
The victim has faced a series of charges along the years, including stalking charges with intent to kill a police officer – who was a star witness in another case.
A car and a light truck, being driven behind and alongside the target car, were damaged. The two slightly injured persons are believed to have been in the car immediately behind the one that blew up. Some witnesses who saw the gruesome scene had to be treated for shock.
Police and medical crews rushed to the area and a long traffic jam built up. Police advised motorists to avoid the area and seek alternative routes.
Second car bomb of 2017
This was the second car bomb explosion this year.
On January 29, a 65-year-old man from Ħamrun was killed by a car bomb that blew up as he was driving past the Maltapost headquarters in Marsa.
Three car bomb incidents rocked the island last year.
In January 2016, a man died when a bomb went off in his car as he was driving along the Marsascala bypass. The victim had a pending court case on human trafficking. A second car bomb went off in Marsa in September, when a man lost both legs.
Mr Bone is seen lying on the ground moments after the explosion. Photo: Joseph Vella
Photo: Rebecca Privitera. Facebook timesofmalta
The third car bomb of 2016 went off early on a Monday morning in October in Buġibba. A 67-year-old man died. The explosion had been described by police sources as one of the most powerful.
READ: Alleged stalker a suspect in businessman murder case
Video below by Mark Zammit Cordina.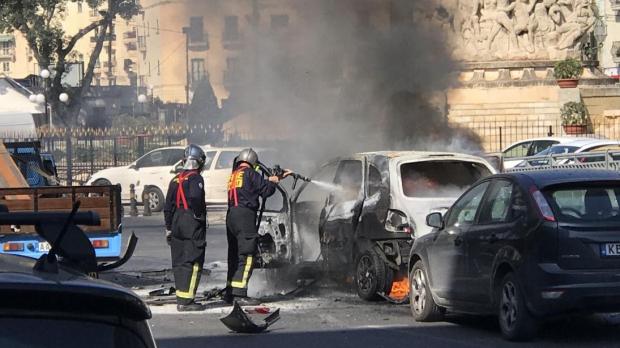 Smoke rises from the scene of the explosion. Photo: Jason Frendo