The revolutionary invention of photography in 1839 turned an image-starved civilisation into the image-glut society we today take for granted.
I find the origins and development of photography in Malta thoroughly fascinating, and that enthrallment has, over many years, translated into inquisitiveness, research and collecting. In 1996 I wrote what could be deemed the pioneering study on the theme (Treasures of Malta, Volume II). This was followed by the bible of photography handbooks: Margaret Harker's Photo­graphers of Malta, published by Fondazzjoni Patrimonju Malti in 2000, now regrettably out of print. With its painstaking and scholarly investigations and its enlightening results, this remains the basic reference work for all those eager to deepen their knowledge of the subject.
But the thirst for more research, and then some more, is not easily slaked. Since Harker's volume I have persevered in collecting titbits, often marginal, but which then cumulatively contribute to the larger picture. I must acknow­ledge at the outset the input by Francesca Balzan, who has suffered with some grace a standing order from me to take note of, and refer to me, any bits and blobs of information about photography in Malta she may come across during her own studies in the archives. She repeatedly wins gold for generosity and OCD in research.
After the concurrent invention of photography in 1839 in France and in Britain, Malta was among the first to benefit from the new craze. There is evidence of photographic activity in Malta from the very outset, with visiting French and British photographers finding the island's bright sunshine very congenial to their light-sensitive emulsions, then painfully slow. But the first known professional photographic studio run by a Maltese arrived rather late, circa 1849, when Leandro Preziosi, brother of the eminent painter Amadeo, made the new, and fashionable, art his source of income. There was no stopping after that.
This short study aims to cover new material not found in Harker's handbook.
Photographic studios started opening, flourishing and waning in various parts of Malta; tracing their spread and their correlation with social phenomena, proved very rewarding. The very first studios were located in the Valletta/Floriana area, followed shortly later, by photographers established in the Cottonera. Then, later and on a minor scale, come Sliema, Ħamrun, Rabat and Paola. Was this a coincidence, or did it follow a logical sequence, keeping in mind that commercial studios mostly catered for portraits, and only to a lesser extent, for genre photography?
The answer comes from a closer study of Valletta: many, if not most, of the early photo studios were in Strait Street! A rather disreputable focus, but teeming as it was with British sailors and soldiers, an ideal catchment area for business, whether elected or just passing trade.
Front and back views of a decorated portrait of a British sailor by the Edward Grech Cumbo studio. Author's collection
We find that many notable Maltese professional photographers first opened shop in Strait Street: Richard Ellis (42, 43), Alessandro Caruana (41), James Conroy, and later his wife, (56 and 134); Augusto Felice then took over their photographic business at the same address, and this eventually became the Black & White Studio; Edward Grech Cumbo (141), Davison and Ciantar Preziosi (134), Aquilina and Zahra (66), John Ciancio (56), Leandro Camilleri (52), S. Pizzuto, and, separately, D. Marinelli had their studio at no. 64; Domenico Rosati (134 and later 66, Strada Stella – sic); The Vernon Studio (131– same address shared by Oscar Distefano); J. H. Critien (134); B. Schembri & Co (56).
This minor street has recently attracted major interest, and hardly for reasons of piety and devotion. But the fact that Strada Stretta was also the hotbed of early studio photography in Malta has been massively overlooked.
An inordinate concentration of photographers in one rather dingy, run-down street in what was then virtually Malta's red light district is of major significance: photographers flocked where business was believed to be – a large proportion of ottocento Maltese portrait photography that I come across is of British sailors, soldiers, officers and their families.
Tiny Malta is the first Photoshop laboratory in the history of photography
The same can be said of the other harbour towns, the Three Cities, the secondary venue where servicemen thronged: Horatio Agius carried out and advertised his trade first in 2, Strada Rinella, Kalkara, 'Near Bighi Hospital', and then in Margherita Hill, Cospicua 'Near Verdala Barracks'; M. (Michele) Zahra & Sons had their studio in 2, Strada Cospicua, Cospicua 'Near the Wind Mill'; Thomas Fenech worked at 12, Strada Verdala and at numbers 90, 91, Strada Cospicua 'Near the Soldiers and Sailors Rest'; Anthony Serracino ran 'The Fine Art Studio' from 20A, Strada San Michele, Senglea.
Christopher Burck earned his living from 75, Strada Bongiorno, Cospicua while P. Ciantar had his establishment at 87, St Joseph Street, Senglea; the Italian (later British) photographer Umberto Adinolfi worked from 16, Strada San Francesco, Senglea. J. Fenech was in 61, Strada San Paolo, Cospicua, and S. A. Harrison in 74, Strada della Marina, Senglea. Another Italian photo­grapher/publisher, Domenico Foti, also had his business somewhere in the Three Cities, I believe, though I have not established his address.
Most photographic studios proudly carried the name of their owner, but others adopted fancy titles. Well known were The Grand Studio and The Empire Studio in Strada Reale, The London Studio in Strada S. Giovanni, Valletta, The Fine Art Studio in Senglea and The Modern Studio in Sliema. Others flaunted names more fancy still like The Light & Truth Studio in Cospicua, almost biblical – the backs of some of its portraits show God the Father (or is it Zeus?) whiling away the ineffable boredom of eternity hurling thunderbolts at the world.
Portrait of a lady , c. 1850, by Leandro Preziosi, the earliest Maltese photographer. Author's collection
I have come across only a few photos by The Sun Gallery, run by S. Azzopardi Preziosi in Valletta, among them a splendid cabinet group portrait of seven members of the Aroyo family, taken in late Victorian times. Perhaps the photographer went out of business quickly. I've also seen a cabinet portrait by the studio Sole ed Arte about which nothing is known so far. Though the portrait has a Maltese connection, this studio may not have been Maltese.
Tiny Malta is singled out as the very first Photoshop laboratory in the history of photography. In 1846, Welshman Calvert Richard Jones visited the island and spent four months here with a camera, focussing it on any object he found picturesque. Among several subjects that caught his fancy were the capuchin monks of Floriana. He had five of them pose on the convent roof in subdued discussion. But then the printed photo only shows four! Somebody had one of the monks airbrushed out of the negative, which is still preserved. Photo fakery had been born. And in Malta.
Harker's lists, though invaluable, can occasionally be inaccurate or incomplete. She correctly records the owner of the Grech Cumbo studio in Strait Street as 'Edward'. But there seems to have been another Grech Cumbo studio in 133, Strada Teatro.
The backs of some Grech Cumbo cabinet photos I have seen have 'G. Grech Cumbo Photographer', together with a vindictive disregard for English language niceties: "Gold Medall (sic) and a First Class Certivicate (sic) awarded in the Exhibition of Naples 1896"... "can be enlarged and fenished (sic) in colour"... "satisfaction guaranted (sic) prices very moderate"... "Please to verify my adress (sic) before entering do not mind to any suggestion made by guides (sic). Photographs can be taken at night time". His spellcheck was irretrievably down, but he did try hard.
Bafflingly there are portraits with identical backs (including mistakes) but with the name 'Edward Grech Cumbo'. A puzzle I have been unable to unravel.
Portrait of a man in uniform by Mrs S.A. Harrison, possibly Malta's earliest professional woman photographer. Author's collection
There are then two early photographic studios, both based in Strada S. Ursola, Valletta, which have so far received no attention. Ardoino & Schranz turned out some very creditable work in the 1870s from 6, St Ursula Street. This Schranz photographer was quite likely Giuseppe, son of the painter Giovanni Schranz. Six doors down, in 12, the photographers Corani & Labruyere also set up studio at about the same time. I know absolutely nothing about either of these partnerships, except that their work in Malta, apparently short-lived, was of noticeable standard.
Who is the first recorded professional woman photographer in Malta? It is said to be a mysterious Mrs Conroy who has so far eluded profiling. James Conroy, a firmly-established 'English photographer' with a studio at 56, Strada Stretta, Valletta, was quite well known; the backs of some of his cardboard-mounted portraits (cabinet photos) show a naive drawing of a British sailor boy happily climbing the rigging of a sailing ship. But then, in 1879 the papers carry adverts for "Mrs Conroy / Photographer / 56, Strada Stretta / Photos, from carte-de-visite size to life-size at moderate prices. / A complete collection of views and panoramas of Malta, at 8d. a copy".
So far, little was known of this pioneer woman photographer. Some reliable sources refer to her as Mrs Sarah Jane Conroy. But I have now established that on May 17, 1872, James Conroy, widower, married an Italian lady, Adelaide Aneschi, born in Reggio, daughter of Pompilio and Rosa Aneschi, in St Paul's Anglican Cathedral. If, as is likely, this is the same James Conroy, we know who Mrs Conroy was – and also why she never mentions her Christian name. An Italian woman could not be seen to be running an English studio for an English serviceman, and so she discreetly blurred her name and nationality to low resolution. Kudos to her for being the very first professional female photographer in Malta, whether she was Sarah Jane or Adelaide.
But was Mrs Conroy really the first professional woman photographer in Malta? I have in my collection a portrait of a man in uniform on a carte de visite mounted on a neatly printed backing board which states it was made by Mrs S.A. Harrison, 74, Strada della Marina, Isola, Malta. This dates from about the same time as Mrs Conroy. Mrs Harrison has gone unrecorded so far. I believe she could be Sarah Ann Harrison, née Roberts, from St Charles, Plymouth, daughter of Abraham and Sarah Roberts, who married George Harrison on August 9, 1864, and settled in Malta.
In 1892, a solitary woman photographer, Miss Russell, took part in the exhibition organised by the Malta Camera Club. All the other participants were men. She entered "a shield with 10 portraits" which won her faint praise: "They do her great credit as a beginner." I may write about the Malta Camera Club in the near future.
A 19th century advert by the rare photographer Christopher Burck from Cospicua. Courtesy the National Library
Another rather mysterious photographer, very active in Malta in the inter-war years, was Umberto Adinolfi. Connoisseurs know his output quite well – he worked mostly for the British navy, regularly producing numerous photographic postcards of the itineraries in the Mediterranean of Royal Navy ships based in Malta and also postcards of Greece. But his personal profile was totally unknown.
Thankfully, in 1934 Adinolfi obtained a certificate of British naturalisation, and this contains plenty of information. He was born on November 7, 1870, in Salerno, Italy, to Luigi Adinolfi and Eufemia Florio, both deceased. He first arrived in Malta on October 7, 1891, and settled in Senglea where he lived up to the outbreak of World War I, when he visited Salerno but returned to Malta three months later. He was unmarried, and in receipt of a British naval pension (why?).
He carried on his photographic business and his postcard publishing from his residence, 16, Strada S. Francesco, Senglea. Perhaps only coincidentally, a Domenico Adinolfi was well-established as a postcard publisher in Naples round the turn of the century, and possibly some connection existed between the two.
Adverts put out by photographers turn out to be an endless fount of information. They tell us a lot about the advertiser, and equally about his relationship with the competition. Thus, quite often, hugging an advert by Richard Ellis, one finds another by his rival Domenico Rosati "by appointment photographer to the Duke of Cumbridge (sic)". He announces that he has just received from Vienna a stock of "elegant and beautiful" albums for cartes de visite, cabinet portraits and porta photography in metal, etc, all at very reasonable prices.
Ellis would not be outdone. In his own advert, touching Rosati's, he informs the public that his Strait Street studio opens daily from 9am till 6pm to take portraits, ships, views, groups, monuments and tombs. For the superstitious he adds "deceased persons photographed daily", and that must have invited some Pavlov-reflexed qrun under the counter. He said he could print portraits on glass, mica, leather, niole paper, metals, wood, linen, silk, etc.
During the first 60 or 70 years, no one seems to have hit on the idea that weddings and photos could coexist
He specialised in opalitipes, photo-miniatures on imitation ivory, the alabastrine process and the Crozat system. Oliography, life-size portraits and any other branch of the art were also within his reach, and, as a last inducement, he promises "artists sent to gentleman's houses at the shortest notice". No service available for ladies' houses?
Rosati had his own quirky, politically incorrect and non-U ways of advertising his business. How about this: "An ugly wart is a difficult thing to get off one's hands. An ugly daughter still more difficult. The best way, however, to get the latter off is to have her photographed at Rosati's Strada Stretta. His convex photos and other new styles bring out the latent beauties of the homeliest faces." In some ladies' portraits from my collection, I would concede that beauty was more than latent. What Rosati meant by "convex photos" is unclear. It is Ellis who, for many years, printed his carte de visite portraits on boards with a distinctive convex oval at the centre. I have not come across this raised medallion effect used by other studios.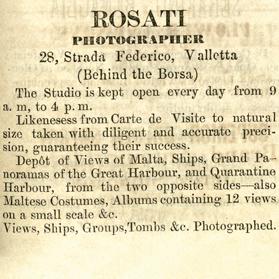 A 19th-century advert by the Italian photographer Domenico Rosati. He had a studio in Fredrick Street and two in Strait Street, Valletta. Courtesy the National Library
Rosati moved around. In 1878 he was at 28, Strada Federico (behind the Borsa) formerly the studio of Leandro Preziosi. In 1880 he advertised from 66, Strada Stretta, (behind the Main Guard) and from 134, same street. He had for sale panoramic views of the Grand Harbour and of Marsamuscetto "from the two opposite sides – also Maltese costumes, albums containing 12 views on a small scale & c." He offered to take pictures "of views, ships, groups, tombs & c".
Ellis advertised directly – and sometimes indirectly too. Passing mentions in the local news did his business no harm, like this example: "We understand that Mr Richard Ellis, photographer, of 43, Strada Stretta, Valletta, is contemplating the taking of a photograph of the quarantine camp at Comino, and, to effect his purpose he will fix up his apparatus either at a spot somewhere in the vicinity of Marfa – the most extreme point of Malta facing the island of Comino – or at a suitable place in Gozo. We shall watch the result of this novel and commendable undertaking with the greatest interest."
This paragraph, though short, still carries plenty of information. Why did Mr Ellis have to photograph the Comino camp from so far away? Because the Indian troops rushed to Europe for one of the many international political crises were there undergoing quarantine for infectious diseases, and no one was allowed anywhere near. The only way to snoop on them was from far away. This exercise also presupposes the use of powerful telephoto lenses, not mentioned before.
The first 50 years of portrait photography in Malta witnessed subtle but decisive aesthetic changes. Leandro Preziosi generally photographed in full figure, mostly standing but occasionally sitting, and only later did he move timidly to more close-up portraiture (he died quite young, in 1869).
The human figure and the ambient background are given equal relevance. With time, the camera starts zooming in – first to three-quarters, then to half-figure, then to head and shoulder. Until finally the portrait ends up being a close-up of the face alone, with any background faded out – the face, the persona, has triumphed decisively over its physical surroundings. Preziosi also has all his sitters looking right, at least in the portraits I have examined. He was of noble origins, but I would not read a political message in this.
I believe Ellis to have been among the first to introduce, or at least to make popular in Malta, this new face only way of doing portraiture. This was a bold step indeed. In its early times, photography had tried desperately to imitate painting. In close-up facial portraiture it was breaking revolutionary new ground, as classical painters had very rarely resorted to face only imaging – though sculptors had, from Roman times. But that is another story.
Today it would be utterly unconceivable to have a wedding uncontaminated by -photographers – that is the social event in which the cameraman is considered almost as indispensable a fixture as the spouses themselves. It was not always so, not by a stretch. During the first 60 or 70 years of photography in Malta, no one seems to have hit on the idea that weddings and photos could coexist.
The first Maltese wedding photos I have seen date to around 1910 or maybe slightly earlier, and, up to the 1930s they still remain, not wholly, but almost, exceptional. In fact, weddings are not even mentioned in adverts by early studios as events in which the presence of a photographer would be desirable. We've moved rather far from that today.
(To be concluded)
Independent journalism costs money. Support Times of Malta for the price of a coffee.
Support Us