The two survivors of a Birżebbuġa drive-by shooting have not been followed up by the police and are still dealing with traumatic flashbacks of the fatal incident that cost them their jobs, health, shelter and, possibly, legal status.
Ibrahim and Mohamed were walking back home on April 6 after watching a football match between Barcelona and Atletico Madrid in Birżebbuġa, when they heard loud bangs.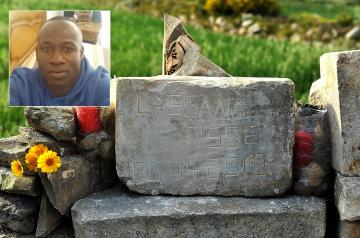 Lassana Cisse (insert) was killed in cold blood on Triq il-Gebel, Birzebugia
"We thought nothing of it, as it could be anything – partygoers, keen football supporters, fireworks… We were minding our own business, discussing football on our way to Ħal Far," Mohamed, 28, told the Times of Malta.
The man from Gambia recalls the shooting pain as the bullet entered one hip and exited the other one before he collapsed to the ground.
In front of him, Ibrahim stretched out his arm, leaned against the wall and slid down as he called a friend to tell him they had been shot.
A few metres away, a third man – Lassana Cisse, a 42-year-old man from the Ivory Coast who was on his way to Birżebbuġa – did not survive the shooting.
The two survivors were rushed to Mater Dei Hospital, where Ibrahim spent five days and Mohamed two weeks. No one was allowed to visit the two victims while at the hospital.
Still visibly shaken, the two are appealing for some form of stability, but they are scared to have their faces photographed as the shooter is still on the run.
The sleepless nights
Mohamed has spent sleepless nights feeling helpless. It feels as if he is going mad as his "head is full of desperate thoughts", he said.
More than a month since the shooting, they claim they have not heard back from the police, despite reaching out to officers for feedback about the investigation.
Asks for bus money to travel to police headquarters
As the case is ongoing, the two cannot go to Italy to renew their documentation, which expires in the coming weeks. They are risking ending up without any legal status, they said.
In the meantime, they are still being treated for their injuries, meaning they cannot work and they are surviving on the generosity of their friends.
Mohamed has been kicked out of a room he shared with five others, since he could not keep up with the €100 monthly rent.
They have to borrow money to buy food, and Ibrahim, 27, has even had to ask for bus money to travel to the police headquarters to ask for feedback.
The only way he can reach his family in Guinea is having them call on a friend's mobile phone since his own was confiscated by the police.
"When I was rushed to hospital my friend called my family to tell them I had been shot. Worried, they tried to reach me on my phone, but of course no one answered as it was in the police's possession.
"They immediately thought that I had been shot dead," Ibrahim, father of a two-year-old and four-year-old said.
Mohamed has meanwhile only told his fiancée and brother about the shooting. He has not yet told his mother about the ordeal, for fear of losing his only surviving parent.
'You wouldn't hurt a dog on the street'
"The shooters have taken away from me the most important and priceless thing I have at the moment: my health," Mohamed said.
"At times I wonder who could do this to another human being. You wouldn't even hurt a dog, let alone shoot one minding its own business."
He said that all those around him, no matter their nationality and including Maltese friends, are still questioning the motive behind the shooting.
Watch: A hit-and-run went unnoticed until a murder on the same road
Read: Scene of migrant murder is hotspot for racial attacks