Prime Minister Joseph Muscat this evening outlined details of what was described as a new individual investment programme which is being linked to investment in Malta.
The details were given at a press conference after talks with the opposition about the scheme failed. Earlier, Opposition leader Simon Busuttil said the bottom line remained that citizenship was essentially being granted immediately at a price, something the opposition disagreed with.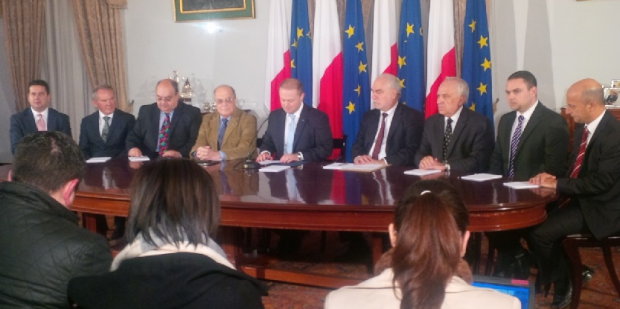 Dr Muscat speaks on the new citizenship scheme with, from left Parliamentary Secretary Edward Zammit Lewis, former MHRA president Tony Zahra in his personal capacity, minister Manuel Mallia, MFSA chairman Joe Bannister, minister Louis Grech, David Curmi, president of the Chamber of commerce, Parliamentary Secretary Owen Bonnici and Kenneth Farrugia, chairman of Finance Malta
Speaking at a press conference at the Auberge de Castille, Dr Muscat said the programme would be run by Identity Malta, a new government agency, but Henley and Partners would remain agents, as would other financial operators such as PWC and Deloitte. There would be no monopoly.
Applicants would be required to make an investment of €1.15m, including a contribution of €650,000 of which 70 per cent would go into a national development and social fund run by a board of trustees on the lines of the Sovereign Wealth Fund in Norway. The rest would go to the consolidated fund.
Applicants would also be required to make a property investment of €350,000 or take a €16,000 annual rental, both on five-year contracts plus €150,000 investment in bonds or shares kept for five years in Malta.
"This total of €1.15m will create a bond with the country in a tangible manner," Dr Muscat said.
He said the new programme had been agreed with the Chamber of Commerce, Finance Malta, the MHRA and the organisations representing estate agents. The representatives also attended the press conference.
He said the programme was being capped at 1,800 after which it would be closed. There will be no annual cap. At present, some 1,000 people were granted citizenship annually for one reason or another, Dr Muscat said.
The minimum time between application and the granting of citizenship would be six months due to due diligence by Identity Malta. The maximum would be two years.
The names of those granted citizenship would not be kept secret.