When OLAF's chief, Giovanni Kessler, used the phrase "unambiguous circumstantial evidence" to describe to journalists the outcome of the investigation involving John Dalli, he was making the case that even though the former European Commissioner may have not broken the law, at the very least it pointed to a serious breach of ethics.
The charge in the OLAF report is clearly a breach of ethics: "The fact that he met interested parties, lobbyists and economic operators and unofficially discussed with them information covered by obligation of professional secrecy could mean a possible violation of article 245 and article 339 of TFEU (the European Union's foundation treaty) as well as the code of conduct for the commissioners."
The premise rests on the picture painted by the investigation, which concludes that while there is no conclusive evidence of Mr Dalli's direct participation or masterminding of the alleged request for money, the overall evidence indicates that he was aware.
There are numerous elements underpinning this conclusion:
• meetings that have taken place between Mr Dalli and snus lobbyists and the evidence given by Maltese lawyer Gayle Kimberley, who, the report says, lied to investigators and should be charged with trading in influence;
• phone calls coinciding with key events under investigation;
• the "privileged" access that Mr Zammit had to Mr Dalli and the fact that Mr Dalli did not report the informal meetings he had with tobacco lobbyists;
• inconsistencies between what Mr Dalli told investigators and the facts they uncovered;
• the fact that the tobacco lobbyists who were asked for the money became convinced that Silvio Zammit was acting on behalf of Mr Dalli.
'Unofficial meetings' held with snus lobbyists
Mr Dalli's direct involvement in the whole affair revolves primarily on his presence at three meetings.
A third meeting is more problematic
Nobody disputes the first two meetings, one on August 10, 2010 and the other on January 6, 2012.
However, a third meeting, on February 10, 2012, between Mr Zammit and Mr Dalli, in which they supposedly discussed snus, is more problematic.
Giovanni Kessler compiled the OLAF report.
Both Mr Dalli and Mr Zammit acknowledge that a meeting took place although Mr Dalli initially denied that the meeting did happen when first interviewed.
The two men insisted that they did not discuss snus or any related subject, insisting that the conversation was about Mr Zammit's running for the local council elections.
Dr Kimberley, on the other hand, claims that Mr Zammit reported back to her on a meeting he had with Mr Dalli. According to the lawyer's version of events, she met with Mr Zammit at his Sliema restaurant right after his meeting with Mr Dalli.
The report mentions three phone calls between Mr Zammit and Dr Kimberley on February 10 to sustain the notion that the two met as Dr Kimberley claimed.
In any case, during the meeting, Mr Zammit gave Dr Kimberley a piece of paper with his hand written notes next to a set of questions that she had prepared for Mr Dalli.
For instance, Mr Zammit had written "France?" in a blue pen, next to the typewritten question: "Who are Dalli's friends in the Commission and in general what countries does he have good relations with?"
He wrote "Suggest no ban and Ready to meet Chief Executive" next to the question: "How does he intend to proceed re the snus ban and what does he need?"
Mr Zammit explained these notes were meaningless scribbles he had at hand but OLAF dismissed this as not credible and concluded that the handwritten notes originated "from someone possessing an inside knowledge of the matter, as is Commissioner John Dalli". This key conclusion is not underpinned by any further reasoning.
On the other hand, according to Dr Kimberley's testimony to OLAF, Mr Zammit first mentioned there would be a cost involving "six zeros" to lift the ban during the meeting that followed the one he had with Mr Dalli.
At this point, Dr Kimberley called her contact at Swedish Match, Johan Gabriellson, reportedly in Mr Zammit's presence, and, pretending she was actually at the meeting with Mr Dalli, suggested they should meet.
According to the testimony of Mr Gabriellson, as reported in the report, "she sounded agitated and upset. She told me that we should have met. I then asked if there was good or bad news and she replied that it was up to me to judge. She asked who in Swedish Match was able to make a financial commitment."
Eventually, Mr Gabriellson came to Malta and, on February 13, met Dr Kimberley and Mr Zammit in the famous meeting where the alleged request for €60 million was supposedly made.
The February 10 meeting is pivotal in the wider context of Mr Dalli's alleged involvement in this affair.
The report concludes that the sequence of events, that is the date the document was created, the phone calls between the lawyer and Dr Zammit and the conversations between the three protagonists, "leads to the conclusion that Mr Silvio Zammit indeed discussed with Commissioner John Dalli" the lifting of a ban on snus.
In drawing this conclusion, the report relies on Dr Kimberley's testimony. The report itself notes that Dr Kimberley "was involved in the alleged bribe request" and was acting when she pretended to be perturbed by the money request.
Moreover, investigators came across a number of inconsistencies in her testimony, particularly in connection with claims that she had disassociated herself from Mr Zammit, when, in fact, she had not.
Pattern of calls to Silvio Zammit
The report hones on a pattern of phone calls between Mr Dalli and Mr Zammit, which pattern is linked to key dates of events under investigation.
However, it also flags in this connection, calls that appear not to have any particular relevance.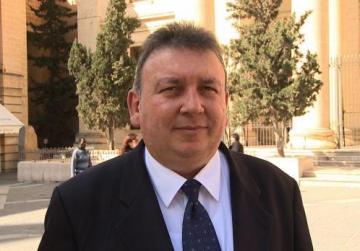 Silvio Zammit
The report says that Mr Zammit and Mr Dalli exchanged 17 calls and two text messages in a total of 23 contacts made by the two between January 5 and July 17, 2012 before, after or on the same day as the events took place.
The most significant of these related to the phone calls made between Mr Zammit and Mr Dalli on March 16, 2012, the same day that Inge Delfosse, secretary-general of the European Smoking Tobacco Council (Estoc), asked about the possibility of having an informal meeting with Mr Dalli.
Mr Zammit and Dr Kimberley also exchanged calls on this occasion.
Then, on March 29, 2012, Mr Zammit called Mr Dalli right after having another conversation with Ms Delfosse in which he asked for €10 million. According to testimony given in court in Malta, in this instance there was a call that lasted eight seconds.
The report also lists phone calls made before and on the day of a meeting held on January 6, 2012, which is not being disputed by anyone and another phone call on October 21, 2011, when Mr Dalli did not answer.
Swedish Match's local representative
An important element of the report, which might have implications for the case being heard locally, is the conclusion on Dr Kimberley, who represented Swedish Match here.
It was ascertained Dr Kimberly was not telling the truth
The OLAF report recommends that Dr Kimberley should be charged with bribery or trading in influence, depending on the interpretation of the prosecution.
The report concludes, on the basis of communications between her and Mr Zammit, that she was "involved in the alleged bribe requests" made by the restaurateur.
Moreover, investigators flagged a number of inconsistencies in Dr Kimberley's testimony, pointing out that she was not telling the truth on matters under investigation, particularly her contacts with Mr Zammit.
She also failed to give a credible explanation of phone calls exchanged around crucial events under investigation.
"According to the evidence collected, it has been ascertained that Dr Kimberley was not telling the truth with regard to details concerning the events under investigation.
"There are also contradictions and changes in the subsequent statements Dr Kimberley provided to OLAF regarding the contacts she had with Mr Zammit, their content and intensity."
Dr Kimberley entered the picture following a meeting that Mr Zammit had with a representative from Swedish Match and Estoc on October 21, 2011 in Stockholm, Sweden.
The Swedes pointed out that a colleague of theirs, Mr Gabriellson, had a lawyer friend who worked in Malta.
At the time, Dr Kimberley happened to be having an affair with Mr Zammit's friend, Iosif Galea, who worked with her at the Gaming Authority and he called telling him to ask Dr Kimberley if she knew any "snus people", at which point she confirmed that she knew Mr Gabriellson.
Phone records bear out this version of events, according to the OLAF report. However, the report gives a clear indication that Dr Kimberley was playing a duplicitous role in respect to Swedish Match.
In spite of this, the prosecution in Malta indicated that it had no plans to arraign Dr Kimberley, who is pregnant. Mr Zammit's defence team has been clearly targeting her credibility and pointing to her involvement in the matter.
'Inconsistencies' found in Dalli's statements
The report says there were "inconsistencies" between the statements of Mr Dalli and the investigation's findings.
John Dalli
When OLAF first questioned Mr Dalli, he said he did not meet Mr Zammit on February 10, 2012. Almost two weeks later, he gave OLAF a letter admitting to meeting him but denied that the snus issue had been raised during the meeting.
Mr Dalli also declared he had "no inkling" that the investigation was taking place until he was first interviewed by the agency on July 11. However, OLAF later established that he had received two telling phone calls from Mr Zammit, one on June 17, immediately after Dr Kimberley informed Mr Zammit that she had been interrogated, and again on July 6, the day the restaurateur was interrogated by the agency.
"It is reasonable to believe that during at least one of these calls or during both of them he had been informed in detail about the OLAF investigation, its scope and the background situation."
Mr Dalli had also said his flight to Malta for the February 10 meeting was not planned in advance but this contradicts information received which indicates the journey was inserted in Mr Dalli's mailbox calendar on January 16.
Two witnesses 'convinced' the bribes came from commissioner
The report lays emphasis on the testimony of Mr Gabriellson and Ms Delfosse who said they were "convinced" the offers were being made by Mr Zammit "on behalf of Commissioner John Dalli".
Estoc secretary-general Inge Delfosse.
None of them actually met Mr Dalli during the contentious meetings but they said Mr Zammit had "privileged access" to Mr Dalli, who described him as a "close friend".
On this point, the report concludes that "by associating himself with a person like Silvio Zammit, (Mr Dalli) has allowed the latter to assume high importance in front of possible stakeholders, who assumed that he was acting on behalf of the Commissioner".
"As explained above, this was the clear perception of all the people acting on behalf of both Swedish Match and Estoc, which was also based on the fact that Mr Zammit had been the intermediary for reaching Commissioner Dalli and the organiser of all the off-the-record meetings with the latter."
Moreover, the report points out, Mr Dalli did not report on his unofficial meetings on the snus issues with interested parties, whether to the Commission or to DG Sanco.
Independent journalism costs money. Support Times of Malta for the price of a coffee.
Support Us