Over two tonnes of marine litter has been collected by NGO Healthy Seas and its partners Ghost Fishing, Sharklab - Malta and Żibel, in the run up to the One Ocean conference being hosted in Malta yesterday and today.
A group of volunteer divers from Ghost Fishing and Maltaqua Dive Centre spent a few hours on three days later week removing marine litter, particularly lost fishing gear and ghost nets from ecologically important areas around Malta.
In spite of the rough weather, the divers collected over 500 kgs of lost fishing gear, which can cause a lot of problems for marine wildlife and marine ecosystems, but also for the maritime industry, navigational safety, beach quality, local communities and fishermen too.
At the same time, a coastal and shore clean-up combined with an educational and information event took place on October 1 in Balluta Bay, targeting the general public and schools. About 50 volunteers were working hard and within a few hours managed to collect 1.5 tonnes of marine litter.
The discarded, lost, or abandoned fishing nets are sometimes called "ghost nets", since they continue to catch fish and other marine animals without human involvement. Millions of marine animals, including sharks, dolphins, seals and turtles suffer because of entanglement in these nets which leads to serious injuries and death eventually. Every year, some 640,000 tonnes of fishing gear is left in the seas and oceans.
The ghost nets and other marine litter collected from the coastline and seas around Malta were used for a sculpture of Poseidon (King of the Seas) created by a local artist, Jennings Falzon.
The Ghost Net Exhibition was opened at the Malta National Aquarium on October 4, World Animal Day, as a tribute to all those animals who died and suffered because of lost fishing gear and ghost nets. It will be open for 3-4 weeks, and afterwards will travel to other locations in Malta.
According to a recent report, by 2050 there will be more plastic in the seas and oceans than fish.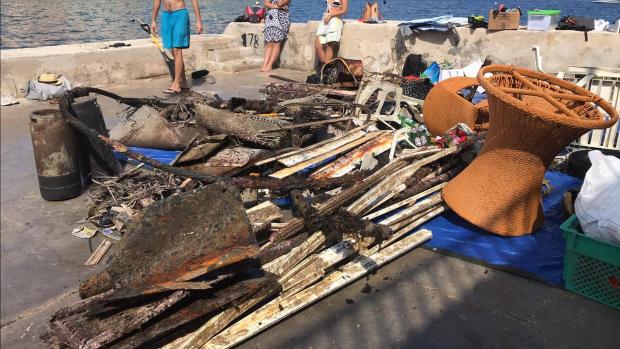 Independent journalism costs money. Support Times of Malta for the price of a coffee.
Support Us