In a week dominated by the Malta International Airshow, Times of Malta presents a selection of its photographers' choice of their best photos over the past days.
The Swiss Air Force aerobatic team flying PC-7s at the Malta Airshow on September 26. Photo: Chris Sant Fournier
A Wildcat helicopter is prepared to be unloaded from a Royal Air Force transport plane at the Malta International Air Show on September 24. Photo: Mark Zammit Cordina.
A Royal Navy Wildcat Helicopter is unloaded from a Royal Air Force plane during the preparations for the Malta International Air Show on September 24. Photo: Mark Zammit Cordina
The Royal Navy aerobatic helicopter team 'Black Cats' perform a maneuver at the Malta International Airshow on September 26. Photo: Chris Sant Fournier
An Emirates Boeing 777 takes off with the tail fin of a US Airforce C-130 Hercules in the foreground at the Malta International Airshow on September 26. Photo: Chris Sant Fournier
Photographers turn their cameras skywards at the Malta International Airshow on September 26. Photo: Chris Sant Fournier
The Belgian Air Force F-16 pilot salutes the crowd before his performance at the Malta Airshow on September 26. Photo: Chris Sant Fournier
A member of the public takes a photograph from one of the aircrafts on display at the Malta International Airshow on September 27. Photo: Matthew Mirabelli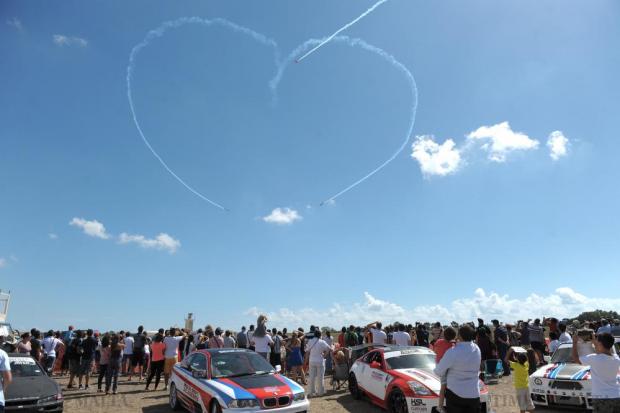 Members of the Swiss Air Force PC-7 display team make a heart during their display during the Malta International Airshow on September 27. Photo: Matthew Mirabelli
The Swiss Air Force PC-7 display team perform their routine during the Malta International Airshow on September 27. Photo: Matthew Mirabelli
Two Swiss Air Force PC-7s break away from each other during their routine during the Malta International Airshow on September 27. Photo: Matthew Mirabelli
A Swiss Air Force PC-7 flies through the smoke of another aircraft during their display during the Malta International Airshow on September 27. Photo: Matthew Mirabelli
A young boy waves at a helicopter taking part in the Malta International Airshow on September 27. Photo: Matthew Mirabelli
A young boy waves to people from the top of a US Air Force plane at the Malta International Air Show on September 27. Photo: Mark Zammit Cordina
A Canadian Air Force airman takes photos from the wing of a plane at the Malta International Air Show on September 27. Photo: Mark Zammit Cordina
Armed Forces of Malta rescuers are hoisted up to a helicopter after a search and rescue demonstration during the Malta International Airshow on September 27. Photo: Darrin Zammit Lupi
AgustaWestland Wildcat HMA.2 helicopters of the Black Cats Helicopter Display Team, of the British Royal Navy Fleet Air Arm, take part in a display during the Malta International Airshow on September 27. Photo: Darrin Zammit Lupi
The Polish Air Force Orlik Aerobatic Team, flying PZL-130 Orlik aircraft, take part in a display during the Malta International Airshow on September 27. Photo: Darrin Zammit Lupi
The Polish Air Force Orlik Aerobatic Team, flying PZL-130 Orlik aircraft, take part in a display during the Malta International Airshow on September 27. Photo: Darrin Zammit Lupi
A Belgian Air Force F-16 spirals downwards at the Malta International Air Show on September 27. Photo: Mark Zammit Cordina
A Belgian Air Force F-16 performs a touch and go at the Malta International Air Show on September 27. Photo: Mark Zammit Cordina
The sun sets behind a helicopter parked at Malta International Airport on September 24. Photo: Mark Zammit Cordina
Pigeons feed while a cat poses for a picture at the Senglea waterfront on September 28. Photo: Chris Sant Fournier
Cats brush each other at the Senglea waterfront on September 28. Photo: Chris Sant Fournier
Newly graduating police officers stand in a line on the parade grounds during their graduation ceremony at the police academy in Mqabba on September 29. Photo: Mark Zammit Cordina
Newly graduated police officers march during their graduation ceremony at the police academy in Mqabba on September 29. Photo: Mark Zammit Cordina
Newly-graduated police officers throw their hats into the air after their graduation ceremony held in the police academy in Mqabba on September 29. Photo: Mark Zammit Cordina
Students devour pastizzi as part of a pastizzi eating competition at the Freshers Week at the University of Malta on September 30. Photo: Chris Sant Fournier
An elderly resident listens to Parliamentary Secretary for Care of the Elderly Justyne Caruana speak to the media at the Mtarfa Home for the elderly on September 30. Photo: Darrin Zammit Lupi
A resident at the Mtarfa Home for the elderly holds onto his walking stick as Parliamentary Secretary for Care of the Elderly Justyne Caruana speaks to him on September 30. Photo: Darrin Zammit Lupi
A resident at the Mtarfa Home for the elderly rests in a corridor on September 30. Photo: Darrin Zammit Lupi
The Point in Sliema on September 24. Photo: Chris Sant Fournier
A worker carries out restoration works on the facade of the Auberge de Castille, built between 1571 and 1574 and now used as the Office of the Prime Minister, in Valletta on September 28. Photo: Darrin Zammit Lupi
The view from the Ospizio in Floriana on September 30. Photo: Chris Sant Fournier
A man lies down inside a wooden street sculpture outside St James Cavalier in Valletta on September 29. Photo: Darrin Zammit Lupi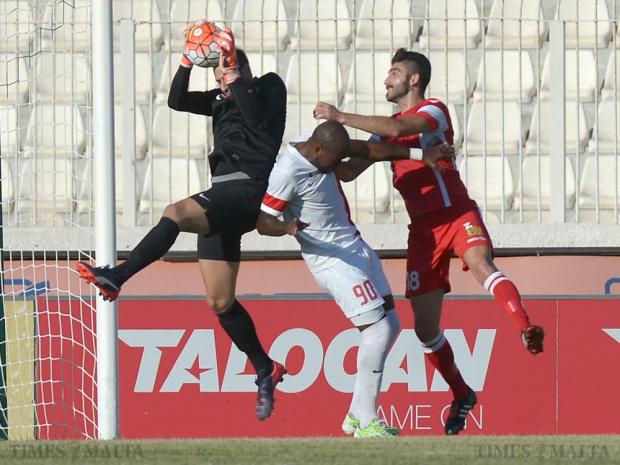 Valletta's Romeu Romao (centre) tries to block Naxxar's Ishmael Grech as Valletta goalkeeper Henry Bonello (left) makes a save at the National Stadium in Ta'Qali on September 27. Photo: Matthew Mirabelli
Naxxar's Armando Tarlazis Viera Dos Santos (right) tries to steal the ball from Valletta's Roderick Briffa at the National Stadium in Ta'Qali on September 27. Photo: Matthew Mirabelli
Valletta 's Ian Azzopardi (left), and Naxxar's Luca Lodetti tangle for possession at the National Stadium in Ta'Qali on September 27. Photo: Matthew Mirabelli