Piazza Duomo is the place to dunk. Surrounded by baroque showpiece masterpieces, Tina showed me how to dip my brioche in my granita.
Tina Santacroce studied 'Behavioural Sciences' at Melbourne's Lafogue University before emigrating with her Sicilian husband Tino, 33 years ago.
She now runs the Caffe Minerva in the heart of Ortigia island on the east coast of Sicily. Granita is a carbo-loaded lemon, strawberry, almond and coffee foamy slush.
And signature Syracusan energy drink.
Tina recommends it. Because she knows it helps. It sets you up for a seafront lap (Foro Italiano) around the 2,700-year-old city on the Ionian Sea.
Syracuse was the most important city of Magna Graecia. It defeated the mighty Athens in 413. The very quotable Cicero thought it 'the greatest Greek city and the most beautiful of them all'.
Tripadvisor.com contributors concur.
In the heart of the Citta Vecchia (old city), a table outside the Minerva, opposite the rightly four-star Antico Hotel Roma 1880 (which offers free international calls and the best squid spaghetti in town) and the fifth century Greek temple which became a cathedral in Byzantine times –chez Tina is the best place to soak up Syracuse.
And the Palazzo del Senato, Santa Lucia alla Badia, Palazzo Beneventano del Bosco and all the Gagni statues. And all the Doric columns.
And nuns' choirs. And lace stonework. Former converts. And honeyed brickwork.
And that's before you get up. From your seat.
Syracuse was the most important city of Magna Graecia
You need fuel in the form of Tina's recommended sugar rush to wander Syracuse. Although it's only one square kilometre.
You need at least two granitas alone to walk through the city's morning market on Via de Benedictis near the Greek Doric temple of Apollo.
Where you're greeted by piles upon piles of saffron-flavoured 'Piacentinu' cheese, basketfuls of fennel (finocchio), amaranth grains and pistachio as well as cured meats, unfeasibly large aubergines, ridiculously healthy-looking lemons, cassata sweets and prickly pears (ficu d'india).
Ruins of the Temple of Apollo in Syracuse.
And slab after slab of fish. Fresh from the Med.
Provola cheese bulbs dangle everywhere.
You dodge barrowboys. And give way to porters hernia-ising themselves carrying haunches of meat. You're pursued by fisarmonica players playing The Godfather theme.
In Sicily it's hard to escape Harry Connick Jnr. It tests your accordion threshold.
Syracuse is a city of catacombs, well preserved underground passages, basilicas, medieval episcopal places, sepulchres, naves, marble, majolica pavements, polished flagstones, fountains, vast altars, statues, crypts, tombs, caskets, 17th century rotondas, sixth century Capuchin friar-inspired gardens, some Gothic and Norman stuff too and a lot of baroqued post-earthquake palazzos.
The Archaeological Park, a half-an-hour bus ride out of the island, has a Roman amphitheatre, the Ear of Dionysius (a 20m-high arch carved out of the rock face and named by Caravaggio in 1608), 'latomia' quarries full of flora and the largest Greek theatre in the Greco-Med world.
Where you can fulfil yourself by quoting Aeshylus. Even if you are unsure of the spelling or pronunciation of his name.
And you can go low-brow and low rent. And see a great sign at the tacky bus station, Souvenir Toilet Bar.
Outside of town you have Euryalus Castle (the largest surviving castle of the Greek period and obviously built between 402 and 397BC) and the Vendicari marshlands. With birds. In season.
Catacombs in Syracuse.
You return – if the bus driver remembers the route and turns up – to watch the promenaders. The ladies looking lovely and the men thinking they should look lovely with their cashmere sweaters draped chicly over their not very broad shoulders. And the young couples kiss and cuddle. And the older swing hands. And a unicyclist veers past them, his iPhone pressed into his ear.
And then? After food. Four courses.
Then you may wake early, and smell the ancient but still working sewers and the Vespa exhaust. And hear the angry going-to-work horns. And look down from your balcony (stay at the Antico please!) and witness the dog promenade. The locals take their dogs for a walk through town. At 6.30am.
The dogs are better dressed than their owners. And pose and smoke less.
And you know there's more. So much you can miss.
Like the papyrus museum. And the Archimedes Museum. And the Archemides pizzeria. And the hole-in-wall trattorias offering the best Sicilian wine. And the best Zammu or aniseed water.
And then there's the Castello Maniace. If you like your Swabian period. Thirteenth century and bespoke. Custom-made for Emperor Frederick. Number Two. And the gallery of Palazzo Bellomo with another Annuncatio. So more art.
And the Guidecca – Syracuse's Jewish quarter. Before the expulsion of 1492. And the house of Mario Minniti, a long- suffering mate of the looney Caravaggio.
Hole-in-the-wall trattorias offer the best Sicilian wine
And you go back to Tina. And admit it's all too much. And she gives you a toastie. And a beer. And agrees. You can't take it all in. You can't metabolise Syracuse.
And you ask what I have missed? Are there any facades I have overlooked?
And the answer comes. Before Tina can employ any s'Strain'.
In the form of a lovely and so happy-to-see-Syracuse-at-last-because-we've-always-wanted-to American couple.
Visitors near Santa Lucia alla Badia church on piazza Duomo in Syracuse.
The male of which asks: "Where are you from?"
And you say, trying to catch Tina's eye for a top-up, "Guess".
And he says: "You gotta give me more info than that. Buddy."
To which you had to say. In the plainest English. "Put it this way. I'm not American. Or Canadian. Or Californian."
And then, after considering and studying you, he hazards, "France!"
And you say, "Close". Ironically. And then his wife who knows her geography and accents and pallor and is not a philistine by any means, says, "Spain".
In the plainest of English again, you say humanely, "Not very close at all. Very far away from close, in fact."
They stare vacantly.
And Tina kindly puts another beer before me.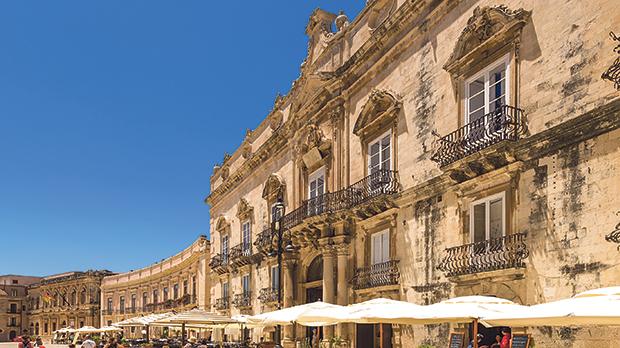 Cathedral Square on the island of Ortigia (included in the Unesco World Heritage List). On the right is the Palace of Beneventano del Bosco.