The yellowing front page of a Leħen is-Sewwa newspaper relays news that Enrico Mizzi is trying to form a national government. It is dated 19 September 1950.
A German clinic lies derelict. Photo: Lyrix
An abandoned hotel room in Buġibba looks like a hurricane has blown through it, save for a mirror which still hangs perfectly upright. In Msida, a living room appears perfectly habitable - if it weren't for the broken glass and rat droppings littering the floor.
These abandoned places lie frozen in time, caught between a past in which they served an evident purpose and an unknown future which might bring with it renovation or further decay.
"People loved and lived in these places in the past," says Alessandro Tesei. "Now barely anyone even knows they exist. Through our work, we hope to document this stage of evolution in their history."
They call it urban exploration, or Urbex for short. Armed with a sense of adventure and a camera, people like Mr Tesei scale walls or burrow through gaps to access abandoned buildings and other spaces with restricted access to the general public.
With the hikers' motto "take only photos, leave only footprints" as their credo, urban explorers are careful not to disturb anything they find.
"We do not cause damage, spray graffiti or take anything we find. We are urban explorers, not vandals or daredevils," Mr Tesei notes.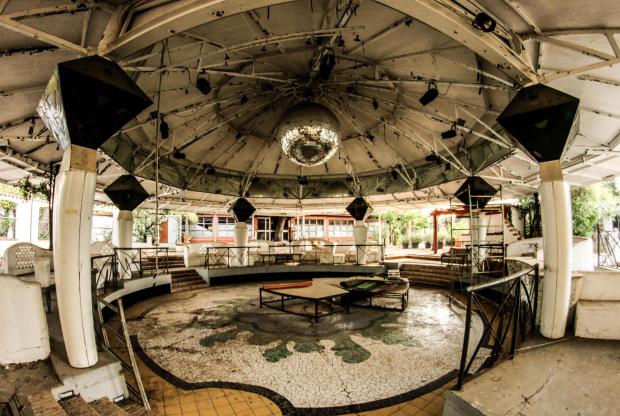 Once a nightclub, now a relic. Photo: Francesco Coppari
An Ascoli native who until last November called Malta home, Mr Tesei and the Ascosi Lasciti urbex crew he forms part of have made their way into abandoned buildings all across Europe.
They and other members of their Ascosi Lasciti urbex group have documented the crumbling remains of a casino in Romania, castle in Belgium, mental asylum in Italy, church in the Czech Republic and nightclub in Italy, among others.
The group keep track of all the locations they have scouted and documented, and their Google map of Malta and Gozo is dotted with pins marking the buildings they have explored.
Palaces, forts, mansions, studios, hotels and villas and even a nightclub converted into a secretive masonic lodge all feature. All lie in a state of abandon, time nibbling away at the memory of their existence as their edges fray.
Treading a fine legal line
Urbex practitioners consider themselves to be part-explorers, part-documentarians. But the law often does not make much of a distinction between what they do and common trespassing.
Laws vary from one country to the next, but Mr Tesei acknowledges that police tend to look askance at what they do.
In Buġibba, what was once a hotel is now a chaotic mess. Photo: Alessandro Tesei
"It's only natural. Police do not encourage what we do."
But in all his years of exploring urban sites, Mr Tesei says he has never run into serious trouble with the law.
"Whenever police show up, they tend to relax when they realise that we've entered without breaking in, that we haven't' taken anything and that we're simply taking photos. They just ask us to leave, and of course we comply."
Malta's criminal code contains two separate articles relating to trespassing, explained lawyer Francois Dalli, with both treating the act as a minor offence, or contravention.
Mr Tesei and his colleagues have explored quite a few local spots. Photo: Google Maps
The first of the two articles is expressly concerned with people who trespass into the "dwelling-house of another person, against the express warning of such person, or without his knowledge, or under false pretences or by any other deceit." The second tackles cases involving trespassing on any other form of property that isn't a house.
In both cases, Dr Dalli explained, trespassers were liable to a contravention – in effect, a minor offence. "In reality, many trespassing cases end with a fine or a conditional discharge," he said.
Not that Mr Tesei is losing too much sleep about the legal ramifications of his urbex jaunts.
"I know that we are doing no harm, " he says with a smile. " People suspicious of our intentions sometimes argue that we should be stopped. But I can guarantee you that in 20 years' time, when some of these buildings are gone forever, they'll be the first to thank us for taking these photos."
Over the coming months, Times of Malta will showcase some of the sites Mr Tesei and his fellow urbex explorers have ventured into. For more information about Ascosi Lasciti urban explorers, visit their website.
Independent journalism costs money. Support Times of Malta for the price of a coffee.
Support Us