Queen Elizabeth II was the longest-reigning UK monarch, becoming head of the Commonwealth when her father King George VI died on February 6, 1952.
During her 70-year reign, she visited Malta - the only other place apart from the UK that Queen Elizabeth ever called home - six times.
But before visiting the island as a Queen, she also lived here between 1949 and 1951, in the early years of her marriage to Prince Philip. Prince Philip, who died last year aged 99, was stationed here as a naval officer.
Prince Phillip signalling the arrival of the couple's second baby in a photograph taken in Malta in 1949. Photo: Frank Attard
Probably the most viral photo of Queen Elizabeth in Malta was taken by Times of Malta photographer Frank Attard at Villa Guardamangia.
In the picture, Prince Philip is holding out two fingers as he rests his hand on a bench. The British press had interpreted the pose as a signal that the couple were expecting their second baby.
Princess Ann was born in 1950.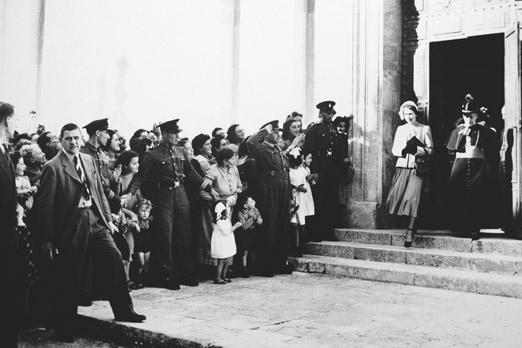 Queen Elizabeth visited Malta six times after her sudden ascension to the throne.
In May of 1954, Queen Elizabeth and Prince Philip flew to Malta as part of their world tour of the Commonwealth.
The royal couple being greeted by crowds while touring the island. Photo: British High Commission/Department of Information
The royal couple visited again in November of 1967. Malta was by then an independent state.
This was Elizabeth II's second State visit as a Queen - a landmark in the island's history, as this was the first time independent Malta welcomed the Queen.
The aircraft left London flying the British monarch's flag but landed on the island flying Malta's colours.
During her visit, she remarked: "Things have changed since I was here last, and this time it is my particular pleasure to be here as Queen of Malta".
Queen Elizabeth and Prince Philip waving to the crowd while being driven around in a Land Rover in 1967. Photo: Times of Malta
That same year, in her Christmas broadcast, Elizabeth II referred to her trip here: "The Commonwealth is a system which is in a constant process of change and development. This was brought home to me vividly when I revisited Malta only a month ago.
The Queen delivering the speech from the throne at the State opening of Parliament at the Palace, Valletta in 1967. Photo: British High Commission/DOI
"When I first went to the islands, they were a colony and my husband was serving with the Mediterranean Fleet.
"Today Malta is independent, with the Crown occupying the same position as it does in the other self-governing countries of which I am Queen.
"This is the opening of a new and challenging chapter for the people of Malta and they are entering it with determination and enthusiasm."
Her next trip to Malta wasn't until 1992, when Ċensu Tabone was president of Malta.
As recently as 1992, security measures were not as tight as nowadays. Royal family admirer Irma Farrugia Cassano managed to take a close-up.
On May 25, she visited San Anton Gardens, where she was caught on camera inspecting the ceremonial spade, which has been used since 1901.
The spade carries small brass plates bearing the names of all dignitaries who have planted a tree to commemorate their visit.
The then manager of Malta's Public Gardens, the President's Gardens and Afforestation, Joseph Borg later said Elizabeth II remarked that "engraving today's date on the same brass plate would do", as it had quite a lot of plates already.
Photo by Joseph Borg, right of the Queen, during her trip to San Anton Gardens.
It took Queen Elizabeth another 13 years to visit the island again.
She flew to Malta in November of 2005, and again, in November of 2007. Both times, Eddie Fenech Adami was serving as president of Malta.
The Queen's last visit to Malta was, again, to lead the CHOGM in November of 2015, when Marie Louise Coleiro Preca was president of Malta.
Aged 89, that was her last trip here.
She travelled to Malta with Prince Philip, joining the Prince of Wales and the Duchess of Cornwall.
Independent journalism costs money. Support Times of Malta for the price of a coffee.
Support Us