Richard Dodderidge Blackmore's classic romance Lorna Doone: A Romance of Exmoor is celebrating its 150th anniversary. What better way to find out more about the author and his romantic world than by visiting the famous literary north Somerset/Devon coastline? David Walding writes.
"The loss of so much native sense and eloquence makes one think that innkeepers should be made to keep careful notebooks so that at some later date when the nimblest and most vivid talkers have long been silent, posterity may learn how they regarded things."
Before you decide upon the world's largest crab sandwich, ask for some local history at the 14th century harbour-side The Rising Sun Hotel at Lynmouth on the famous literary north Somerset/Devon coastline.
Then, having digested the history and half the sandwich, raise a toast to the landlord and R. D. Blackmore.
The Sun may be the birthplace of West Country literary tourism.
The 180-mile Tarka Trail, centred around Barnstaple, celebrates the travels of Henry Williamson's otter in the book published in 1957. The 51-mile Coleridge Way is a footpath linking sites associated with the poet, including his Nether Stowey cottage. The trail also commemorates Wordsworth, Shelley and Robert Southey. But the Coleridge Way only opened in 2005.
The area became popular when the Napoleonic War made the Grand Tour impossible. Thomas Gainsborough honeymooned in the Victorian resort of Lynmouth, famous for its water-powered 1890 Cliff Railway. Margaret Drabble's The Witch of Exmoor came out in 1998.
But, long before, despite its remoteness, people were visiting Exmoor, with Britain's highest clifftops (Great Hangman near Combe Martin) and longest woodland coastline, to follow in the footsteps of a fictional but definitely hapless maiden.
Who didn't have the best of wedding days.
Although it only sold 300 out of the initial 500-'limited'-run, Richard Dodderidge Blackmore's classic revenge romance is celebrating its 150th anniversary. He may have written parts in The Rising Sun.
A qualified lawyer, school teacher and the son of a curate, Oxfordshire-born Blackmore (1825-1900) lived and holidayed in the West Country. He was educated at Blundell's School, Tiverton. His family lived at Bumsley Farm, Parracombe and King's Nympton.
He is buried in Teddington, Middlesex, where he became a renowned fruit grower.
Blackmore wrote many books and believed his third book's success was due solely to the marriage of Queen Victoria's daughter, Louise, to the Marquis of Lorne, the eldest son of the Duke of Argyll.
The book had many fans, including Australian outlaw Ned Kelly. But in his later years Blackmore refused to talk about the book, being more interested in his fruit.
Now, two vets lead the Lorna Doone literary heritage walking tours. Jennie Wild met husband Malcolm at the London Veterinary School. They have been married 31 years and have read Lorne Doone many times between them.
"A walking safari in Zambia inspired us to set up our walking holidays business as we love the quiet solitude of walking in a small group.
"We first came to Exmoor as a weekend escape but soon found ourselves plotting ways of making the moor our home."
The Wilds now live on a four-acre smallholding in a traditional Somerset longhouse near Exford in the middle of Exmoor National Park.
"It used to have people at one end, animals at the other! But we have now converted the barn into luxury accommodation for two with plenty of beams and a cosy sauna."
The book weaves veins of fact and fiction. But the locations and landscape are the same
'Wildaboutexmoor' offers Dark Sky Reserve star-gazing evenings, deer-spotting safaris, nightjar treks and guided walks to 'miniliths', standing stones, over packhorse bridges and fords, as well as the Doone literary trail around Malmesmead and Badgeworthy Water. The ruins of Lorna's Cott in the Doone Valley, Hoccombe Combe, is seven miles from Lynton.
The gibbet posts may have gone but the 'chines' (crests), 'puckseys' (bogs) and bay ponies all remain.
As does the Tarr Steps clapper bridge over the River Barle, Robber's Bridge, Dunster Yarn Market (1609) and Exmoor's unique fingerposts.
Says Jennie: "On our tours, we stop to picnic at the medieval village that was probably the Doone settlement.
"A delicious mutton pasty is included as mentioned in the book, but advisedly no cider until the end of the day's walk, when we visit an ancient Exmoor Inn and can take our walking boots off! A lot of cider is consumed in the book.
"We visit the Blackmore memorial stone erected on the book's centenary, a replica of the one in Exeter Cathedral. The waterslide where John Ridd fished for loach and climbed up to meet Lorna, and, of course, Oare Church."
The shooting of a young man in a church in Chagford, Devon, may have inspired the famous scene as Blackmore's grandfather preached there.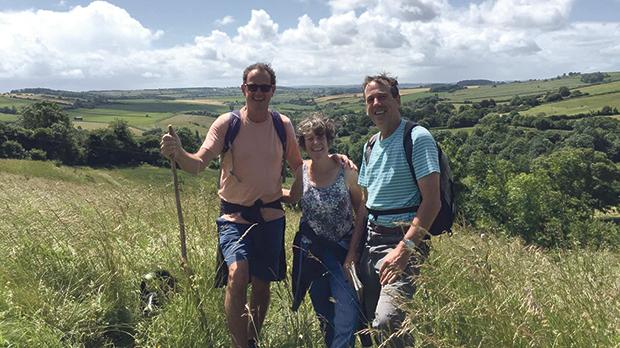 Regular guest and walker Mark Pritchard, who lives in Australia with his wife Christa, with Jennie and her husband Malcolm Wild from Wildaboutexmoor. Photos: www.visit-exmoor.co.uk
Adds Malcolm: "The Doone valley marks the boundary of Somerset and Devon. Both counties claim Lorna and Blackmore for their own. The Doones and Ridds definitely existed. As did Faggus the highwayman. And Mother Meldrum is believed to be based on Aggie Norman, an old woman who lived seasonally at the Valley of the Rocks near Lynton.
"The book weaves veins of fact and fiction. But the locations and landscape are the same. We still have the enclosed valleys and bleak moors and rills running into rivulets running to brooks."
Blackmore was proud of his roots. "In everything, except the accident of my birth I am a Devonian; my ancestry were all Devonians; my sympathies and feelings are all Devonian."
Fellow great Victorian Thomas Hardy made Dorset/Wessex 'Hardy Country'. But Far From the Madding Crowd (1874) and the Mayor of Casterbridge (1886) were published after Lorna Doone. Blackmore was more popular earlier and therefore so were his settings, despite their remoteness. Blackmore wrote what he sold. He romanticised. He also wrote about many places. Not just the West Country.
Culmstock became 'Perlycross' in his book published in 1894. Maid of Sker (1872) contains descriptions of Exmoor, as well as south Wales. He knew Porthcawl. But Craddock Nowell is set in the New Forest. Alice Lorraine on the South Downs and Kent, Mary Anerley (1879) on the East Yorkshire coast, Kit and Kitty (1890) in Middlesex and the Thames and his final novel, Dariel (1896), is about Surrey.
Christowell (1882) is about Dartmoor. A book of Exmoor Short Stories: Tales from a Telling House was published in 1896. Blackmore was a victim of his own imagination.
"Nothing will induce me to go into this genesis of Lorna Doone, of which I have heard enough… I romanced therein, of Lank Combe."
Jennie, likewise wildly romantic, thought long and hard about what to give Malcolm for their pearl wedding anniversary. She decided on two large black pigs, Pearl and Annie.
But a coral anniversary also unites the two semi-retired vets…
Laughs Mrs Wild: "The abridged children's Ladybook book was published in 1984. So it celebrates its coral or 35th anniversary this year! It's perhaps more accessible than the real thing. The story is set in the late 17th century and for some it's hard going, particularly as Blackmore wanted to record dialects. We forgive guests if they've just read the Ladybird version! Or seen the films.
"The atmosphere and landscape of our part of the world remains the pull."
As Blackmore wrote: "For my part I can never conceive how people who live in towns and cities, where neither lambs nor birds are (except in some shop window), get through their lives, without being utterly weary of them, and dying from pure indolence."
The 150th anniversary will be celebrated across Exmoor with a series of events throughout 2019.
https://www.visit-exmoor.co.uk/lorna-doone-150th-celebrations
The Exmoor White Horse Inn, a 15th century coach inn on the River Exe in Exford, exhibits the work of landlord and renowned local photographer Peter Hendrie.