Updated 6pm
The electorate had to save the country from Prime Minister Joseph Muscat in the next general election, Opposition leader Simon Busuttil told thousands of Nationalist supporters today.
Speaking at a Workers' Day mass meeting in Spinola Bay, Dr Busuttil urged those gathered to answer the nation's call.
"Tell your friends, your family, the time has come, the choice is between the future of this country and [Prime Minister] Joseph Muscat," he said.
The next general election, he said, was between right and wrong not red and blue, prompting a chorus of "Nazzjonalisti, Nazzjonalisti", from the sea of Nationalist Party and EU flags.
Spinola Bay was packed with PN supporters. Photo: Matthew Mirabelli
Dr Busuttil used his podium time to warn people of the perils of entrusting the country to his political opponent, arguing that Malta's various economic successes - from the financial services sector to property - could very easily come crashing down.
Future generations would look back and judge the choice made at this crossroads, he said, arguing that aside from winning the election, Dr Muscat now also needed to cover up the corruption that had engulfed his administration.
The Prime Minister had won the election by a historic margin in 2013, promising to clean up politics, to be transparent, to be accountable, to make Malta a country for all.
Turning to English for a brief moment, Dr Busuttil said "You let us all down".
Dr Bususttil dedicated a large portion of his speech to listing the things Dr Muscat had jeopardised.
The economy and all its different sectors, the country's reputation, and the lives of this generation along with those to come.
He also told the crowd what he promised to do about it.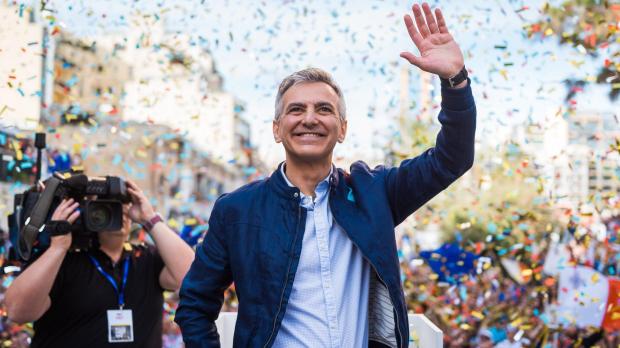 Dr Busuttil waves to the crowds at today's rally. Photo: PN
He touched on a number of his party's proposals, from cutting income tax for SME owners to 10 per cent, investing heavily in national infrastructure and returning Gozo general hospital, which was handed to the private sector last year, "back to the Gozitan people."
Constitutional reform would clean up politics once and for all, ensuring state institutions were free to operate as they should.
Dr Busuttil pledged to protect Air Malta if elected and told people in precarious work that under his leadership, they would be guaranteed "equal pay for equal work".
He paid tribute to the police force, saying most officers carried out their duties diligently and to the best of their abilities.

"But the corps has been turned into one designed to defend the Prime Minister, Keith Schembri and Konrad Mizzi," he said, as the crowd burst into a chorus of pantomime boos.
The PN leader warned young people in the crowd that their future was at stake.
"These days, it's not your abilities that count in achieving success. It's whether you know a minister, or whether Joseph Muscat has knighted you a 'soldier of steel'."

Dr Muscat, he said, had risen to power on the back of multiple promises and had betrayed them all and instead done the exact opposite to what he had pledged.
"Rather than think of you, Joseph Muscat thought of his own personal interest and that of Keith Schembri and Konrad Mizzi," he said.