Savio College, in Dingli, will be marking the 50th anniversary of its foundation this month.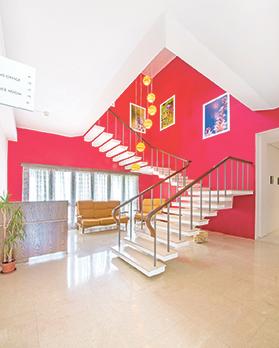 Savio College's hall.
A Catholic school founded on the educational philosophy of St John Bosco, the college arose from the green fertile fields of Dingli back in 1965, when, on June 20, the late Archbishop Michael Gonzi blessed the foundation stone. It opened its doors three years later and welcomed its first group of 12 students.
The college today caters for 260 students, supported and guided to develop and grow in all spheres of their life, be it academically, physically, spiritually, emotionally and socially.
"With the help of a professional staff and a parents' committee, the Salesian community caters for and is always on the lookout to address emerging needs and to safeguard a one-to-one approach," a spokesman said. Savio College is a hub of activity all year round, holding summer camps, winter live-ins and retreats for youth from across the country.
A Salesian Oratory was opened in Dingli in 1970 with the aim of reaching out to young people within the locality, with the work continuing up to this day.
A sports complex was completed in 2003 and the outdoor facilities were upgraded with synthetic grass and athletic field facilities 11 years later.
Since 2015, the school went through a significant facelift with new electrical and water systems, new furniture, new windows and new technology.
The official 50th anniversary celebrations open on March 11 when a memorial will be unveiled, followed by Solemn Mass and an open day.
Boscofest final night at Savio August 27, 2011.
Students at the college's self-cleaning kitchen.
Multipurpose hall.