Last updated 8.45pm with MUT saying meeting with government was inconclusive
Scenes of confusion met the few pupils who turned up at government schools on Thursday, after they opened despite a teachers' strike.
Many parents appeared to have kept their children at home but some turned up after Education Minister Justyne Caruana posted on social media that schools were reopening as usual.
Others were turned away at the gates by security or headteachers saying "there are no teachers here".
The Malta Union of Teachers, ordered teachers on a two-day strike after the government refused to move schools online despite a record figures of COVID-19 cases.
It said the industrial action was a big success.
"This shows that educators are not ready to be led blindly by an irresponsible minister when the pandemic situation merits analysis and action, as declared by the health authorities on Wednesday, so that everyone can be assured that schools are safe," the union said.
The union, therefore, urged the authorities to carry out their analysis as soon as possible so that classrooms could reopen safely.
Meeting with government 'inconclusive'
Its representatives met with the Prime Minister and the Education Minister on Thursday afternoon but the meeting was "inconclusive".
It said discussions will continue on Friday morning and the strike will continue as scheduled.
On Wednesday, Health Minister Chris Fearne said the authorities needed to establish whether a recent spike in cases was caused by social gatherings over Christmas, the cold weather, or the new virus variant, warning that numbers could stay up if it was the latter two.
The MUT on Thursday also hit out at the minister of education for having 'irresponsibly' declared that schools would reopen normally. It said the ministry had been in panic, phoning everyone it could to open the schools. It was also insulting for the ministry to have declared that online teaching was not of sufficient quality, undermining the efforts of educators on online teaching in the past months.
In a Facebook post, the newly-appointed minister had said schools would open as normal and the authorities have taken additional measures for the supervision of pupils if teachers stay away.
She thanked all those who over the past months worked hard to ensure that schools could stay open safely.
Reporters near schools reported that very few pupils were turning up. Some parents turned up with pupils, then took them back home.
At Qormi, one mother commented laconically that she could not request leave from work overnight and she therefore had to keep her children at school, even if they stayed with the janitor (Qas jekk joqogħdu mal-purtinara!")
Also at Qormi, a parent said that since the school opened and they were told that the children would be supervised, they took the children in. "It is a teachers' strike, not a school strike. How do you explain to your son, at 8pm, that he is not going to school the following day, when I've been preparing him for school all week?"
The number of children coming out of school buses was low.
There was some confusion in St Julian's where parents turned up with their kids only to be told schools is closed. There was confusion in the street as parents turned their cars around. San Gwann school was also closed.
A boy in Pembroke said the normal gate he goes in from was closed and his class mates were not there.
At the Hamrun primary only a Kindergarten 1 teacher turned up, according to parents with children in other grades who said they were taking their children back home.
A reader wrote in to Times of Malta to say that she took her children to school (Kercem primary) and the school told her she could keep them at school but with no supervision. "As a responsible parent I had to take my kids back home," she said, adding that teachers and principals should be ashamed for not communicating with parents at all.
In a statement late on Wednesday the government said schools would reopen on the health authorities' advice.
It said that during a meeting with the union, Superintendent of Health Charmaine Gauci directly told union representatives that the education and health authorities were working together for schools to reopen, contrary to what the union claimed.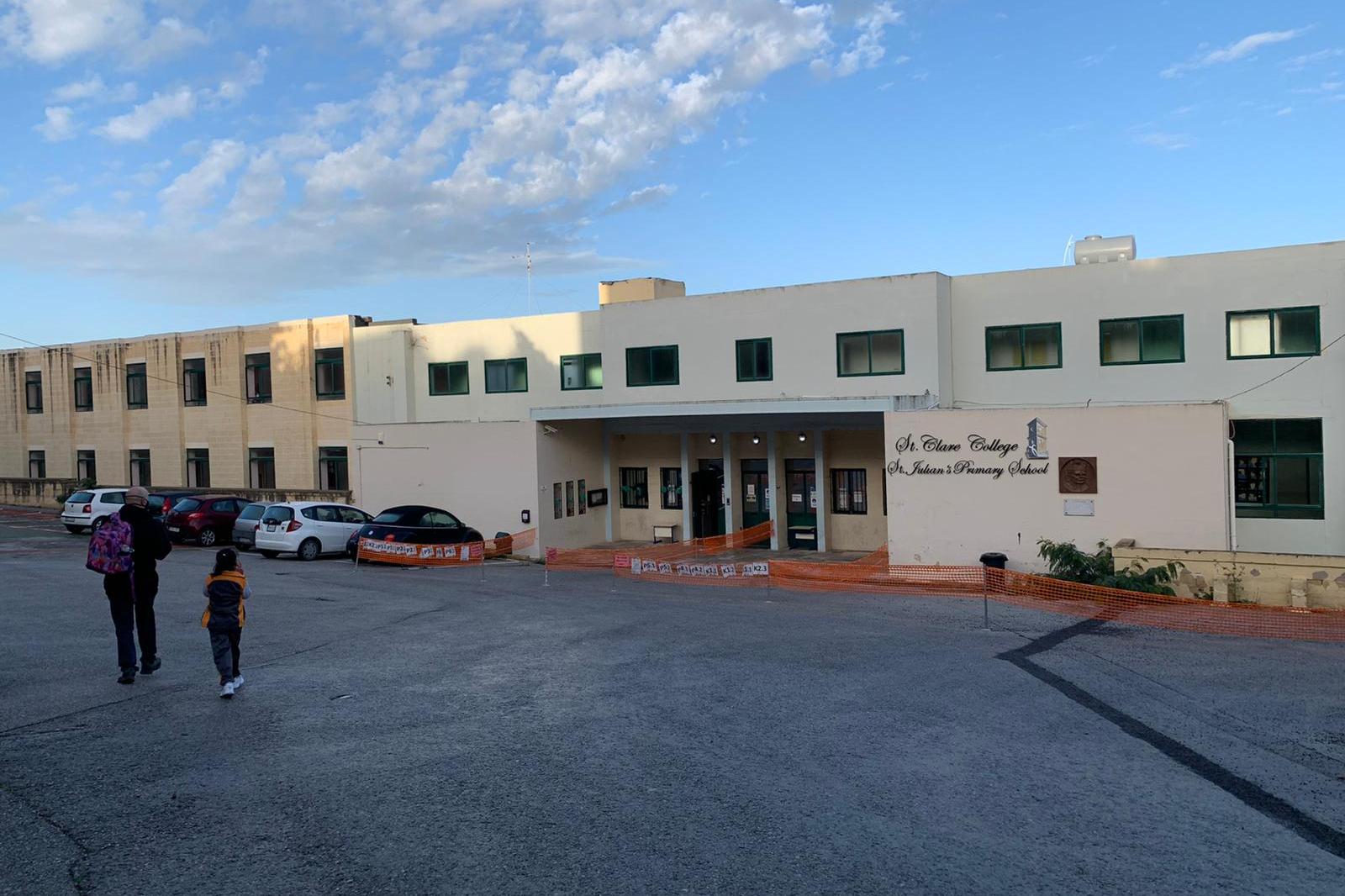 St Claire primary.
This meant that it was the union that was going against the advice of the health authorities, which advice was also given publicly.
Gauci noted that through cooperation, Malta was one of the few countries which did not close schools.
Education and health were priorities for the government and all decisions that had been taken were taken in the interest of students.
MUT's decision to ignore the advice of health authorities was illegitimate so when schools reopened on Thursday, teachers were expected to report for work normally and honour their employment obligations, the government concluded.
Some independent schools have opted to teach remotely, with San Andrea and San Anton announcing their decision last week and St Michael Foundation joining them.
All Church schools have already said they will operate online for the rest of the week, postponing reopening classrooms until Monday at the earliest.
Mcast going online
In a related development, Mcast announced it is resorting to online lectures because of COVID-19 concerns for the next two days. The decision was taken in consultation with the MUT.
Parents concerned
In a statement, the Maltese Association of Parents of State School Students said that all parties need to work together to ensure win-win situations and respect the fundamental right of children to education. It appealed to parties to get together to find a solution to the "current stalemate".
In another statement, the Malta Chamber of Commerce and Industry called on teachers to keep on adhering to the strict health protocols introduced at the beginning of this scholastic year and allow the health authorities to give guidance in accordance with medical evidence.
Education, it said, is a priority and schools should be the last to close.
Independent journalism costs money. Support Times of Malta for the price of a coffee.
Support Us