Henry and Ineż Casolani were gifted with the grace of matrimony on April 19, 1944 at St Augustine's church, Valletta. They had an only child, Cecilia Mary, who joined the Sisters of St Joseph of the Apparition in 1964.
The way of life of the couple does not present anything out of the ordinary. As the late Prof. Maurice Eminyan, SJ, declared: "The originality of their virtue was actually in the manner they harmoniously fused faith and daily events."
Pope Francis says: "Christian families are missionary families in their everyday life, in their daily chores, as they bring to everything the salt and the leaven of faith."
From the moment they pronounced their matrimonial vows in 1944, Henry and Ineż lived for each other in union with God.
Henry was born in Valletta on November 25, 1917. He was polite, helpful and well-mannered and from his very early childhood till the very end of his life, he was never ever heard uttering a word against anyone – a record he never broke until death.
He was a born artist. Henry was already engaged to Ineż when he won a scholarship to pursue his artistic studies in Italy; however, he declined the offer as he did not want to be separated from her for such a long time.
At the start of World War II, Henry was seconded with the Royal Army Medical Corps. Thereafter, and until he was pensioned in 1977, he spent a lifelong career as a senior draughtsman at the Malta Public Works Department. At his workplace and according to all those who worked with him, Henry created an atmosphere filled with the spirit of the gospel.
He was most upright in his ways and was trusted by one and all. He was exceptionally virtuous, honest and unselfish. He was good-humoured and friendly with everyone.
Henry was considered by all those who knew him as an agent of peace, who was capable of 'building bridges' among his colleagues. He used to lead his companions daily into prayer and reminded them of their religious duties.
"A good motto is: speak no evil against anyone, but praise those who deserve it," Henry used to say. He never held a grudge against anyone. It was with kindness and affection that he treated those who were unjust with him. Whenever he went out, Henry always carried money specifically to donate to those who collected for charity or who asked for help.
His total surrender to God is confirmed by an outstanding and instantaneous healing of macular degeneration and diabetic retinopathy which, according to medical people, is scientifically inexplicable. Henry passed away on December 29, 1999. The last words he uttered were addressed to Our Lady: "Mother of God have mercy on me!"
His wife, Ineż, née Vassallo, was born in Cospicua on October 11, 1915. She was brought up as a knowledgeable and studious girl. From a tender age not only did she stand out for her love of prayer, but was also diligent, obedient and also most sensitive to the needs of her family and the less fortunate. She was a qualified and prolific teacher. Yet, when she was married in 1944, she gave up her teaching profession to dedicate herself totally to her family.
Henry and Ineż are a contemporary model of an ordinary yet holy life
This, however, did not stop her from giving private lessons to the poor and the needy as she had often done before marriage. Ineż was active especially in the life of the parish community, mostly through her spiritual writings. She was also an auxiliary member of the Legion of Mary, a member of the Ambassadors of Mary and a promoter of the Night Hour Adoration of the Holy Eucharist.
Ineż embraced her married vocation with zeal and dedication. Her letters to her daughter were filled with descriptions of warmth at home. She was always very inventive in cooking, knitting, giving recipes, writing articles and seeing to her family's needs. She nurtured her daughter's trust in God and trained her to lead a God-fearing life.
Pope John Paul II blessing Ineż.
Ineż created a relaxed and happy atmosphere at home. It was she who prepared her five-year-old daughter for her first Holy Communion, helping her to pray "Oh Jesus, I promise to make my Holy Communions worthily in reparation for those who are unwilling to be friends with you."
In one of her letters to her same missionary daughter in India, Ineż wrote: "Although so far away from each other, be certain that we follow you spiritually every single minute, both during the day and at night."
Ineż died on July 13, 1992. Her spiritual testament "I take record of God. In Thee I have had my earthly joy" testifies to her total surrender to God.
Both Henry and Ineż lived their roles as spouses and parents to the best of their capacity. They were generous to relatives, neighbours, companions at work and any others who turned to them whenever in need. When a relative was sick with a terminal illness, Henry and Ineż spontaneously took her four-year-old child home, treating him as their very own, seeing to his schooling and education; they did this with great love, never expecting anything in return.
Henry and Ineż gave generous donations to religious institutions and to the less fortunate. Ineż took good care of her maid both materially and spiritually, preparing breakfast for her and making sure she went to Mass before starting her work. When one of their neighbours lost her husband at a young age, she voluntarily offered her services and taught and helped her numerous children regularly and prepared them for examinations. Anyone who set foot inside the couple's home was sure to find comfort and help.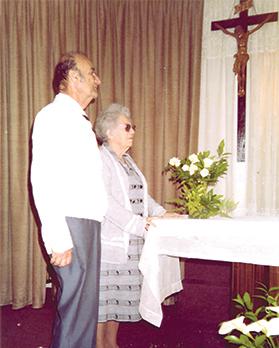 The couple in front of the Crucifix.
Ineż repaid unkindness with generosity. When the couple retired to an old home later in life, Ineż never stopped helping other inmates. A person ill-treated her, yet she went to visit the same person in hospital, even when she herself was advised to rest.
Yet, Henry and Ineż were no martyrs. Neither were they extraordinary people. They simply did their utmost to be of help to others.
All the more, the daily Mass and Communion, the frequent reception of the Sacraments, the daily recourse to Our Lady particularly through the Holy Rosary, the regular visits to the Blessed Sacrament and daily reflection on the Word of God and the life of saints enhanced the couple's close union with God.
Both Henry and Ineż surrendered themselves to long and often painful illnesses, bearing them with Christian fortitude. On receiving a new illness Ineż simply wrote: "I thank God for this new bouquet. These are the marvels of life. I am in His hands, and I accept all He sends me joyfully."
Henry and Ineż are a contemporary model of an ordinary yet holy life. They are a call to us all to know and believe that the most ordinary situations of our daily humdrum life can be stepping stones to the heights of sanctity, a call to rise above all divisions and conflicts between individuals, a call 'to clothe ourselves with compassion, kindness and humility' in the ambits of daily life.
Even more – they spur us on to join them in constructing a civilisation of love and hope, building bridges of peace in the family and molding the little world around us into one united family of faithful children of God.
May they be real models for us as we go through the routine of our daily life.
www.henryandinezcasolani.org
Anton Quintano is the author of the spiritual biography Henry and Ineż Casolani – a Couple Molded in Christ. Those who receive graces through the intercession of Henry and Ineż Casolani are kindly requested to write to: Fr Tony Sciberras, MSSP, vice postulator, St Agatha Convent, Rabat, Malta (tel: 2145 9222/2145 4503).
Independent journalism costs money. Support Times of Malta for the price of a coffee.
Support Us