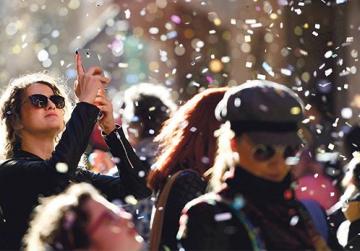 Hundreds of Pawlini gathered in Valletta yesterday to celebrate the feast of St Paul's Shipwreck as bemused tourists soaked in the joyous atmosphere.
Bathed in a warm winter sun, the streets on the capital's eastern flank transformed into a sea of colour as old acquaintances were rekindled and children played under a rain of confetti thrown from the rooftops.
The feast, a public holiday, commemorates the shipwreck of St Paul in Malta in 60AD and is celebrated in one of Valletta's parishes, which is dedicated to the saint.
St Paul is Malta's patron saint, credited with bringing Christianity to the island.
The feast began with a Mass attended by Archbishop Charles Scicluna, President Marie-Louise Coleiro Preca and other dignitaries and politicians.
After the solemn part was over, festa-goers took to the streets in revelry. Much to the relief of organisers, the weather turned out to be bright and sunny, despite the forecast rain showers.
The noisy afternoon band march was followed by the solemn procession, with the statue of St Paul being carried around the parish.
St Paul's Shipwreck is the first parish feast of the year.
Independent journalism costs money. Support Times of Malta for the price of a coffee.
Support Us