Valley Road. Picture - Mario Mifsud - mynews@timesofmalta.com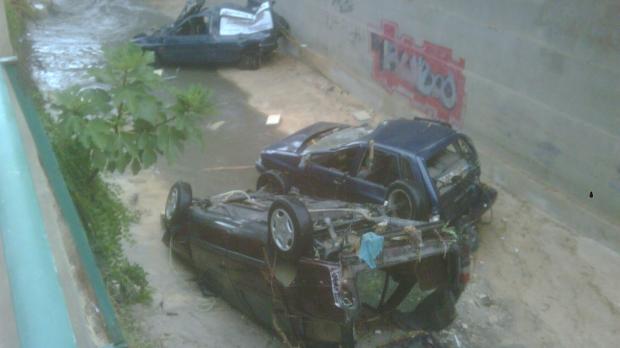 The scene in Birkirkara - Picture John Borg - mynews@timesofmalta.com
Heavily damaged cars which were carried away by rainwater in Birkirkara - Picture Stephen Gauci - mynews@timesofmalta.com
The scene in Msida as the rainwater subsided - Picture A Stafrace - mynews@timesofmalta.com
A total of 42.4mm of rain fell on the Maltese islands last night and more is in store, with the Civil Protection Department having extended its severe storm warning to 2 p.m., having earlier issued a warning till Noon.
The rainfall was measured by the Meteorological Office of Malta International Airport.
The Civil Aviation Department Department said that should severe weather develop, motorists should avoid low-lying areas.
Earlier this morning, a young man who was reported missing after being swept away by a torrent of rainwater when he got out of his car, was accounted for.
The man was seen being swept away near McDonalds in Birkirkara in the early morning.
Rescuers from the Civil Protection Department mounted an intensive search, particularly in and around cars carried down Birkirkara Valley Road.
The rescuers also rescued a woman who was similarly swept away by the water.
The flooding was reported all over Malta but particularly in the central and southern areas, bringing traffic on major traffic arteries such as Birkirkara bypass to a halt.
More cars damaged in Birkirkara - Picture Gordon Camilleri - mynews@timesofmalta.com
The driving rain started yesterday evening, forcing the cancellation of the tomato fight in Fgura and bringing several village feasts to an abrupt end. Damage was caused in several areas (see http://www.timesofmalta.com/articles/view/20120902/local/weather-cancels-tomato-fight.435387.
Gzira Rd, Gzira - Picture Yendor - mynews@timesofmalta.com
But the rain came down in bucketfuls after about 5 a.m. today.
Rescuers check a badly mangled car in Birkirkara. Picture - Paul Zahra - mynews@timesofmalta.com
Streets were flooded in several localities particularly in Birkirkara, Msida and Qormi, but also in other areas such as Bir Id-Deheb, Bulebel and Burmarrad.
Flooding was also reported in parts of Mater Dei Hospital.
Traffic arteries such as the Birkirkara By-Pass and the bypass to Marsa and parts of the coast road were jammed with traffic very early in the morning. Some motorists reported debris on the road, including at December 13 Road.
A tree blocking Notary Zarb Street, Attard. Picture - Omar Camilleri - mynews@timesofmalta.com
Uprooted trees and broken tree branches were reported outside Mdina and in Notary Zarb Street, Attard. Near Tattingers in Rabat the rainwater pulled up some of the tarmac.
The Civil Protection Department deployed all its units to assist people in low-lying areas whose homes were flooded or whose cars were carried away by the torrents, particularly in Birkirkara. Cars were also carried by the rainwater in Birkirkara Road, St Julian's.
FLOODING IN GOZO - ROOF COLLAPSES
Heavy flooding was also reported in parts of Gozo. Late yesterday a whirlwind pulled off a heavy water tank from a roof in Munxar. The tank fell on other house, causing the roof to collapse. No one was injured.
POLICE WARNING
The police in a statement urged motorists to exercise caution and to avoid flood prone areas. The police said the worst affected areas were Birkirkara By-Pass, Valley Road Birkirkara, Iklin, Msida and Pieta'.
MET OFFICE EXPLAINS
In a statement, the MIA Met Office said that over the past 24 hours, the Maltese Islands were hit by thunderstorms with heavy rainfall. During this morning's storm, 42.4mm of rainfall were measured at Malta Airport Met Office in Luqa, while the peek wind gust reached 48 knots.
"Although this type of weather is not common, thunder stsorms with heavy rainfall are typical of weather for end of summer-autumn in the Mediterranean. Recent high rainfall was that registered in September 1995 with 112.7mm, in 1997 with 106.7mm and in 2003 with 100.8mm."
Last night's thunderstorm was the result of cold air penetrating into the western Mediterranean over the last couple of days which led to the formation of a very slow moving cold pool. The cold pool system started to extend southwards on Saturday creating warm and moist south-westerly air streams close to the central Mediterranean. During yesterday and this morning a depression developed over Libya and continued to extend northwards merging with a wide low pressure system over northern Italy.
This long area of low pressure across the central Mediterranean triggered the development of thunder clouds which, finding a very warm Mediterranean Sea with a lot of available moisture, grew rapidly into large thunderstorms with copious rainfall and strong wind gusts.
The weather is expected to improve by the afternoon, when only isolated showers are expected with a moderate Northwest wind. The weather is expected to continue to improve during tomorrow and the coming days when hardly any precipitation is expected.
Send pictures, video to mynews@timesofmalta.com
Gzira Road, Gzira - Picture - Yendor. mynews@timesofmalta.com
A storm water alarm is seen over the floodwaters in Birkirkara. Picture - Andreas Azzopardi.
The search for the missing man in Birkirkara this morning. Picture Lianne Farrugia - mynews@timesofmalta.com
Balustrades and a flagpole felled by the wind in Kercem yesterday - Picture Anna Maria Grech - mynews@timesofmalta.com
The flooded square in Marsascala, with a stalled car in the middle. Picture Kurt Sansone - mynews@timesofmalta.com
The storm seen from Sliema. Picture - Petra Fava mynews@timesofmalta.com
Independent journalism costs money. Support Times of Malta for the price of a coffee.
Support Us