Updated on Monday at 6.30am
A powerful explosion in a field where fireworks are let off rocked Gudja this afternoon, but no one was injured.
Video - Eleanor Spiteri - Facebook Times of Malta.
The blast took place at about 4.20 pm and was heard as far away at Lija.
Picture: Steve Zammit Lupi.
Gudja is currently celebrating the feast known as Taċ-Ċintura (Our Lady of Consolation). The feast went ahead as planned, albeit without fireworks. It took a very devotional turn as the fire works enthusiasts carried the statue in thanksgiving.
Kyle Beeston - mynews@timesofmalta.com
Renato Abela, of Gudja, said he went to see if his field was ready for plowing and looked up when he heard a small bang.
A stronger one followed only a second later followed by an explosion and he then saw a big ball of fire in orange yellow colors.
The sphere, he said, was 50 to 100 meters round. Mr Abela said the ball of fire was filled up with black debris and showered the surroundings. He said he was some 300 metres away and the some debris fell just meters away from him.
He ran to a safer place and captured the scene on video.
On the way to his car he heard a generator and a person calling that no one was injured.
The blast appears to have taken place in a container where the fireworks, unused yesterday because of the weather, were stored.
Two cars were destroyed in the blast and window panes in nearby buildings were shattered.
A fierce fire broke out after the explosion. It was quickly extinguished by fire-fighters.
"We were driving by in my car with all the windows closed and the blast literally shook my car heavily," another reader commented.
A number of fire crew from the Civil Protection Department arrived on the site quickly, as did a number of ambulances.
Picture - Robert Camilleri - mynews@timesofmalta.com
Everyone who was supposed to be on the site was accounted for. Two people who were near by were treated for anxiety at Paola health centre.
A large number of people gathered in the road leading to the field where the blast took place.
"I live a couple of hundred metres away and I felt the explosion right
through my bones. The windows were shaking as was the whole house. Now I
know what being in an earthquake feels like," Robert Camilleri of Gudja said.
Health Minister Chris Fearne and Home Affairs Minister Carmelo Abela were on the site shortly after the explosion.
Helpline 25454184 has been set up by the Health Department.
Picture Paul Pulis - Facebook Times of Malta
Picture - Jason Muscat - Facebook Times of Malta.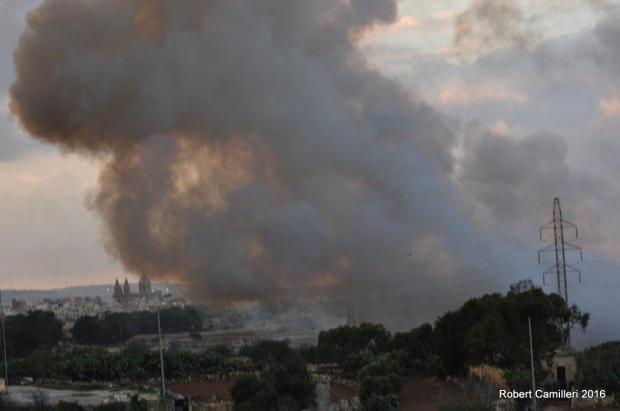 Picture - Robert Camilleri.
Photo Daniel Zammit - Facebook Times of Malta
Picture - Andreas Calleja - mynews@timesofmalta.com
Picture - Rita Axisa - Facebook Times of Malta
The explosion seen from Valletta, Picture - Joseph Camilleri - mynews@timesofmalta,com
This was the second time in a few days that an ominous plume of smoke could be seen from the airport, the first was a plane crash - Picture Julian Bugeja Coster.
Independent journalism costs money. Support Times of Malta for the price of a coffee.
Support Us