Photos: Cj Baldacchino, Felix Cesare
Amaranth is an ancient, gluten-free superfood associated with the Aztec empire. When raw, it appears to be similar to quinoa but changes completely in texture when it is cooked.
Amaranth seeds are nutrient-dense and high in protein and amino acids, calcium and iron. It is comparable to a meat-based protein. For example, 100g of amaranth may contain as much protein as two eggs; the iron content equivalent to 200g of spinach and more calcium than half a cup of milk.
From an environmental perspective it is a remarkable ingredient, because it is a weed and grows naturally, requiring no pesticide or fertiliser.
Amaranth is not easy to cook and, to prevent it from becoming gummy in texture, it requires supervision while cooking.
It is versatile and can be used to make savoury or sweet dishes and it can also be popped and toasted or served instead of mash or polenta.
If you are introducing solid food to babies, amaranth is an ideal addition to a fresh vegetable or fruit purée and a great ingredient to include in children's meals.
As a rough guide, use one-part amaranth to three-parts liquid, and cook until all the liquid is absorbed. Add more liquid in small amounts if required.
Amaranth porridge
You will need:
½ cup amaranth
1½ cup water
½ cup cashew milk
1 tbsp fresh lemon juice
1 tbsp agave or stevia [or honey for non-vegan]
vanilla
1 cinnamon stick
A pinch of salt
¼ tsp lemon zest
Top with: 200g mixed berries and I use blueberries, strawberries, pecans, hazelnuts and mint leaves.
Soak the amaranth overnight in water if you have the time. Rinse, then place in a saucepan and add 1½ cups water. Add the vanilla, cinnamon stick broken in half, lemon juice and a pinch of salt. Bring to boil and reduce to heat. Cover and simmer for 25 minutes, stirring constantly.
Add the cashew milk and cook for five minutes. Remove from the heat and add the agave/stevia or honey. Stir and add the lemon zest.
Pour half the mixture into a bowl. Purée half the berries and add to the other half of the amaranth porridge. Mix it in, then pour it into the bowl and use a fork or knife to make some swirls to create a marbled effect.
Decorate the amaranth bowl with a mix of berries, nuts and mint leaves. Serve while still hot.
Popped amaranth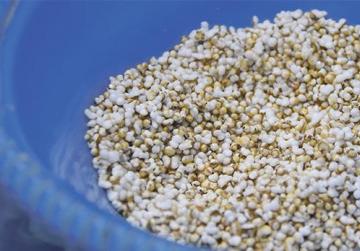 You will need:
3 tbsp of raw amaranth
Heat a heavy pan on high heat until it is very hot. Add 1 tbsp of raw amaranth.
Cover the pan with a lid, lift it from the burner and shake it from side to side. Provided the pan is very hot, it will take 12 seconds for the amaranth to pop.
Remove from the pan immediately to avoid it burning. Add the next tablespoon of raw amaranth, repeat the process and then pop the last tablespoon of seeds.
The process will not work if you add more than one tablespoon at a time.
The popped amaranth can be stored in an airtight container for up to a month in the fridge. This recipe will give you one cup of popped amaranth.
Purple carrot and cashew soup
You will need:
250g purple carrots
100g purple potatoes
50g beetroot
100g cashew nuts
1 tbsp olive oil
1 onion
2 cloves garlic
¼ tsp grated fresh turmeric root
A pinch of ground allspice
A pinch of chilli flakes
1 all-natural stock cube dissolved in 200ml water
1 cup cashew milk
1 tbsp olive oil
150g cooked amaranth
Place the olive oil in a large pot and add the chopped onion. Cook on low heat. When the onions be­come trans­lucent, add the chilli flakes, ground allspice and grated fresh turmeric. Stir and cook for two minutes.
Peel and roughly chop the carrots, beetroot and potatoes and add them to the pot with the garlic cloves.
Keep cooking on low heat for two minutes; then add the stock, just enough to cover the vege­tables.
Bring to boil on moderate heat, then simmer on low heat for 30 minutes. Allow to cool slightly.
Add the cashews and blend until the soup is smooth and creamy.
Add the cashew milk and place in a large pot. Bring to a boil. Stir in the cooked amaranth and stir until the soup thickens. Serve immediately and garnish with crispy kale.
This is a gluten-free, lactose-free, vegan and diabetic friendly recipe.
For the crispy kale
You will need:
6 leaves kale
2 tbsp olive oil
Pinch of sea salt
¼ tsp smoked paprika (optional)
Preheat oven to 175 °C.
Wash, dry and trim the kale leaves.
Remove the centre rib by cutting around it with scissors.
Roughly tear the leaves into bitesize pieces.
Drizzle olive oil onto the leaves, making sure they are evenly covered.
Toss the leaves in salt and smoked paprika (optional)
Spread the leaves on to an oven tray covered with baking paper.
Bake for 10 minutes until the edges of the leaves start to brown.
Turn them over and bake for another 10 minutes.
Remove from the oven and allow to cool on the tray before serving.
Fresh herb amaranth
You will need:
1 cup amaranth
¼ tsp salt
1 cup water
1 natural stock cube
½ clove garlic
½ onion, finely chopped
6 tbsp mixed fresh herbs and I use a mix of mint, basil and tarragon
Pinch of dried Provence herbs
½ cup red cabbage, finely shredded and chopped
Black pepper to taste
4 tbsp olive oil
Prepare the fresh herbs by finely chopping them. Finely shred the red cabbage and immerse in boiling water for two minutes. Drain and keep aside.
Sauté the onion on low heat in one tbsp of olive oil. When it becomes translucent, add the garlic and cook for one minute only to avoid burning. Remove from heat. It will carry on cooking once it is added to the amaranth.
Bring the water with the stock cube to boil separately in a large pot and add the amaranth.
Add the dried herbs. Reduce the heat and cook.
Use a wooden spoon to stir constantly. After five minutes, add the cooked onion and garlic. Keep cooking until the mixture thickens. Add more water, a little at a time as it is absorbed as you would do for a risotto.
Taste to check if the amaranth is cooked enough, then add the rest of the shredded red cabbage and the rest of the finely chopped fresh herbs and olive oil.
Serve as an accompaniment to your main dish.
Lea's new book Good Food Everyday is available in most bookshops in Malta and Gozo.You can watch Lea cook every day on Smash TV and find more of her recipes on www.timesofmalta.com.
Independent journalism costs money. Support Times of Malta for the price of a coffee.
Support Us