Over an intense, caffeine-fuelled span of 48 hours, five 18-year-olds developed a solution to help combat loneliness among elderly people in Malta's first hackathon for a social cause.
Entitled 'Jisimni', the winning solution aimed to enable safe and accessible social interaction between elderly communities and impressed the hackathon's panel of judges enough to be awarded the winning prize of €5,000.
The winning team was one of a total of 11 teams who worked around the clock – stealing brief naps on the carpeted floors beneath desks at Vodafone's headquarters in Luqa – to develop a solution to help break the cycle of poverty and social exclusion in Malta.
Megan Montebello, Liam Attard, Matthew Axisa, Gabriele Borg and Benjamin Barthet are all smiles after being announced the winners of the Vodafone Malta Foundation Hackathon: Innovating for Good.
Organised last month over a weekend by the Vodafone Malta Foundation with the theme 'Break Poverty', the coding marathon united developers and tech enthusiasts with various NGOs in the field, namely Caritas, YMCA, Millennium Chapel, St Jeanne Antide Foundation, Ċentru Tbexbix, National Pensioners Association and Home Away from Home. The hackathon was also organised with the support of the Department of Artificial Intelligence within the University of Malta and the Google Developers Group Malta.
The Vodafone Malta Foundation, a non-profit making organisation, is devoted towards helping vulnerable people by harnessing the power of mobile technology to help deliver social change. However, Corporate Affairs Senior Executive Kim Dalli explained that sourcing such projects could sometimes prove to be a challenge.
"Many NGOs seemed to lack the knowledge on the way technology could help transform the lives of vulnerable people they assisted," she said.
"On the other hand, talented software developers in Malta did not know about the needs of such people as were not exposed to their realities. The hackathon sought to espouse the two."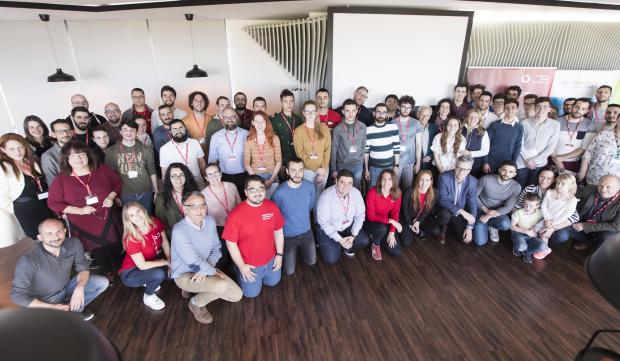 The people who were part of Malta's first hackathon for a social cause: 11 participating teams, seven NGOs and scores of Vodafone volunteers.
83,000 at risk of poverty, social exclusion
According to the latest Eurostat figures, 83,000 people in Malta are at risk of poverty or social exclusion. The first step was to better understand this reality. The Vodafone Malta Foundation organised a workshop in November, inviting all NGOs and governmental entities working in the field of poverty and social exclusion.
The workshop yielded five topics the NGOs highlighted as being the most pressing issues: homelessness, loneliness within the elderly community, hunger and food waste, pairing voluntary help with those who need it, and recognising early signs of an individual's situation leading to poverty and social exclusion. Each team was tasked with one topic.
University first-year students Gabriele Borg, Megan Montebello, Matthew Axisa, Liam Attard and Benjamin Barthet were among the group of participants. Having christened themselves the 'Double Helix' team, they put their heads together to develop a solution for their assigned topic of loneliness within the elderly community, under the guidance of the National Pensioners Association and Ċentru Tbexbix.
The result was a prototype of a simple and easy-to-use app featuring large icons with a text-to-speech reader to facilitate safe and accessible social interaction between elderly communities in order to get people out and about, meeting each other and making friends.
Within the 'Events' section, the elderly person would be able to find several events or activities near them which would be organised by NGOs or friends, allowing the user to sign up and even request transport. The 'Come to me' button on the other hand would enable elderly people to either invite their friends over or ask a volunteer (approved by the NGO) to come and help them with their daily tasks.
The app contained a 'Puzzle' section, with several different games designed to keep the mind active. Personal safety was a core feature of the app, with the team introducing a small device allowing the elderly person or their caretaker to create reminders which would be said out loud by the gadget at a specific point in time. These could include reminders to take pills or reminders for them to switch off the oven after cooking lunch.
Plans are currently underway for the Vodafone Malta Foundation to collaborate further with the winning team and bring the project to life so that elderly people can freely make use of it.
What is a hackathon?
The portmanteau "hackathon" simply breaks down into "hack" and "marathon". In a nutshell, hackathons are events where people come together to collaboratively build and launch technology-based solutions aimed at solving a particular problem.
Typically, this tends to be a business problem. Participants usually work in small groups over a couple of days.
The goal is to come up with a prototype or proposal at the end of the hackathon to present before a panel of judges. Hackathons are an effective way to develop solutions that solve problems, rather than just talk about them.