I approach every fashion week with the same kind of hope and enthusiasm I had when I started attending specifically to write about it seven or eight years ago.
Even though it hasn't even been a decade, I've seen Malta Fashion Week go from strength to strength and, this year, Adrian Mizzi and his team really batted out of the ball park when it came to the organisation and the experience itself. The idea here is to go over some of the best shows I saw at fashion week earlier this year and address what I believe were its highlights.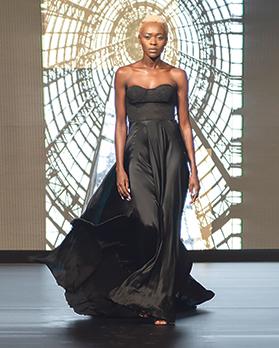 Design by Jason Grech. Photos: Bernard Polidano
Jason Grech
Although it was his first time showing in Malta, I had already come across Jason Grech on Instagram thanks to his simply breath-taking wedding dresses.
Full of fanfare, the show opened with a nod to Jason's own roots and the Birkirkara village band playing in the background. The first dress which came out paid homage to Jason's grandfather who led the band club for 35 years and opened Jason's part of the evening.
What followed this first show-stopping dress was a confection of vintage, Valentino-inspired pieces which were a celebration of the beauty of the female form.
Fine laces were combined with paper thin chiffons, with the impeccable cuts and construction showcasing Grech's workmanship to absolute perfection.
Although the silhouettes he employed were varied, they were all imbued with the same timeless elegance; an apt homecoming for the Australian born and bred designer.
Design by Ritienne Zammit
Ritienne Zammit
If there's one thing I've always loved about Ritienne Zammit, it's the backstory that she applies to each collection. Not content with just putting out pretty, edgy pieces on the catwalk, she is always intent on telling her audience a story. It's always clear that a lot of research and effort goes into giving her shows a framework and this year was no different. Based on the meanings behind Maltese surnames, Ritienne's Atronymic collection put together a Prada-esque show which was both imaginative as well as experimental in its scope and execution.
Traditional silhouettes were turned on their heads and different prints were combined to dramatic and oftentimes unexpected effect. It was an interesting show which was not for the average shrinking violet and had the boldness that Zammit has become widely renowned for.
Designs by Marco Parascandalo.
Marco Parascandalo
It's safe to say that no one does streetwear quite like Parascandalo. Bold while being creative and wearable, Parascandalo is one of the only brands which provides our islands with a more urban feel.
This Malta Fashion Week saw Parascandalo re-tackle knitwear as well as fashion denim into frilly dresses and short tops.
Men were treated to patchwork satin shirts and bomber jackets whilst the women's pieces oscillated between being very raw and very delicate. Something which Parascandalo definitely excels at is the way his outfits are curated and styled. Everything, from the shirts to the dresses to the belts to the accessories, created a cohesive aesthetic; the Parascandalo-emblazoned fanny packs are sure to be a hit with Malta's young, cool crowd.
Design by Carla Grima
Carla Grima
It's always seemed somewhat ironic to me that, in an island surrounded by sea, we've never really had anyone that does beachwear – let alone luxe beach and beach-inspired pieces that Grima graces us with.
All that changed when Carla Grima burst onto the scene a few years ago with her colourful kaftans and beautifully draped dresses, which allow the wearer to go from a glamorous day on the boat to a gloriously elegant beach wedding.
Whether you're after the perfect bathing costume or a beautiful, flowy dress in pure silk, Carla certainly has delivered in the past and this year's collection was no different.
Focusing on elements from nature, giant leaf prints superimposed on fabric were coupled with vivid blues; blue ombrés and warm oranges tied with pale greens gave one the sense of being shipwrecked on beach.
My favourite accessory from the show? The 1960s inspired flower petal swimming caps which were undoubtedly a statement piece in their own right.