Updated 8.55pm - Added video
Joseph Muscat had called a snap election to evade justice and responsibility, and the last card the electorate could play was their voting document, Simon Busuttil told PN supporters this evening.

Addressing a crowd in Balzan, which often broke into chants of "corruption, corruption, out, out" Dr Busuttil said the June 3 election was not a competition of proposals.

"The PN will announce more of its proposals tomorrow, but remember, this election is not a competition of proposals.
"Every party is able to come up with proposals and make pledges, however, this election is about principles," he said.
Dr Busuttil called on people who were receiving last-minute promotions and benefits, insisting that under a PN administration they could keep whatever was theirs by right.
"There is no need to let them buy your vote… but we will also ensure justice with those who haven't had what is theirs by right."
READ: Busuttil presents PN proposals for good governance
The Opposition leader noted that the road for the party was a difficult, uphill one.
The party knew this from the very beginning, but it had not given up when it was 36,000 votes short of the Labour Party.
"How can we give up now when we have reached their numbers and can overtake them," he asked the cheering crowd.
Photo: Matthew Mirabelli
Although PN did not have the millions that the Labour Party was spending during this electoral campaign, the Opposition had something better, he said.
"We have something better than money, we have the truth. We are on the right side, and the right always wins."
Earlier, Dr Busuttil reiterated proposals made on Friday.
He said that a new government would appoint a new Police Commissioner who would launch an investigation into allegations of corruption.
Meanwhile, those holding the highest positions within institutions and local authorities would be appointed through a two-thirds parliamentary majority.
In the meantime, he insisted, anyone who was ready to form part of a government led by him should also be ready to shoulder the full responsibility for anything they did.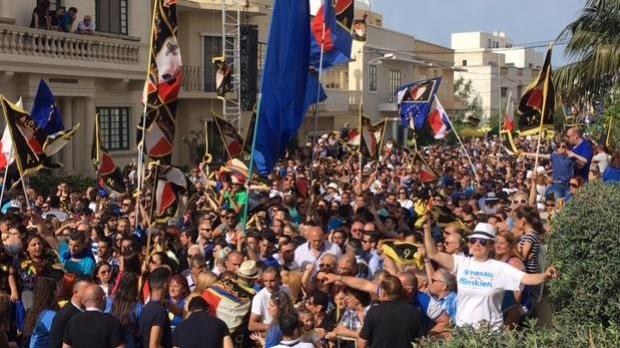 PN supporters filled Balzan's streets. Photo: Matthew Mirabelli
Independent journalism costs money. Support Times of Malta for the price of a coffee.
Support Us