Around half of the people who up to a year ago would have had to undergo an angiogram are being spared the invasive test through a three-second scan.
Radiology developments at Mater Dei Hospital have picked up in recent years, especially visible in the cardiac imaging sector, where patients are no longer sent to Italy for MRI and CT scans.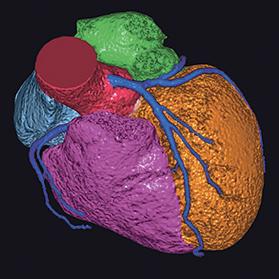 A 3D reconstruction of the heart with the coronary arteries shown in dark blue. Photo provided by Luise Reichmuth
Speaking to the Times of Malta on International Day of Radiology, cardiac radiologist Luise Reichmuth noted that about 250 MRI and 800 CT scans were carried out at Mater Dei every year.
With the introduction of an additional machine by the end of next year, the Radio-logy Department will be able to double or triple the number of MRI scans, which are usually carried out on people with inflammatory conditions of the heart, among others.
CT scans allowed cardiologists to know whether the patient needed to undergo an angiogram, which was quite an invasive test, Dr Reichmuth noted.
In the past, angiograms were carried out to understand whether there were any blockages in arteries and stents would only be inserted in cases of abnormalities.
This meant that the introduction of CT scans in Malta saved people (approximately half) who did not need a stent from having to do an invasive test.
Dr Reichmuth is the first locally-trained radiologist to specialise in cardiac radiology and she is training upcoming graduates in the sector. Flanked by her colleague and secretary of the Maltese Association of Radiologists and Nuclear Medicine Physicians, Kelvin Cortis, she noted that when it came to cardiac imaging, Malta compared well to Europe, with Mater Dei having been equipped with the latest technologies.
Dr Cortis pointed out that the world was raising awareness about cardiac radiology in a bid to keep people updated about new technological advances and also as a reminder of the importance of maintaining a healthy lifestyle.
"A few years ago, people would have probably laughed at you if you spoke of an MRI of the heart but development in radio-logy is so rapid that, a couple of years since the introduction of cardiac imaging in Malta, we are already gearing up for a third machine," he added.
Public Health Superintendent Charmaine Gauci recently wrote in the Times of Malta that heart disease was a common condition in Malta.
It claimed many lives and, in 2015, over 38% of all deaths among both men and women were related to diseases of the circulatory system, including ischaemic heart diseases, heart failure and stroke.
Independent journalism costs money. Support Times of Malta for the price of a coffee.
Support Us