Holidaymakers cause a 40 per cent spike in marine litter entering the Mediterranean Sea each summer, and the vast majority of it is plastic, a report warns.
Around 95 per cent of the waste in the open sea, on the seabed and on beaches across the region is plastic, with the majority coming from Turkey and Spain, followed by Italy, Egypt and France, the study by wildlife charity WWF said.
The Mediterranean is one of the seas with the highest levels of plastic pollution in the world, with hundreds of thousands of tonnes of plastic items and tiny 'microplastics' ending up in it each year and harming wildlife.
"The Mediterranean Sea is, of the regional seas, most affected by plastic pollution, despite absence of large mid-oceanic gyres. Any plastic ending up in the sea accumulates within the same basin due to the low turnover rate of water," said Malta's Ocean Governance Ambassador and marine biologist, Alan Deidun.
On average someone eating fish in Europe could be ingesting up to 11,000 pieces of microplastic a year
More than 200 million tourists visit the Mediterranean each year, causing the 40 per cent increase in marine litter during summer, according to the report released to mark World Oceans Day.
WWF is calling on holidaymakers to look at cutting down on single-use plastics including straws and stirrers, drink tap water where it is safe to do so and avoid items such as disposable inflatable pool toys. Other tips for tourists to cut down on plastic include bringing a bag for life on holiday, freshening up with mints instead of gum, using a washable cloth not face wipes and ensuring they take any rubbish with them off the beach.
Recent underwater surveys carried out through remotely-operated vessels have shown that the Mediterranean is subject to prolific seabed plastic littering through discarded fishing gear, Deidun adds.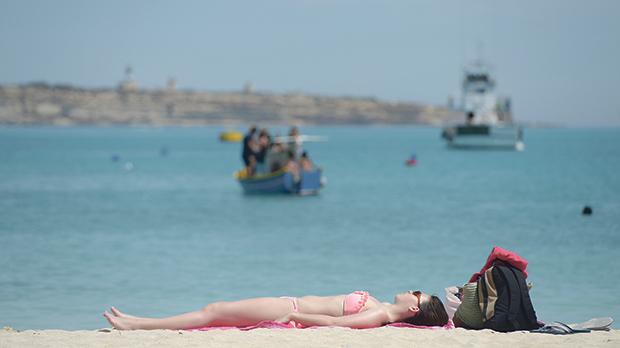 200 million tourists visit the Mediterranean each year, leading to a drastic increase in marine litter. Photo: Matthew Mirabelli
The Department of Geosciences at the University of Malta is currently testing an underwater drone to quantify such litter along stretches of the Maltese coastline.
Europe is the second largest plastics producer in the world, after China, and dumps the equivalent of 66,000 rubbish trucks of large plastic pieces such as bottles and carrier bags into the sea.
These items can suffocate and injure marine animals or be mistaken for food and eaten by species such as fish and turtles, who then suffer blockages, starvation and internal wounds leading to their death.
"What worries researchers is not visible macro-litter," Deidun said, "but plastic particles smaller than 5mm that are not visible to the naked eye."
Though it contains only one per cent of the world's water, the Mediterranean is a semi-enclosed sea with lots of human activity and as a result is a 'plastic trap' where seven per cent of all the world's microplastic waste is found.
These tiny pieces of plastics can also be eaten by fish or other creatures such as mussels which can then end up on holiday seafood dinner plates.
On average someone eating fish in Europe could be ingesting up to 11,000 pieces of microplastic a year, according to the report.
The Department of Geosciences has recently developed an image analysis algorithm through which the dimensions, colour and surface roughness of large microplastics (LMPs) having a diameter ranging between 1mm and 5mm could be automatically detected by the algorithm applied to a scan of the same LMPs.
This research output drastically slashes the analysis time frames by reducing the dependence on human observers working with microscopes.
Independent journalism costs money. Support Times of Malta for the price of a coffee.
Support Us