Easyjet's inflight magazine Traveller has named Valletta's Strait Street public toilet "the best public toilet in Europe".
"It's not just a toilet, it's a theatrical experience," it said.
The Strait Street toilets were redesigned and renovated in 2010 by architect and designer Chris Briffa, with an installation conceived by artist Norbert Attard.
They were turned into a design piece offering exhibition space and immediately proved to be a huge hit with the public.
Red apertures provide contrast to the exterior grey walls and the large window on the façade contains five lists of words, one for each window pane, starting with the letter V - inspiration that Mr Attard drew from Thomas Pynchon's novel featuring Strait Street.
The same colours are maintained inside with different tonalities. Highly polished reflective surfaces were used on a wall separating the exhibition space from the toilets to make the space look larger.
Watch: Public toilets become a public attraction
The inside is dominated by a rectangular neon light work positioned diagonally against a highly-polished steel wall with a recording of a barmaid in conversation.
The work symbolises the street's former spontaneous nightlife, renowned for its bars, popular dance halls and thriving prostitutes.
Instead of the usual mirrors there are playful curtain shaped mirrors reminiscent of cabaret shows.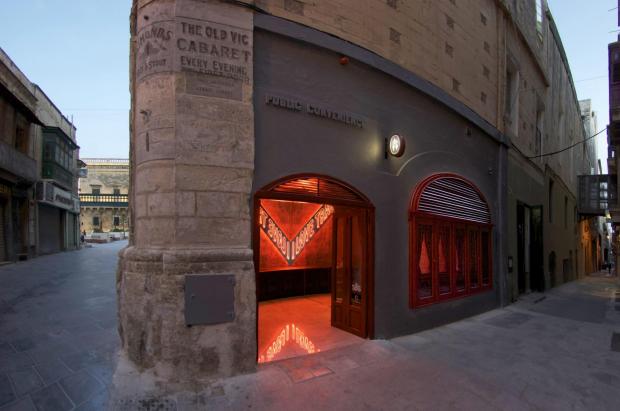 Photo: Norbert Attard/www.chrisbriffa.com
Independent journalism costs money. Support Times of Malta for the price of a coffee.
Support Us