Natura 2000 sites are defined as protected areas offering "a haven to Europe's most valuable and threatened species and habitats."
It took a crane to lift a rusty car up, up and away. Photo: Niki Caruana/www.facebook.com/nicmediamalta
But dumped wooden pallets, shards of broken glass and the rusting carcass of what was once a car crushing the Mellieħa garigue make a mockery of that definition.
L-Aħrax tal-Mellieħa might be one of Malta's richest Natura 2000 sites, but a team of more than 100 volunteers have revealed just how little that can mean in practice, by collecting an eye-popping 10.7 tonnes of waste from the area during a Sunday morning clean-up.
Volunteers who answered the Żibel group's call picked up 2.6 tonnes of general waste, 4.6 tonnes of rusted metal and broken glass, over 300kg of recyclable waste and 2.8 tonnes of rubbish from the sea – all in just a few hours on April 30.
"Unfortunately, most people who go to l-Aħrax to supposedly enjoy and re-connect with nature end up leaving it in a worse state than it originally was," sighed Żibel co-founder Ghislaine Calleja. "The site is home to many threatened species, including a colony of around 500 yelkouan shearwaters, so it's imperative to keep it free from litter."
Having already organised a coastal clean-up at Fomm ir-Riħ bay, the Żibel crew teamed up with Friends of the Earth, BirdLife, Sharklab, fish4tomorrow, PDSA and the Valletta 2018 Foundation to get the ball rolling. Together, they set about enlisting help for their Aħrax mission. It came in droves.
The Professional Diving Schools Association offered divers to conduct a marine clean-up of Mellieħa bay; event organiser Blank enticed volunteers by handing out free tickets to a party being held later that day; Mediterranean Culinary Academy and the Grassyhopper handed out free food, while San Michel sponsored the event with water dispensers; Mellieħa local council, the Cleansing Directorate Services, WasteServ and GreenPak all pitched in to collect the litter that was gathered.
More than 100 volunteers showed up to clean up the area. Photo: Niki Caruana/www.facebook.com/nicmediamalta
Divers got in on the action too. Photo: Niki Caruana/www.facebook.com/nicmediamalta
A local company, IMEX Ltd, even made a crane available to clean-up volunteers. "It came in handy when we found a mound of bulky domestic appliances and the entire body of a car, adding up to another 400kg, dumped on a cliff side," said Ms Calleja.
Young, old, locals, foreigners, bird watchers and bird hunters joined the clean-up effort. "More than 100 showed up. The response was amazing," she added.
Not that everyone was willing to lend a hand.
"Some campers were quite aggressive and seemed to have no problem breaking the law," Ms Calleja said. "They even threatened some of our members who asked them to dispose of wooden pallets they were clearly using as firewood in a Natura 2000 protected site."
The attitude left many volunteers flabbergasted, Ms Calleja said.
"People seem to put a lot of effort into organising these camping trips, but the baffling part is that they then litter or don't even bother to take a bagful of trash to a bring-in site."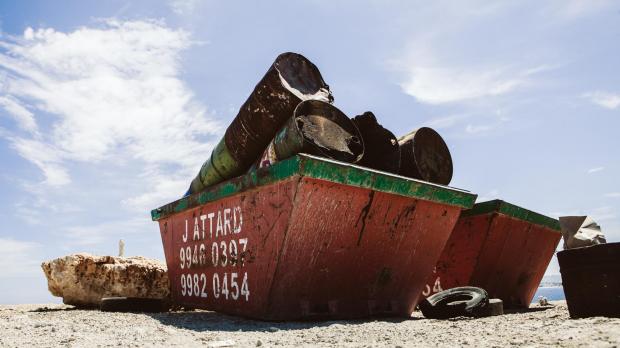 Photo: Niki Caruana/www.facebook.com/nicmediamalta
With no recycling bins or bags present at the camping sites, Żibel team volunteers took it upon themselves to hand out recycling bags to campers.
Despite the odd intransigent camper, Ms Calleja preferred to see the glass as half full. "So many bodies, organisations, companies and people came together to make this clean-up a success," she said. "It really proves the importance of teamwork and that there's strength in numbers."
With the L-Aħrax cleanup done and dusted, the Żibel team are now preparing another cleanup along Malta's southern coast.
This coming Saturday, the team will meet at Fortizza Tas-Silġ, Xrobb l-Għaġin to do it all over again.
To join the cleanup, show up at Fortizza tas-Silġ at 9am this coming Saturday May 27 with a smile, can-do attitude and a reusable bottle. For more information, visit the event's Facebook page.