It was two nights of toil for metal workers as they erected the overhead structure that will form the pedestrian bridge on the Mrieħel bypass.
Workers tied the beams together and welded the different metal parts as they raced against time to re-open the busy thoroughfare for the morning.
In all, 31 tonnes of metal were used to build the main structure.
The bridge will include lifts and stairwells on either side of the four-lane road and is expected to be ready by June.
The Mrieħel bypass bridge was an electoral pledge made by the Labour Party in the wake of a fatal traffic accident in 2005 when two Qormi girls were mowed down as they crossed the road to return home.
The girls lived in the residential area on the industrial estate side of the bypass, which was cut off from Qormi centre when the road was built in the mid-1990s.
According to the Transport Ministry, the bridge will cost some €1 million to build and the money is being forked out by the company that won the tender, Steel Structures Ltd.
The company was given a 20-year concession agreement and will recoup its expense through the exclusive use of the bridge surfaces for advertising.
The government is considering a proposal for the pedestrian footbridge to be named after the two girls killed in the 2005 accident, Emma Housley and Graziella Fenech.
Steel Structures Ltd workers went through two nights of toil as the Mrieħel bridge project is expected to be completed by June.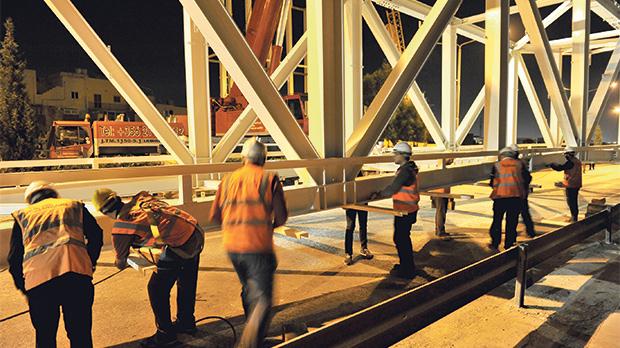 Independent journalism costs money. Support Times of Malta for the price of a coffee.
Support Us